'Our history is just war, and trying to survive around big countries when you are small. It is our blood'
Beka Gorgadze has not been home to Georgia for nearly six months now, kept away from his doting mother on the outskirts of Tbilisi by the scourge of Covid-19 and the sheer relentlessness of European rugby. These are troubled days in the Caucasus. A senior member of the National Centre for Disease Control estimates that 10,000 new cases of Covid-19 emerge each day. Parliamentary elections were held over the past month, but the results are being disputed so furiously that the process makes the unseating of Donald Trump appear a seamless power transition. There has been rancour and a boycott of parliament, ardent allegations of vote-rigging and water-cannoned protestors on the streets of the capital.
Against this backdrop, many miles from home, Gorgadze and his team-mates empty themselves in the Autumn Nations Cup. If Georgia is deeply divided by politics, rugby is its vehicle for unity. Theirs is one of only seven countries where it is the national sport. Few peoples treasure the game as dearly.
"Really physical sports like wrestling and judo are in our blood, because our history is just war, and trying to survive around big countries when you are small," Gorgadze tells RugbyPass. "It is our blood."
"Especially when we play Russia, it's about to explode because that is the event that all the people want to see. Even in other games, I have played in front of 50,000-strong crowds in Tbilisi against Romania.
"We are one of the things which can bring joy and feeling to the country. We've got some hard times right now, the pandemic is getting worse and worse, and there has been an election for two weeks. That is why we are even more motivated to bring this all to our people. When we play, we are trying to play as well as we can every time to make our people and families proud."
The Georgians lust for these opportunities. They yearn for more regular cracks at the biggest beasts, having long outgrown the second-tier Rugby Europe Championship, where they reign, nigh-untouchable, season on season.
The Lelos were pitched into the Nations Cup late when Japan decided, amid the raging pandemic, that they could not enter a team. Many of the Georgian squad had not played a competitive game since February, some since the World Cup of last year.
In such trying circumstances, Georgia are determined to grasp their chance. They took 40-point thrashings from Scotland and England, the latter without reply, and failed to score again when they were beaten 18-0 by Wales. In the Llanelli squall, though, they competed staunchly. Georgia look like a team finding its feet at this level and enmeshing new combinations because that is exactly what they are.
"We've never had this opportunity to play so many games in so short a period against some of the best teams in the world," Gorgadze says.
"Our objective is to show, week to week, that we are progressing. Against Wales, I think we deserved a score. To end on zero is the most disappointing part, it is our decision-making too, and we see that we have some problems offensively because we are not used to playing together, but it is just the details. We are working on it a lot and we will put more focus on our attacking game.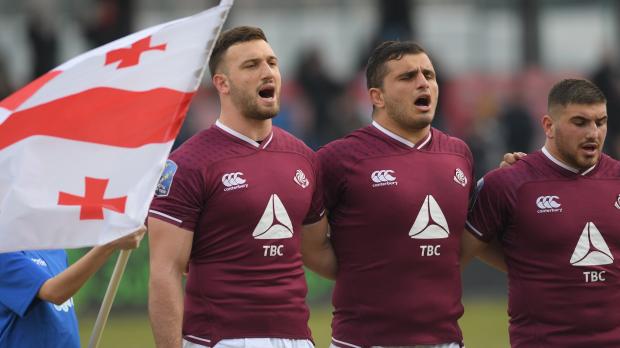 "There are different generations now, one part of the team is really experienced, and another is rookies and young boys coming in. The Georgian team has never been that young. I see that as really exciting; we are going to get used to playing together and hopefully we will progress as quickly as possible."
Gorgadze is a majestic number eight, a dynamic blend of ballast and finesse. He laced a bruising physical performance with some beautiful flourishes at Parc y Scarlets, a dummy that left one Welshman leaping at thin air, and a wonderfully deft off-load with a flick of the wrists. In all, he made 74m from 11 carries with the ball, and 13 tackles without it. He is fast becoming the Georgian totem.
When we rugby folk think of the Lelos, our brains so easily conjure images of gnarled behemoths, great neckless bears who look part-nightclub bouncer and part-special forces veteran. At 24, Gorgadze is spearheading a new and hungry crop of Georgians, modern athletes with brilliant attacking attributes.
Milton Haig, their long-serving former coach, departed after the World Cup and did a fabulous job of blooding young talent, backed by the millions of former prime minister, Bidzina Ivanishvili. Graeme Rowntree was at Haig's side last year. David Humphreys, Sebastien Bruno and Neil Doak are all involved in the current set-up.
Four of the starting backs in Llanelli were aged 23 or younger. The half-backs, Vasil Lobzhanidze and Tedo Abzhandadze, are terrific footballers who ply their trades at Brive. Gela Aprasidze, the replacement scrum-half, is with Montpellier. There are free-wheeling rapiers like Akaki Tabutsadze, Sandro Svandize, and Giorgi Kveseladze, each of whom could step up from Georgia's Didi 10 national league.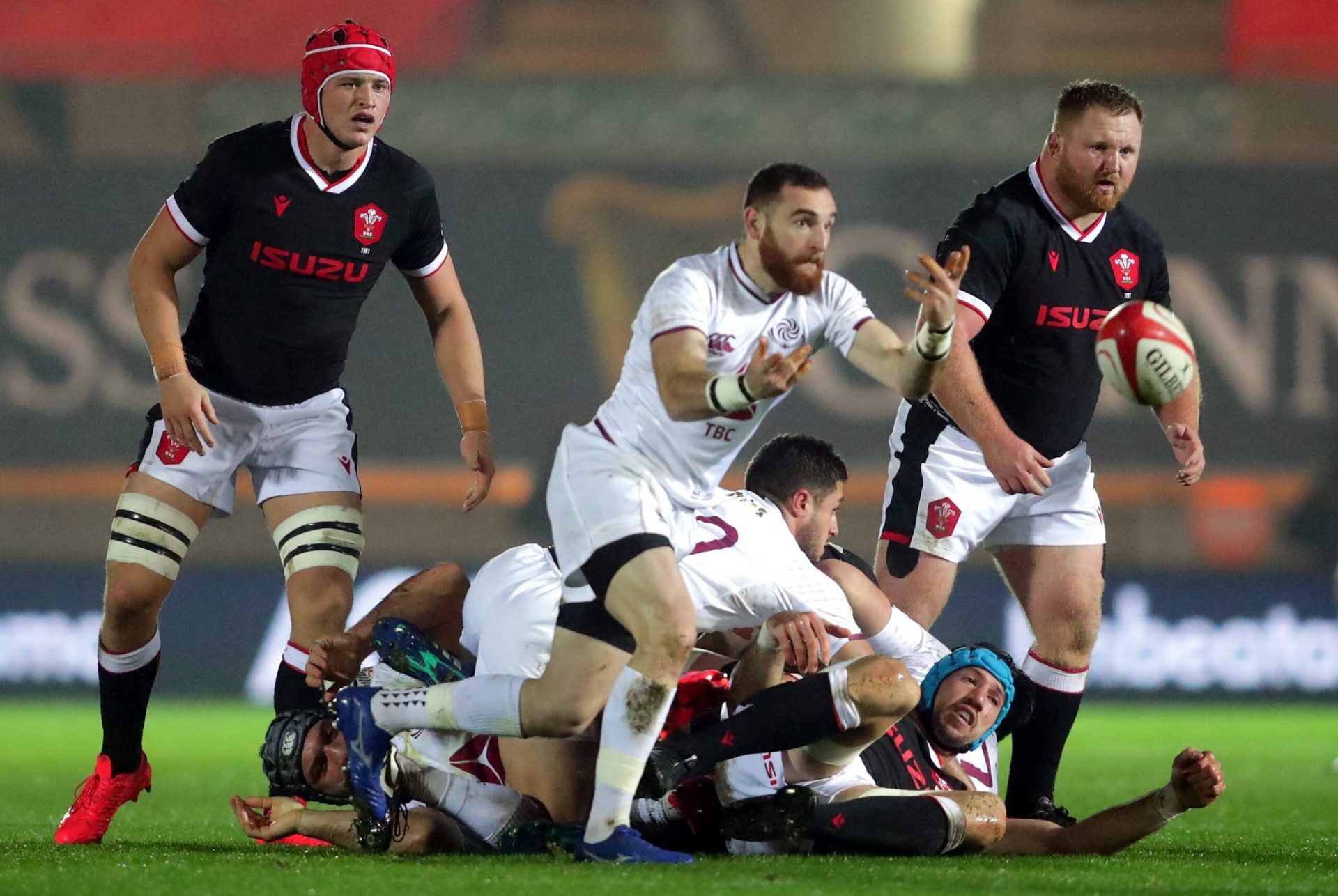 "When I started playing rugby in our morning group, we had only four kids. Now in the same club there are about 400," Gorgadze says. "Rugby is becoming more and more popular, especially since the 2015 World Cup. That brought a lot of kids into rugby and that is what creates competition which makes you better.
"Before my generation, the 1996-99 birthdays, we never had the opportunity to play in the U20 World Cup, sometimes we didn't even qualify for the second-tier U20 Trophy. My generation, in 2015, won the Trophy and were promoted to the World Cup.
"The second year, the boys won in Georgia against Argentina and Ireland. The year after, they smashed three teams – Ireland, Japan and Scotland. That is where we see progression. That's what we need, to play against junior Tier One teams."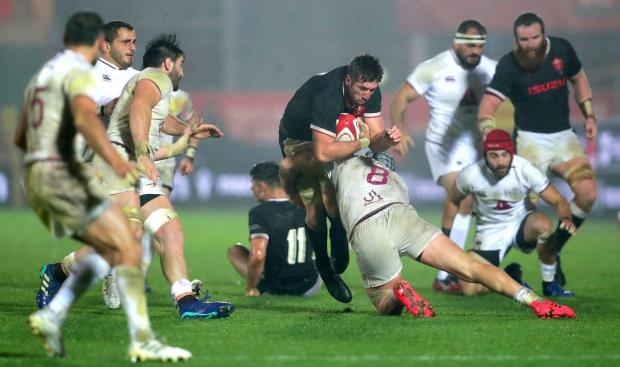 Gorgadze himself plays for Bordeaux-Begles, one of the very finest club sides in the continent. He left home for France at just 18 and without a word of French, signing for Mont-de-Marsan. It was a plunge into the unknown, but in many ways, it was the making of him.
"Even if my mum didn't want to let me go alone, it wasn't like I was 12," he laughs. "I realised once I crossed the airport control, ok, where am I, what am I doing? I had some sleepless nights, but when I saw some team-mates, I realised it's just another part of the world. You can always adapt; you can always find friends and something in common.
"I was happy to put that effort in at the beginning to learn French. I didn't have many lessons, I was just forcing myself to speak, speak, speak, learn as much as I could. I stayed with Mont-de-Marsan for four years and it was a massive experience, that's where I jumped on the trampoline really.
"It's been almost six years in France now, so I feel like it's a second home. And we have a lot of Georgian players in France, really close friends around me."
On Sunday, Georgia will play what may be their final Nations Cup fixture, a Dublin showdown with Andy Farrell's Ireland, and grace another precious stage on which to perform.
OPINION: It's time for a grown-up talk about the Pacific islands because it isn't all World Rugby's fault

– argues @Jbeardmore ???https://t.co/PAsJcRWmIp

— RugbyPass (@RugbyPass) November 26, 2020
They remain in an awkward and unsatisfactory position – too good for the second tier, not yet good enough to credibly mix it with the Six Nations heavyweights. It is worth stressing, then, just how vital these Tests are, and how rare they have been.
Prior to the autumn, and outwith World Cup pool matches, Georgia had played seven games against Tier One opposition in seven years. Of those opponents, only Scotland travelled to tackle the Lelos on Georgian soil, the fist top-Tier nation to do so.
"Having a Georgian franchise in a club competition is key," Gorgadze says. "I don't know about joining the Six Nations – for the moment, the more realistic thing is to just play as many games as possible against Tier One teams, to try to have a wide, strong base of players and let them get used to each other.
"Tier One teams coming to Georgia proves they respect us, firstly. Some people don't know how our hospitality is and everyone leaves satisfied with the food and the crowd that is crazy and really excited to receive those kinds of teams.
"Before the Nations Cup, we play one Tier One nation in a November window, then another one the next November. That is why what is happening now is really big, and we really appreciate it."
A small country fighting to survive in a land of giants; a small rugby nation fighting for a seat at the top table.
Comments
Join free and tell us what you really think!
Join Free