Back

By Gregor Paul
Why this could be the Rugby World Cup of disruptors
The final round of pre-tournament games offered a tantalising glimpse of the shocks which may reverberate around this Rugby World Cup.
Disruption is a common theme in the competition. Western Samoa were the original shakeup merchants when they stunned Wales in Cardiff and made the quarter-finals in 1991. Eight years later, Argentina were the surprise package, eliminating Ireland en route to the last eight, before proving even more disruptive in 2007 when a dazzling Pumas squad clinched third place despite not being part of a regular annual tournament.
In 2019 Japan were placed in a pool with Scotland and Ireland and given little chance of making it out. Except they did, when they beat both to top the table. Not to mention the Brave Blossoms' David-and-Goliath act against the muscular Springboks four years prior.
The 2023 edition could produce an unprecedented number of upsets given how little separates the top six teams in the world and the quality of emerging nations such as Fiji, Samoa and Tonga.
In Pool B, almost everyone is backing Ireland and South Africa to qualify. That's a fair expectation given current rankings and form, especially after the Springboks demolished New Zealand in their last hit-out.
But to dismiss Scotland is a mistake; their potential disruptor status is significant. Though they failed to make the quarter-finals in 2019, they are a side on the rise, underpinned by a talented backline featuring Finn Russell, the most adventurous fly-half in world rugby. If the magician can be supplied with possession and sprinkle his stardust, Scotland will be a handful.
In New Zealand media circles, there has been a steadfast refusal to take the Scots seriously, with almost every commentator having said for the past 18 months, the All Blacks are facing a quarter-final against Ireland or South Africa.
The quiet presence of Tonga in pool B only makes the group more interesting still. The 'Ikale Tahi have benefitted greatly from the change in eligibility laws which allows players to represent a second nation after a stand-down period.
Tonga have picked five former All Blacks in Charles Piutau, Malakai Fekitoa, Augustine Pulu, George Moala and Vaea Fifita and look a much stronger outfit in 2023 than 2019. They may not have enough firepower and cohesion to be considered knockout stage contenders, but they can certainly make an impact on the final placings.
The same could be said for Samoa, who have chosen three former All Blacks – Charlie Faumuina, Steven Luatua and Lima Sopoaga – as well as ex-Wallaby Christian Leali'ifano.
They showed their disruptor potential when they scared Ireland in France on Saturday. Remember, this is an Ireland team which has not lost since July 2022, claiming every major scalp the game has to offer in the process. The final score of 17-13 was a fair reflection of how close the sides were, how much dominance Samoa had at the set-piece and how well they were able to use their rush defence.
Coming within a whisker of beating the number one team in the world is a major moment for Samoa, who could yet cause some sensational drama in the weeks ahead.
The addition of All Blacks is clearly a boost, but the bigger reason Tonga and Samoa are heading in to this World Cup as disruptor candidates, is their exposure to Super Rugby.
Rather than ply their trade for New Zealand's provincial teams or Samoan clubs, the creation of Moana Pasifika has afforded players access to a higher level of rugby. Ten members of the Samoan squad were involved in Moana's 2023 campaign.
That has led to improved conditioning, a greater understanding of professional standards and a familiarity with the routines and pressures of big-match rugby.
Coming within a whisker of beating the number one team in the world is a major moment for Samoa, who could yet cause some sensational drama in the weeks ahead.
They are in a pool with England, Japan and Argentina and the Samoans will certainly fancy they could beat two of those teams to advance.
"It's a hard one to describe," co-captain Michael Ala'alatoa said after the loss to Ireland. "There's definitely a lot to be proud of and we're getting to where we know we can get to.
"It's a tough way to lose knowing we don't get these opportunities against the best in the world often.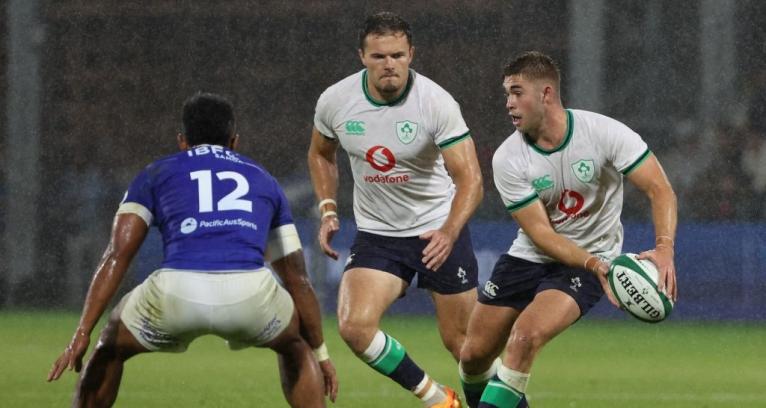 "It is a step forward but at the same time we can take a lot from the way the Irish played. They nailed their moments when they needed to, especially in that second half, so when we get to the World Cup we need to get better at that for sure, but in terms of our effort and enthusiasm, we can't fault that. We left everything out there but there's still a lot to learn."
If Samoa are an outside bet for the last eight, the odds on Fiji doing it for the first time since 2007 are being slashed by the hour.
They pulled off a fabulous win at Twickenham against England and look to have power, speed, balance, creativity and technical expertise across their playing group.
Unlike Samoa and Tonga, they haven't picked any former All Blacks or Wallabies, but they do feature 18 players from the Drua. And this, again, is significant, because the Drua were a major success story in Super Rugby Pacific, beating the Crusaders, Hurricanes and Rebels, among others, to make the play-offs.
Having a team based in Fiji has enabled national selectors to combine high-quality local players who are used to playing ruck-and-run Super Rugby style, with their Europe-based stars, many of whom are seasoned practitioners in the dark arts of scrummaging, collisions and pressure sport.
It's almost a perfect blend and for those who have been following the Drua and Fiji these last 12 months, their 30-22 defeat of England was not necessarily a major surprise.
We've been together for seven or eight weeks and you see the benefits. It's going to be the closest World Cup we've seen.
This is a team with fine players – all of whom have exposure to professional systems and structures, which is why head coach Simon Raiwalui said at Twickenham: "The gap is closing, which is good for rugby in general.
"It's been really good to watch the progression of teams who have traditionally struggled. There's been more of a level playing field in terms of preparation.
"We've been together for seven or eight weeks and you see the benefits. It's going to be the closest World Cup we've seen."
Now seventh in the world, Fiji are the highest ranked team in pool C and favourites to go through, with one of Wales or Australia. Georgia, who beat the Welsh and Italians in the past year, may have something to say about that too.
A year ago, many would have put France, New Zealand, Ireland, South Africa, Australia, Wales, England and Argentina as nailed-on quarter-finalists.
Now, though? The landscape is shifting. A compelling case for Scotland, Fiji and Samoa to escape their pools can be made. This may be the tournament of unprecedented disruptors.
Or as Wallabies sage Eddie Jones put it: "This could be the World Cup that no one forgets".