Back

By Andrew Elliott
Unfinished business chasing the Olympic dream
Harry Glover counts himself one of the lucky ones. When the global pandemic struck, few sports were hit as hard as sevens rugby. The World Series was put on hold; funding was suddenly slashed or unceremoniously wiped out altogether as the unions cut their cloth accordingly, teams were disbanded.
Several of Glover's England and Great Britain colleagues were forced to take part-time jobs to make ends meet. The present, let alone the future, looked bleak for any sevens specialists.
Glover, though, managed to land on his feet. Rather than having to take up another profession, the 6ft 3in, 13st 4lb centre was offered a contract in the Languedoc region in the south of France, at Pro D2's US Carcassonne, where he not only earned a decent crust but flourished – albeit at the 15-a-side game rather than the abbreviated version. So much so that the 25-year-old, who made his England sevens debut in March 2016, has now been signed up to a two-year contract by Top 14 side Stade Français.
"Everyone has been through tough times in the past 18 months but it was hard on all of us who basically got let go from our day jobs," said Glover. "It was difficult not to go in and train with people who have become your best mates.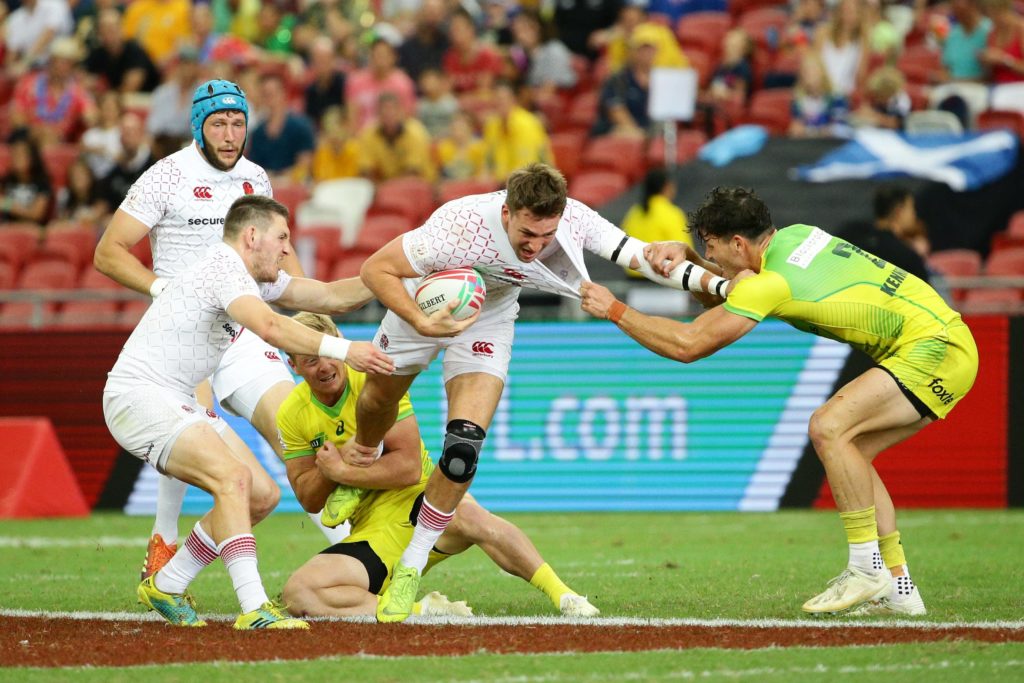 "I wanted to keep my rugby ticking over for when the sevens programme restarted and I had this fantastic opportunity to go to France. My French isn't great so it was a big step going somewhere I'd never even heard of and playing in a team where they didn't speak any English at all. It was French or go home.
"But it was awesome, they welcomed me really well, a really nice place to be and I played some good rugby out there for three-quarters of a season. It was a real blessing in disguise that I could go and pursue a XVs career and that's what I'll go back to with Stade. The offer took me by surprise but what an awesome opportunity.
"We play in the Stade Français stadium for the sevens so I know it well. I really understand the history of what is probably one of the most well-known clubs in France. Two years in Paris doesn't sound bad at all so I can't wait."
But always at the forefront of Glover's mind was return to his first love. Even during the darkest times for sevens rugby, the Olympics has been a light at the end of the tunnel and Glover has been drawn towards it. Thanks to the financial support of The National Lottery – resuscitating a sport that had been flatlining – Glover and the GB sevens squad have been training and preparing for Tokyo for the past four months in Loughborough.
It has been strange being in this 'bubble' for four months, guys not seeing their kids and their wives for weeks on end. But, in a weird way, it has brought us closer together and hopefully it will pay off in Tokyo.

Harry Glover
"I've always had in the back of my mind the want to come back to sevens," said Glover, who has been selected in the 12-man GB squad that contains eight Englishmen and four Scots. "I've been training for five years for this Olympics. It would have felt like an abandoned ship if I hadn't come back, firstly, to try to make the team and, secondly, to be on the plane to Tokyo. It was an easy decision for me.
"The National Lottery has saved the sport at the Olympics because we wouldn't be where we are without their massively generous donation. It has been integral.
"It has been strange being in this 'bubble' for four months, guys not seeing their kids and their wives for weeks on end. But, in a weird way, it has brought us closer together and hopefully it will pay off in Tokyo. We now treasure the moment and made us understand the massive opportunity we have in front of us."
"We're feeling part of a bigger team, which is the really cool part. Sevens is a relatively isolated sport, you travel round the world, you're very close with your team and your community. But now we've become a part of something that's really big every four years."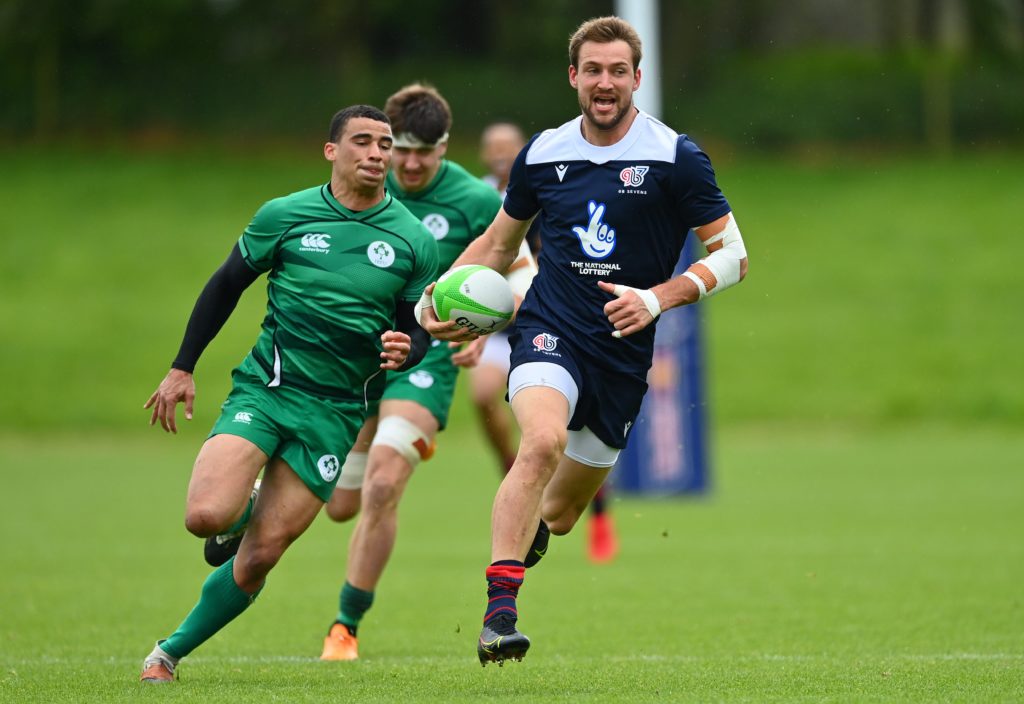 Team GB have had some notable results in the past couple of months, beating Argentina and Ireland, but have not won any warm-up tournaments. Glover, however, isn't overly concerned by the lack of silverware.
"Preparation-wise, it has been pretty good," he said. "At the moment, it's not really about where we're positioning, it's finding the right combinations, the right patterns of play. We're building to a crescendo for the Olympics.
"We're not too worried about the end result in these warm-up tournaments as we know the end result in Tokyo is the one that stands."
Sevens rugby proved an instant ratings hit and crowd favourite in its memorable Olympic debut at Rio 2016, with Team GB claiming the silver medal. Their gold medal-winning opponents that day, Fiji, are in their group, alongside Japan and the 2016 fourth-place finishers Canada in a fearsome-looking Pool B.
But Glover certainly isn't overawed at the prospect of facing the hosts and the defending champions in the three-day tournament that runs from July 26-28 (the women's competition follows on July 29-31). He has been soaking up as much information and knowledge as possible from Olympic veterans such as wing Dan Norton and Tom Mitchell and is confident they can overcome the mighty Fijian flyers.
Norts, Tom Mitchell, Dan Bibby, they loved it out in Rio… but while they had the best time out there, there's a bit of unfinished business.

Harry Glover
"There will be a few guys who will be double Olympians when we get out to Tokyo," said Glover. "That tournament served as real inspiration to me. It has been great to lean on them and speak about their experiences in Rio. You can feel the buzz around the camp at the moment, there's massive excitement.
"Playing against Japan on the first day will be amazing, then obviously we'll have the gold medal holders Fiji, what an opportunity to put down a marker early doors in the tournament.
"In the Olympics there are no easy games but we know if we get everything right, we'll have the opportunity to do something really special.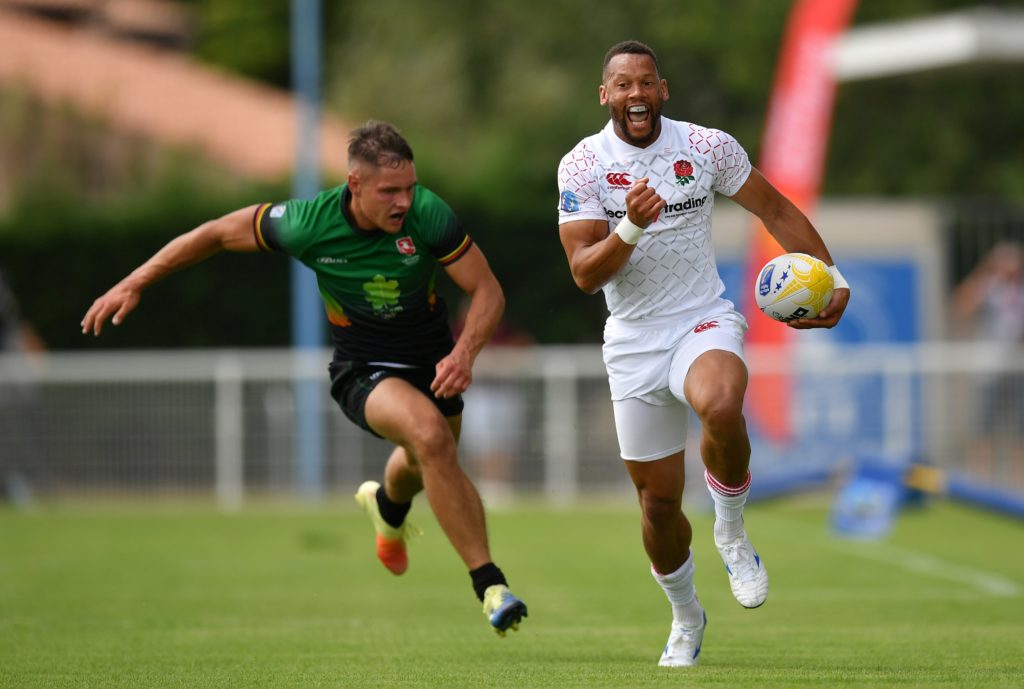 "Norts [Dan Norton], Tom Mitchell, Dan Bibby, they loved it out in Rio. They've all been there and done it. But while they had the best time out there, there's a bit of unfinished business, that final against Fiji (which GB lost 43-7), where it didn't really go to script.
"For someone like Norts to be confident about what we're doing says a lot about us. He has scored about 300 tries – which he keeps reminding us. He's forever young, still the quickest guy in our team and mercurial.
"We have a massive amount of respect for the other teams but we know how good we are and how good we can be when we're firing.
"Last time we were one off the top spot and we're not shy about going for gold this time. It's a dream at the moment but it's at the forefront of our minds and driving us.We're heading there to do a job and take home a gold medal."
On Glover's Wikipedia page, it is reported that "Harry is famed for his lengthy fingers that allow him to grip balls firmly. Using this talent he scored the try of the tournament at the 2017 Capetown 7s." Whilst doubting the veracity of the statement, don't bet against him using those overly long digits to grasp a medal at the Olympics at the end of the month.
More stories from Andrew Elliott
If you've enjoyed this article, please share it with friends or on social media. We rely solely on new subscribers to fund high-quality journalism and appreciate you sharing this so we can continue to grow, produce more quality content and support our writers.