Back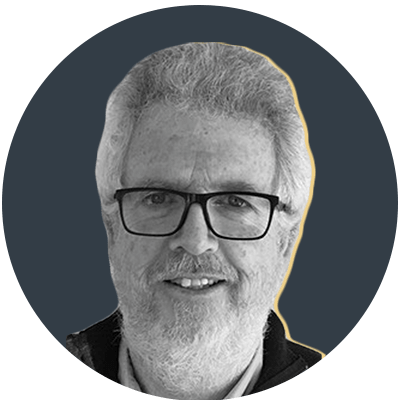 By Lynn McConnell
Turbulent times
In a rugby life as rich as former All Black player and coach Alex 'Grizz' Wyllie enjoyed, the period when he was at his playing peak from 1970-1973 proved one of the more eventful times in New Zealand rugby history.
It was one of mixed fortune having been beaten in South Africa in 1970, having conceded the only series still to the British & Irish Lions in 1971, while there was also the first loss at home to England in 1973, a game that signalled the end of Wyllie's Test career.
The tour to Britain, Ireland and France in 1972-1973 proved controversial as the team was subjected to intense media scrutiny and for the sending home of prop Keith Murdoch.
Yet, the tour was within minutes of achieving the first Grand Slam by the All Blacks. That was denied them when Ireland drew 10-10 in the final Test of the possible Slam. They went on to lose to France afterwards.
The 1959 Lions team were a very, very good side. Their backline was outstanding and they played some outstanding rugby, more so than what I think the 1971 Lions did.

Alex Wyllie
But as Wyllie pointed out, after the retirement of players following the 1970 tour to South Africa, it was a time of change in the New Zealand game, and it took a long time for things to settle down.
The 1971 Lions team took New Zealand by storm, but Wyllie said his first experience of the Lions was when they toured New Zealand in 1959 and he felt they played better rugby than John Dawes' side.
"The 1959 team were a very, very good side," he tells The XV. "Their backline was outstanding and they played some outstanding rugby, more so than what I think the 1971 Lions did.
"But John Dawes' side have got the record to say that they beat us and so they were the first Lions team to do it. You've got to give credit to them but, then again, I think you've also got to look at the fact that after 1970, there were only about four or five out of the 30 All Blacks who toured South Africa, who were available for the team. And there were quite a few changes made during that series as well, so the selection wasn't as stable as it could have been."
Before the Test series started, the Lions had blown Wellington away 47-9 to show their attacking worth. A week before the first Test they played Canterbury, a game that became so rugged that All Blacks coach Ivan Vodanovich warned if things didn't improve the first Test could become another Passchendaele.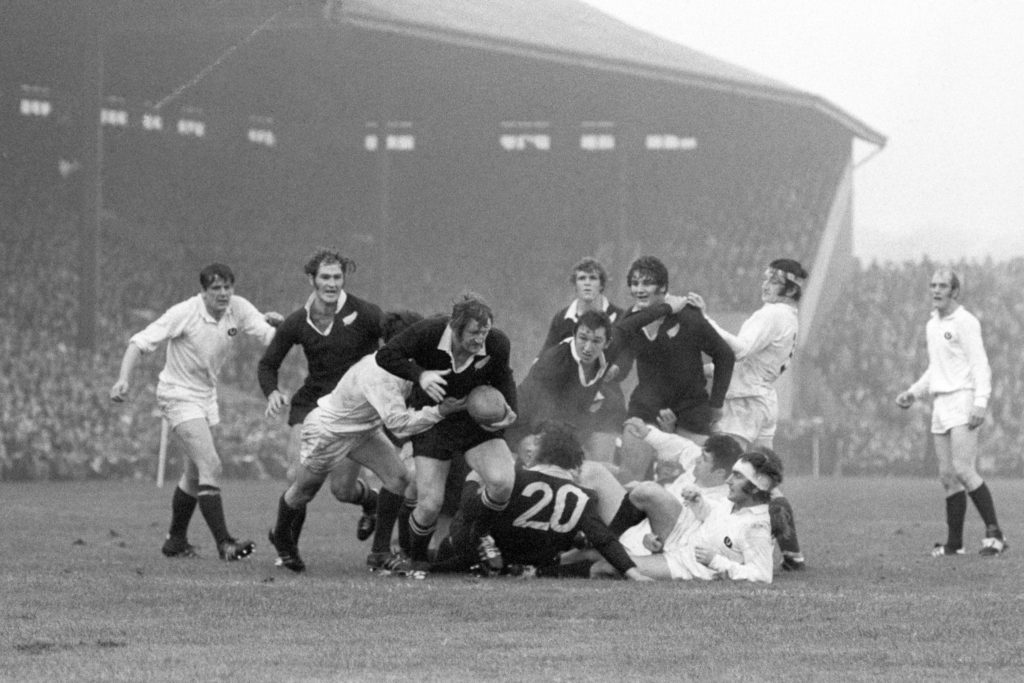 Lions prop Sandy Carmichael suffered five fractures to his cheekbone and was invalided out of the tour, but Wyllie said it was thought his injuries were suffered in training beforehand. Indeed, Wyllie felt the Canterbury game had not been as bad as was portrayed.
"The 1971 team's management was very strong. Manager Doug Smith and coach Carwyn James were quite clever in a lot of things they did. They played the Test matches differently to the way they played in the provincial games, where they threw the ball around a lot more.
"I couldn't understand Alistair Hopkinson not being picked to prop the All Blacks' scrum. The Lions clearly didn't want Hopkinson packing in the Tests and that was brought out in the post-game comments.
"They [Smith and James] manipulated their own media then, of course, and we got the reports back. Before Canterbury played them, Hoppy had been talking to someone who had played the Lions earlier in the tour and they told him what the Lions were doing in the scrum when pulling opponents down.
Right from the start of the 1972-1973 tour there were niggles because I think they felt after 1971 they were going to clean us out.

A;ex Wyllie on the Lions
"I don't think the game was anywhere near as bad as it was written up to be. I know there were a couple of [touring] reporters who were going to say it was another typically hard New Zealand game and then Smith called them in and said, 'No, we've got to write this up as it's not rugby at all and put a lot of blame back on Canterbury'."
Wyllie didn't play in the first Test, coming into the side for the remainder of the series after Alan Sutherland broke his leg. But in the final Test, as New Zealand looked to draw the series, it was his use of a regular Canterbury move off a scrum that saw first five-eighth Wayne 'Baker' Cottrell score a try.
As a result of the series sitting at 2-1 to the Lions with the last Test drawn, the stage was set for the British and Irish teams to take advantage and show the power of the game was now in the northern hemisphere when the All Blacks toured at the end of 1972.
"Right from the start of the 1972-1973 tour there were niggles because I think they felt after 1971 they were going to clean us out," Wyllie says. "Again, we had a lot of new players. There were very few who had toured, or played games, for the All Blacks. Bryan Williams and Sid Going were the most experienced in the backs and in the forwards there was only Ian Kirkpatrick, Alan Sutherland, Keith Murdoch, Bevan Holmes and myself who had toured before."
Murdoch became a focal point of media attention – his strength was acknowledged, but he had a reputation with the media especially and, after scoring a try in the All Blacks' 19-16 win over Wales, the late-night incident when a security guard was assaulted, cast a pall over the remainder of the tour.
"The shame of the Keith Murdoch incident was that Keith was training so hard and doing everything so well," Wyllie says. "It should never have happened. They knew that they couldn't handle him in the front row.
Training was bloody hopeless after that. It upset the team badly.

Alex Wyllie on Keith Murdoch's expulsion from an All Blacks tour
"I came off the field in the Wales Test with torn ligaments in my ribs and I didn't know they had a team meeting about Keith. They had come into my room and I was lying on my bed asleep, so they just left me.
"It was only on the Monday morning when I heard that the team had a quiet night and a team meeting that I knew what had happened. I went straight to [manager] Ernie Todd's room and said, 'What was the story about the team meeting?' And he said to me they hadn't worried about me. He said to me then, 'We've had a meeting and we've decided Keith's going home.' And I replied: 'What?'
"So then I went down to the bus that was going to go to training and said to Kirky and Sid, 'What the hell's going on? Why's Keith going?' and they said, 'No, he's not'. And then two or three minutes later Keith came out and said, 'Hooray guys, I'm away.'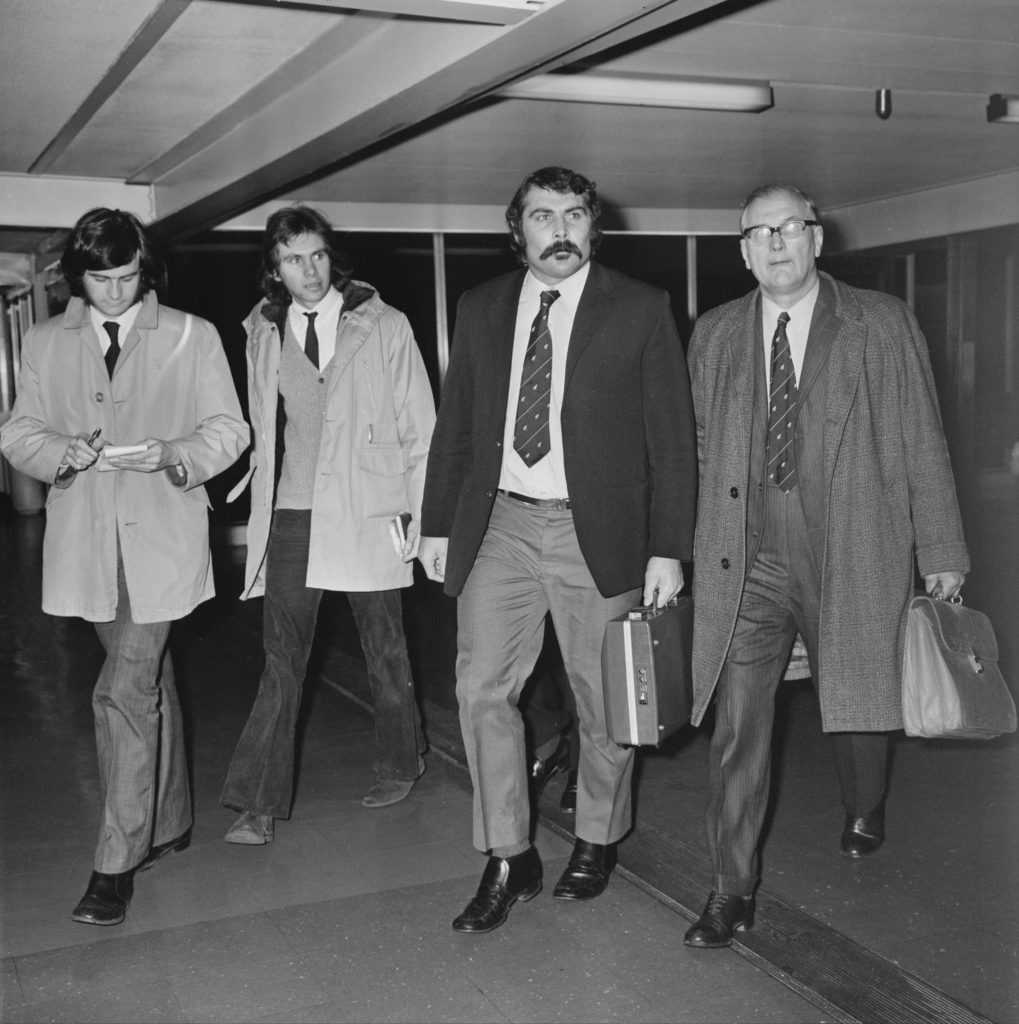 "So training was bloody hopeless after that. It upset the team badly. [Murdoch disappeared into the Australian outback and never officially returned to New Zealand]. From what I understand, he came into the country quietly a couple of times on fishing boats to see his mother. It could have been more than that."
Stil,l the media attention continued.
"It was also happening that some of the media who hadn't been at games were writing reports about things that you would have to have been at the game to know happened. In the end, you just didn't read it. If you know in your own mind that a lot of it isn't right then you've just got to ignore it."
England visited in 1973, on a hastily-arranged trip after a Springbok tour to New Zealand had been called off. Wyllie says the attitude of several All Blacks was poor having watched England lose to Taranaki, Wellington and Canterbury in their other games.
Their shock defeat by the tourists in the single Test at Eden Park sparked major changes to the New Zealand squad. It would by Wyllie's 11th and final international.
"What people don't understand, or forget, from back then, especially when teams today can get together for a week or 10 days beforehand, in those days we came together only three or four days before," he says.
"And you could say that Taranaki, Wellington and Canterbury probably knew each other a damned sight better than what that All Blacks team did. We were very disappointed to lose that game. Changes were made, I guess that's what happens when you lose.
"It was to be my last Test and that was disappointing as I still felt I had something to offer."
Now 76, Wyllie could not shake the buck despite the blow of omission from the All Blacks squad. He continued to play for Canterbury throughout the 1970s, and finished with 279 first-class games.
More stories from Lynn McConnell