Back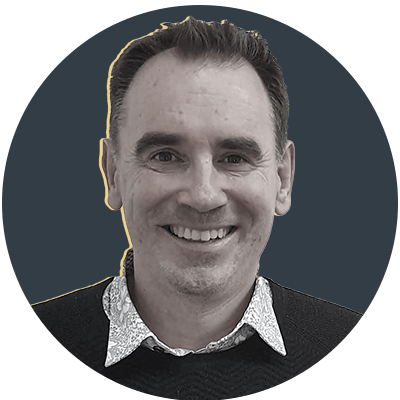 By Owain Jones
The odd couple
TV presenter Mark Durden-Smith and former England player and respected pundit David Flatman have brought insight, analysis and charm to our screens on Channel 5's Premiership highlights show since 2017. Some have said they have the best on-screen chemistry since Burton and Taylor, but what do they really think about each other off-air? Is their easy bonhomie all an act? The XV caught up with them for a light-hearted chat to find out who is the biggest diva…
Durders on Flats
He won't admit it but Flats is in awe of me. My first impressions of him, however, were awful. I just thought, 'Who is this mindless person who has nothing to say in life and won't go far'. But slowly, and this is his genius, what he appears like and what he is are contrasting things. He's a sensitive little soul, like a human feather boa.
When his name was first mooted, my first response was, 'Anyone but him and I'll sign up', but I realise now that was a knee-jerk reaction. It's really irritating to admit this but I'd seen him on ESPN and thought, 'He's good, he's got something to say and he's an original thinker'. Yes, I mean he looks monstrous but I think the modern viewer will get over it, so I said, 'He's our man'. There were other people in the frame but he had something. He looks stupid, but he's really intelligent. A complete surprise package.
I don't want to be too nice about him, mind you.
One day he'll turn up looking like a retired Tory MP who likes tending to his grouse garden and the next he turns up looking like an extra from Love Island XL.

Mark Durden-Smith
When you ask him what he likes doing in his spare time, he's either cooking meat or listening to podcasts, and this is where it gets interesting, because it's generally pods about people being murdered. If you think he has the big old carving knives and an obsession with people getting bumped off, you begin to wonder if he has the profile of a serial killer. But I don't want him arrested, no siree, because I'd have to fill in the gaps in air-time.
Off-air, there's not much to him. It's a giant void of nothingness. In fact, as soon as the camera is off and he can't show off, he's very boring. On the odd occasion he does spark into life and bothers to give anyone the time of day he can be all right, but I always ask him lots of questions about his life and he never asks me anything. A typical egomaniac.
During Covid, we had to bring our own food to film. Now, being the athlete I am, I turned up with some lettuce and some cheese bites but Flats' girlfriend, Freya, provided him with a Tupperware box and he had three home-cooked scones that he refused to share. He had all these little pastries and samosas as well. Unforgivable.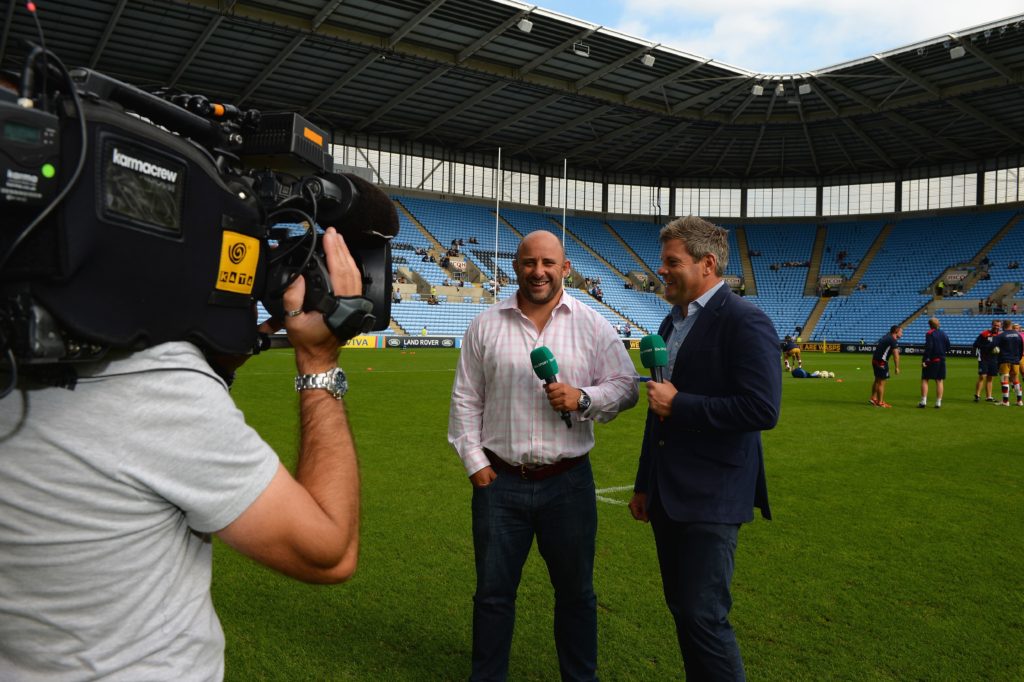 What I do like about him is his abruptness. I've always been brought up to be nice to everyone. You know, be a bit smarmy, a bit oily, but he's brutally frank. If anyone gives him abuse about his bin liner, I mean coat, he will be ruthless.
To be fair, he has a terrible dress sense. It's so confusing. One day he'll turn up looking like a retired Tory MP who has been serving his constituency for 45 years and likes tending to his grouse garden and the next weekend he turns up looking like an extra from Love Island XL. I don't think he has a clue who he is and what he stands for. If he has a personal dresser, they should be handing in a resignation letter forthwith.
Another thing about Flats is he has so much crap in the back of his car. There are meat carcasses, knives, you name it. If you want to see Flats semi-naked, just turn up to a Premiership ground about three hours before kick-off and look out for a gleaming Land Rover, where he's generally pulling out a shirt and pair of trousers he thinks match – a little secret, a man with those enormous thighs needs a bit of stretch factor, he's not an off-the-peg guy.
He doesn't ever say bland things and, for a surprisingly intelligent guy, conveys those thoughts in a way that is easy to listen to, with a twinkle in his eye and a sense of humour.

Mark Durden-Smith
When you get to the business end, I must say he's very sensitive about front-row play. If he thinks people aren't taking the pushing and shoving seriously enough, he gets very cross. It's his bête noire. With video footage to support his evidence, Flats has this mesmeric quality of explaining technical details in basic terms. Indeed, he can provide Eureka moments for the befuddled viewer, which is quite the skill.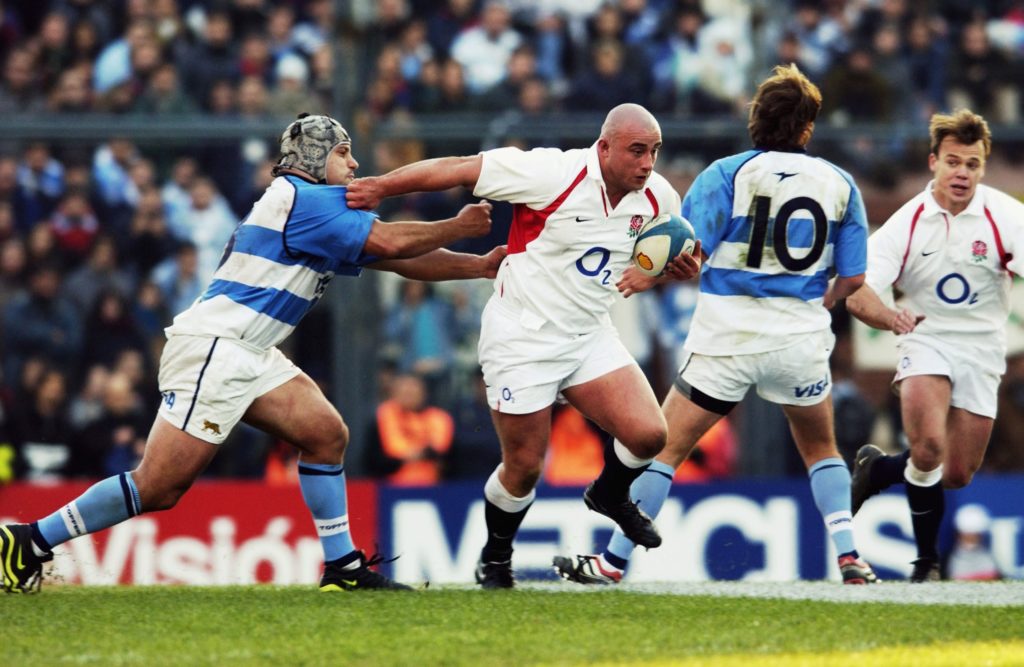 In the early days, a producer would say, 'Can you smile more, you look like you hate Mark' and to this day, I still don't know if he was joking. Anyway, he's got something that everybody loves, that certain 'je ne sais quoi'. He's a lovable human being who connects with the audience. He's not boring to listen to. He doesn't ever say bland things and, for a surprisingly intelligent guy, conveys those thoughts in a way that is easy to listen to, with a twinkle in his eye and a sense of humour. He's a quadruple threat.
Unfathomable as it is, he's secretly attractive to all humans. Women want him and men want to be him. Rugby audiences connect with him too because he is one of them. Cut him in half and you'll find a rugby ball in there, probably the type you use in those corporate events.
Yes, Flats grates and charms in equal measure but I've been happy to play Phillip Schofield to his Holly Willoughby for the past few years and long may it continue.
Flats on Durders
I always think of Durders as the Eamonn Holmes to my Rustie Lee. From the off, he was extremely welcoming. He has this uncanny skill of making everyone around him feel at ease, important and included. It's not contrived or synthetic, it is who he really is.
What's he like off-screen? Well I can tell you he is obsessed with exercise. Whenever you wake up, he's already bragging about doing some aggressive exercise in one of his barns with his personal trainer or plunging into an ice bath. He lives on an enormous estate in Hampshire with 40 acres as a back garden. As a caricature, he's as close to an old Etonian Tory boy you can get without being an Etonian or a Tory.
I keep calling him a posh boy, but he berates me by saying, 'I'm a man of the people, I was raised on the mean streets of north London'. I tell him, 'Look mate, you were born in a huge house in Highgate, you're above middle class'. I'd say he's upper-middle, or even upper.
He doesn't switch off, he's so buoyant all the time, so I feel sorry for his wife – he must be so exhausting to live with.

David Flatman
Saying that, he is a human being with real class. He is morally and ethically unimpeachable. He's not whiter than white but he absolutely does the right thing by people. He would never do anyone a disservice in order to service himself. I think he is a genuinely wonderful human being. One thing I can't believe is he isn't on the TV more because I think he's brilliant. He doesn't switch off, he's so buoyant all the time, so I feel sorry for his wife – he must be so exhausting to live with.
At games, he is hilarious. You can genuinely plonk him anywhere. We travel all over the country and all the ground staff, pastie wrappers and students behind the bar love him because he's just so nice to everyone.
When kids wander over for an autograph, Durders will give them five minutes. I'm friendly but next to him I look like Mike 'get out of my face' Tyson. I'm just not on his level. It's all, 'And what is your name, what is your favourite subject at school, what books are you reading, who is your favourite player?' I've seen him at Welford Road, gallivanting along in front of the main stand, shaking everyone's hand. He's like Prince Charles doing that small talk. I'm like, 'What is he even saying?' He even has this almost regal wave.
He was born with a silver spoon in his mouth, up his nose, in his ears and a gold one coming out of his chiselled behind.

David Flatman
He makes me out to be this rude, horrible git but I'm not, it's just he's too affable and can't get rid of anybody. There was this one bloke on a stag do at Wasps who kept stepping into our shot. Durders is like, 'Oh, come on, old boy'. I said, 'Come on, mate, move along', but his mates were laughing and he did it again. I said, 'Third time lucky, don't do it again'. He did and Durders, like the pantomime dame, said, 'Oh no, he's done it again', so I got hold of him by the collar and said, 'You're going to stand there and I promise you, if you do it again, I will fireman's lift you to that St John's Ambulance. Please, please bugger off because you're annoying me'. Durders said, 'I cannot believe you threatened him', but I was so angry at that point. The truth is, he can't get riled. It's just not there. He was born with a silver spoon in his mouth, up his nose, in his ears and a gold one coming out of his chiselled behind.
You won't be surprised that with his career, he name-drops a lot. He tries to disguise it with self-deprecation by saying, 'In my former life when I had a lot of great gigs', but what he is really telling you is how immensely successful he is and why he lives on an aristocratic estate.
He's old money, though, I'll give him that. He wears a £1500 coat, but he's had it 20 years and it's threadbare. He wears a Savile Row bespoke tux when he does corporate events, but he's had it for eons.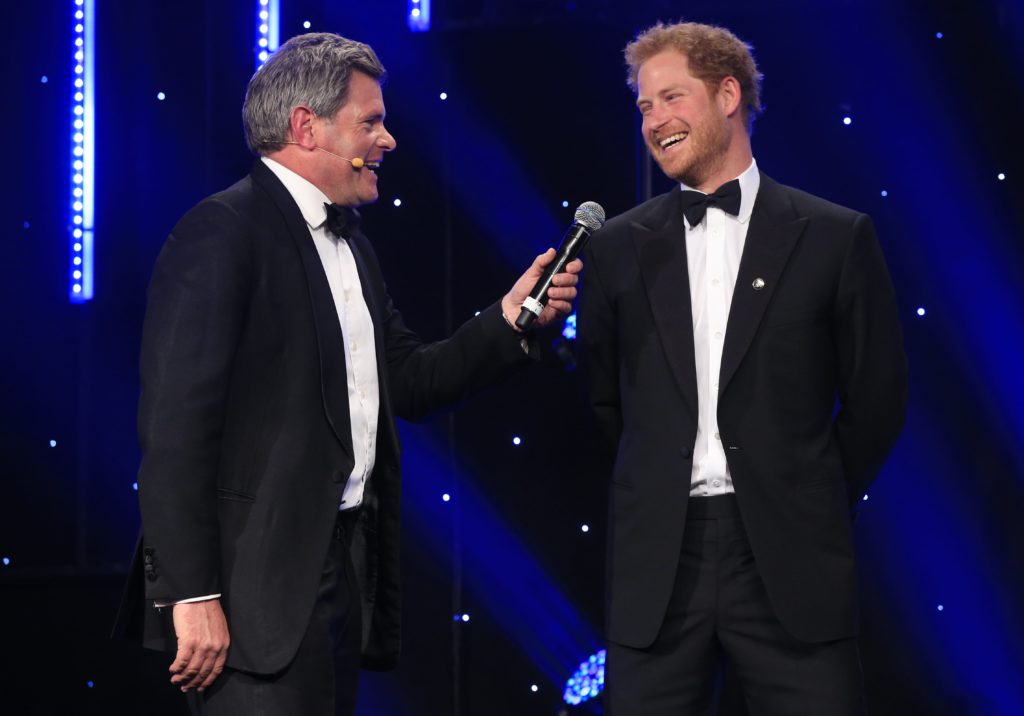 Another thing, when I see him move, I can barely believe he has ever played sport. It's really odd. He can barely walk or run properly. It's a bit like Zara Phillips doing dressage on Toytown, or watching him at Crufts, running alongside the Corgis. It's embarrassing.
He has the straight role in our double act but I can confirm he genuinely loves rugby. He doesn't give opinions because he's not supposed to but a lot of what I say is stuff we've talked out. His opinions are really helpful.
Script-wise, I prefer to go off the cuff but with Durders you have to be on your toes because he's very quick. I know a lot of people who went to posh schools and are as dumb as dog shit but Durders is very bright verbally. To match him is probably an unrealistic aim because he doesn't muck about when the camera is rolling.
I'm on a mission as his TV other half to promote him because, let's be frank, he's a posh, privileged, upper-middle class, double-barrelled white male so he's an endangered species – and I am too, probably.
We know diversity is here and we talk about it a lot. We're not going to get our own way forever and we both genuinely love it. We're lucky to be part of a generation that is going through this meaningful change.
My mission is to make people believe that Jacob-Rees-Durden-Smith is relatable.
Anyway, it's a highlight of my week to drive to Sale from Bath in the rain, while Durders arrives in a chauffeur-driven car. You could say we're like Ted and Ralph from The Fast Show, I'm a jack-the-lad and he's a country gent, but when I see him, it is a pleasure. He makes me laugh.
Columns from David Flatman
If you've enjoyed this article, please share it with friends or on social media. We rely solely on new subscribers to fund high-quality journalism and appreciate you sharing this so we can continue to grow, produce more quality content and support our writers.