Back

By Gregor Paul
The All Blacks are impossibly difficult to understand
Having lost a pool game for the first time in history, the All Blacks now find themselves in the growing school of believers who think that suffering an early World Cup defeat is no bad thing for aspiring champions.
This is a theme that has been around for a while as there have been a few teams who have got off to a horror start, only to build their momentum and charge into the final.
England did it in 1991. They were well beaten by the All Blacks in the opening game but scrapped their way past France in the quarter-final and Scotland in the semi to make the ultimate match.
They did it again in 2007, maybe more impressively as they were utterly dire in their first pool encounter, being thumped 36-0 by South Africa, before dramatically bouncing back to play the same team in the final and get within one iffy refereeing decision of victory.
In 2011, the French lost to New Zealand in pool play and then, unbelievably, they were also beaten by Tonga – but went through courtesy of bonus points.The All Blacks are capable of being both brilliant and awful in the space of 20 minutes.
They lost 8-7 in the final and the whole of New Zealand agrees the All Blacks were barely hanging on in those closing minutes.
But the game-changer was South Africa in 2019, who were well-beaten by the All Blacks in their first game – a result that strangely worked out magnificently for them as it saw them pitted against Japan and then Wales to make it to the final.
Those two games didn't take a huge amount out of the Boks and so they reached the final physically fresh and mentally buoyant having not invested a huge amount of emotion to get there.
Come the final, they played their best game of the tournament, and it was definitive proof that the key to winning a World Cup lies exclusively in stringing together three high quality performances in the last three rounds of the tournament.
Losing a pool game is absolutely not terminal, and ahead of the All Blacks loss to France, coach Ian Foster was asked if South Africa's unusual route to success in 2019 had given his team the confidence to not be too downhearted should they lose.
"I'm often asked after 2019 what we'd do differently," he responded, "I said I'd just throw that first game. It doesn't sound that good, though, does it?
"You never know in tournaments what the path is going to take … We've got one clear goal: to qualify for the quarterfinals, because then it's a one-off game."
What's been apparent at World Cups, is that knock-out games come down to who performs on the day and who can find a way to scrap their way to victory.
After the 27-13 defeat, which was a record loss for the All Blacks at a World Cup, he said: "I don't think we have to rebuild. Stats are stats and I understand all that but in the past, we've won all our pool games and not necessarily won a tournament. The goal is to win the tournament."
On a practical level, Foster's right to believe that the loss to France has done little to alter the equation for the All Blacks. They should still qualify for the quarter-finals and once they get to that point, it really is a case of the form book going out the window.
What's been apparent at World Cups, is that knock-out games come down to who performs on the day and who can find a way to scrap their way to victory.
Rarely, certainly not often, do things go according to the seedings and this really is what Foster is getting at it when he says that the loss to France was disappointing rather than catastrophic.
But there is a bigger question building around the All Blacks, one that is increasingly difficult to answer: just exactly who are they and what are they all about?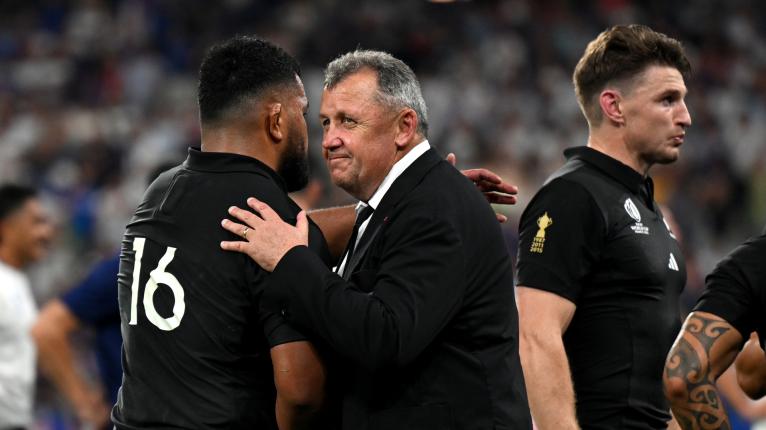 It's a question that has to be asked because the All Blacks have been almost impossibly difficult to understand in the last few years and have fluctuated wildly from mind-boggling brilliance to nearly shambolic.
They are going to need to strong together three solid knock-out performances together to win the World Cup, but no one can be sure if they have that within them.
Consistency, which has long been the hallmark of New Zealand teams, has deserted them and so while it would be no surprise at all if they did win the World Cup, nor would it shock many people if they are dumped out of the quarter-final by a record margin.
That's the way things have been under coach Ian Foster and the opening game was almost a microcosm of the last four years.
There were times in Paris when the All Blacks attacked with verve and ambition. They ripped through France's defence with their first play and scored a well-constructed try after three minutes.
For long periods – most of the first half – the All Blacks were the superior team and while they had a couple of issues in the first few scrums, for 55 minutes they were physically capable of standing up to France.
The way the All Blacks lost the plot entirely in the last 20 minutes is why they are such a hard team to fathom at the moment and why its impossible to predict where they might end up at this World Cup.
But the curious thing was how easily and readily the All Blacks continued to let France come back at them, and how many critical opportunities New Zealand failed to convert.
The best All Blacks teams of old were renowned for being meticulous in their skill execution and ice-cold with their decision-making.
This team, however, have no such stability. From the kick-off after the first try, they conceded a weak penalty – and France pulled back three points.
When they had a sustained period of pressure in the last 10 minutes of the first half, firstly Ethan de Groot knocked on in contact when he should have been passing out the back door – and a try almost certainly would have followed – and then Codie Taylor threw the ball to no one, just two metres from the tryline.
These were big errors that meant the All Blacks blew two golden try-scoring opportunities, which had they been taken, would have seen them go into half-time potentially 23-9 ahead instead of 9-8 behind.
"You have got to take your opportunities," lamented veteran lock Sam Whitelock. "You don't get many. There were a couple of key moments where we didn't execute our simple skills, whether that was pass and catch, or cleaning a ruck, we have to grow and be better.
"We have to have a good look at it and make sure those things are trending up."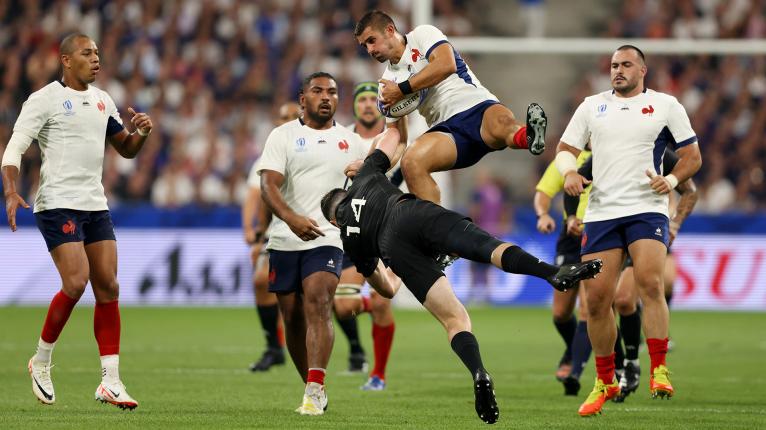 These errors could perhaps have been attributed to nerves if it were not for the fact that the All Blacks had a final quarter meltdown to suggest that the mental fragility is inherent rather than linked to the occasion.
And the way the All Blacks lost the plot entirely in the last 20 minutes is why they are such a hard team to fathom at the moment and why its impossible to predict where they might end up at this World Cup.
Their discipline collapsed with Will Jordan being yellow carded for taking Thomas Ramos out in the air and with a man down, the All Blacks began to commit all sorts of sins at the breakdown.
The final penalty count was 12-4 against the All Blacks and France took advantage of all that came their way to kick goals and pin their opponent in their own territory.
Our discipline let us down.

Sam Whitelock
It was a classic pressure squeeze from the French and the All Blacks imploded – unable to keep their heads, with their basic skills also collapsing in that last quarter.
"I think the hardest thing was when they won a moment," said All Blacks first-five Richie Mo'unga.
"Then they won the next one and it was compounding on us and you need to stop at some point. You can't get them a roll on like that otherwise you will pay for it.
"It is very hard [to break that pattern] in real time. Because just like that you can lose a player and it closes your game. It stops you from playing thew way you want to.
"So you try a little bit harder and trying a little bit harder isn't always the way to go because you get inaccurate and then you give free ball to the French. They are very clinical at the ruck and the way they get on the ball.
"Our discipline let us down. I don't know what the penalty count was and the amount of times Ramos was able to have a shot at goal or they were able to put pressure on us."
There are, currently, probably more reasons to believe the All Blacks can win the World Cup than there are to say they won't.
But they are such an up and down team, capable of being brilliant and awful in the space of 20 minutes that any confidence in them is fragile.