Back

By Andy Clarke
Stats and snapshots: episode one
Each week of the Six Nations, former England Sevens international and broadcaster Rob Vickerman will shed light on a pivotal aspect of the weekend's matches. From balance to chaos, mauling to offloads, and kicking to scrums, this is your stats and snapshots guide to rugby's greatest championship.
Much in a game of rugby can be explained by the balance of the fly half's kick/run/pass ratio. These numbers give a sense not only of the pivot's distribution, but their team's tactics and strengths.
Carlos Spencer, for example, the swashbuckling former All Blacks 10, would adopt a 'Pat Mahomes' style first-receiver role, seeking to use his own ability with ball in hand as a primary weapon. Jonny Wilkinson would deploy a combination of left- and right-foot kicking to make all back-field protectors shudder, while also accounting for his slick wide passing.
This ratio is especially crucial in the realms of the territory most hotly contested, in between the two 10m lines. Twenty metres of space that can define your attacking mantra and tee up territorial and tactical dominance. During Scotland's win over England in round one, Finn Russell showed such wonderful dexterity of kicking, he made it almost impossible to defend. Whether it was a discreet probing grubber in behind the defensive line, or a speculative cross-field 'kick-pass', his threat was constant. His unpredictability, and which one of the many weapons in his armoury he would utilise, meant that the English defence had to hold in the middle of the field, creating even more space out wide. What is the upshot? Chaos. The precious state that every attacking team craves, removing defensive structure and preventing the opposition screeching off their line.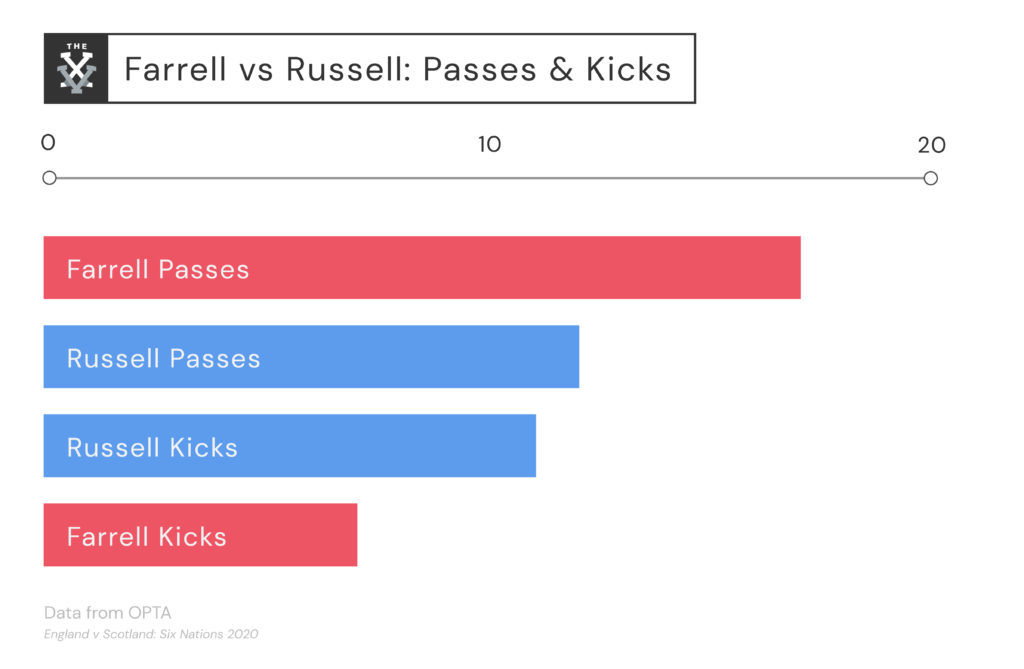 Russell set up one eventual try by putting a kick into space in behind that created an overlap two phases later. Scotland should arguably have scored two more, especially considering how close they came to dotting down from Russell's cross-field kick. Duhan van der Merwe backed his height over instinct by running towards the ball rather than chancing the bounce and leaping up for it, and could not gather cleanly in the English in-goal area. The confidence a team gains from having a master of mayhem is vast – hence why Russell has won two and drawn one game against England in his last three Calcutta Cup matches, and why the Scottish rugby fans are so pleased to see him back.
Adapt and evolve will be the words cited as Eddie Jones' rejuvenation or ruin. England must recalibrate, refocus and seek to explore how their incredible skill-set and power can be a strength in building possession in any way they should choose. They just need to adopt one. For Scotland, Gregor Townsend will aim to replicate their bristling performance against Wales in round two. Wayne Pivac's men were tackle machines against the 14-man Irish, and so the white wall will turn to Scarlet. Either way, Russell has the keys to the wrecking ball.