Back

By Andy Clarke
Stats and snapshots: Episode 4
Many viewers were watching England take on France through their fingers on the back of sedentary displays in consecutive matches by the English. There was a lot of noise and comment around the style being 'boring', 'predictable' and 'stale' – and whilst I wouldn't agree with all of that, there would be some of the players who would see that critique and want to do something about it. That they certainly did.
The flying French start set a relentless pace that was upheld for the majority of the game – and was matched by the English with a new-found desire to want to play. The statistical analysis perfectly backs this up and points to a rejuvenated style of attack, especially compared to the preceding rounds.
For a team who had kicked away chunks of possession in their opening matches, they now found themselves playing with much more ball in hand. England's carries went from a mere 70 against Scotland to 128 against France. This resulted in much more flowing rugby and collated a total of 533 running metres – more than double what they managed in the Scotland game, which was 219.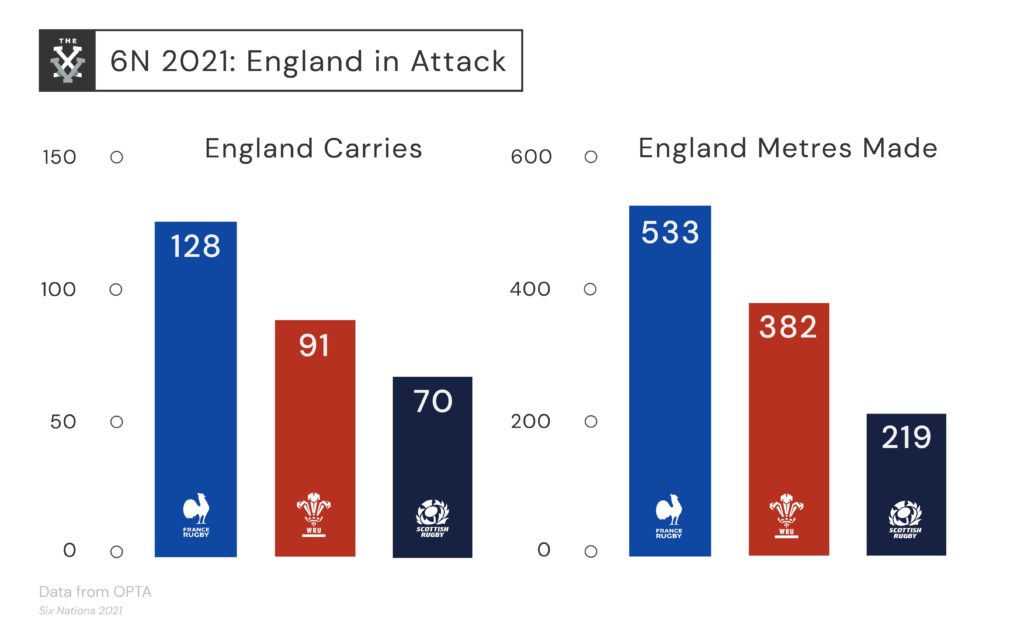 These numbers show real intent. Players who perhaps wanted to break the shackles that were previously restraining them did so, amassing eight offloads – which may not sound like many, but was the sum of the previous three games in the Six Nations. This may well have been partly owing to the French pacesetters – as they average 10 offloads per game so far this campaign and play with a pace unmatched by other teams. The French had 72 per cent of their ball with a ruck speed of less than three seconds. Less time than it takes to read that sentence, which is a joy to state.
Continuing with the positive statistics, there was clearly a move away from territorial kicking rugby, signified by less than 10 per cent of open-field possessions being kicked away – a rarity for Eddie Jones' England – which will be music to the ears of many fans who want to see the arm-wrestling power game subside for some resemblance of attacking rugby. In terms of a comparable to France, this is where Les Bleus are most dangerous.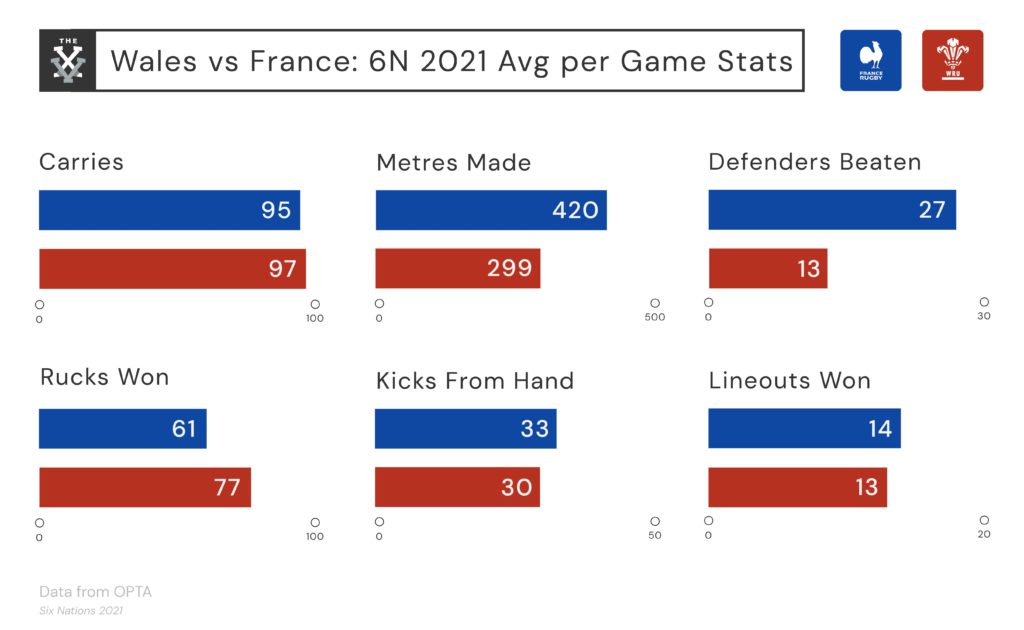 This style will act as a hazard warning for the Welsh squad as they prepare for their Grand Slam showdown in Paris. However, Wayne Pivac's men are in the best shape to take on the French as they are currently sitting on a 89 per cent tackle success. If their insatiable forward pack are able to continue their defensive form this weekend, then there is a serious chance that the trophy will be heading back to Cardiff. It is a oft-used statement that attack can win you games, but defence can win you championships.
More stories from Rob Vickerman
If you've enjoyed this article, please share it with friends or on social media. We rely solely on new subscribers to fund high-quality journalism and appreciate you sharing this so we can continue to grow, produce more quality content and support our writers.