Back
By Jamie Lyall
'Sione changed my life by playing rugby' - Tuipulotu's father on emotional Scotland journey
Fohe Tuipulotu falls silent as a tear slides gently down his cheek. Tuipulotu is a big man with a big heart. Big enough to work the doors on Melbourne nightclubs. Big enough, too, to admit his shortcomings as a young husband and father.
Tuipulotu is talking about his eldest son, Sione, the muscular Scotland centre with the quicksilver hands, delicate boot and awesome running power. He is recalling the day young Sione told him he wanted to be a professional rugby player, and how it jolted him out of an oscillating domestic lifestyle.
Tuipulotu is a proud Tongan. He earned a university scholarship in Melbourne, met his wife, Angelina, a second-generation Scot, and together the couple had five children. His two younger sons, 22-year-old Mosese and Tavi, 19, are also elite players. Mosese has made such a splash with the Waratahs that Scottish Rugby have put some tantalising offers before him.
In the early days, around 15 years ago, Tuipulotu's approach to fatherhood was different. He loved his brood, of course, but it is fair to say he saw his role as provider rather than caregiver. Sione's ambition lit a fire within him that, even today, stirs intense emotion.
"Our family life at the start wasn't stable. That instability was based on what I was as a person. I'm not shying away from that. I wasn't really committed to a family and that was reflected in the kids. I knew during that period Sione was going to go down the wrong path. Sometimes he didn't want to go to school.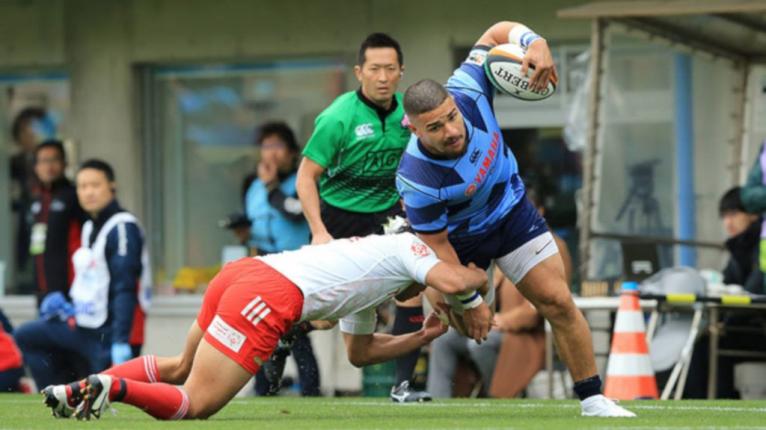 "The day he told me he wanted to play rugby, it did change me. I realised I had to help him. Not long after that, I decided to change my career, from working a 9-5 job, to starting a little business, and I turned my hand to everything – the security industry, the warehousing industry, everything I could to help him get where he wanted to be.
"And I told him that. I told him, 'if you want to be a rugby player, I will support you until you get there'. I told him I would never miss any training session or any game until he signed his Super Rugby contract. And I did exactly that.
"We travelled state-wide; even when he was playing internationally, I always travelled with him because I wanted to keep my promise. The day he signed his first contract with the Rebels, we came out of the office and I said, 'I think I've done my job for you, and I've got two other boys to help now'. I always knew he would go a long way, just from his love of rugby and the dedication he had from a young age."
Tuipulotu often went without sleep. He worked in the warehouses during the day and on the doors at night. At the weekends, he drove across the state of Victoria taking his sons to matches.
"I struggled at the start coping with finishing one job and jumping off to another all the way through to morning, and then back to the first one. I never thought of anything but to get these boys to achieve what they wanted. Working as a bouncer, sometimes you are trying to cope with a lot of different personalities. Then you switch from there to the warehousing.
Once I started committing to what I should as a husband and a father, everything changed.
"My goal never faded. I did make a sacrifice that until my boys finish high school, I will stick with those jobs. Tavi finished school last year, and that's when I decided to let go of the businesses."
The boys grew up in Frankston, a seaside suburb around 40km south of the heaving Melbourne metropolis. Though Sione loves the place and what it gave him, there were malign influences on the streets. When his talent secured a scholarship at the esteemed St Kevin's College, those evaporated. From there, he won his contract at the Rebels and Australia Under-20 caps, then embarked on a fascinating stint in Japan, opening the door for this wonderful chapter with Glasgow and Scotland.
"Once I started committing to what I should as a husband and a father, everything changed," says his dad. "Every great thing came along. St Kevin's came along. Everything fell into place from doing the right thing as a leader of the family.
"Sione changed dramatically, I started to mentor him based on my experience coming from Tonga and a very poor family, the struggle I had, and that helped guide him to the right path. St Kevin's played a big positive role in his life when he was not at home. We are very grateful for St Kevin's, because it wasn't just for Sione, but Mosese and Tavi went there too."
Tuipulotu's Tongan upbringing fuelled his work ethic. A promising rugby player, he attended Tonga College 'Atele, a school which spawned the careers of many fine internationals. Tonga's blockbuster backrow, Vaea Fifita, is among the most recent and prominent.
"I did change from rugby to education based on the struggle we had at home," Tuipulotu says. "In my last year at school, my dad was diagnosed with cancer. I was a decent rugby player, but that changed my mindset. Rugby wasn't professional in those days. I saw the opportunity with education and changed to that direction. It gave me an opportunity to get to Melbourne and study."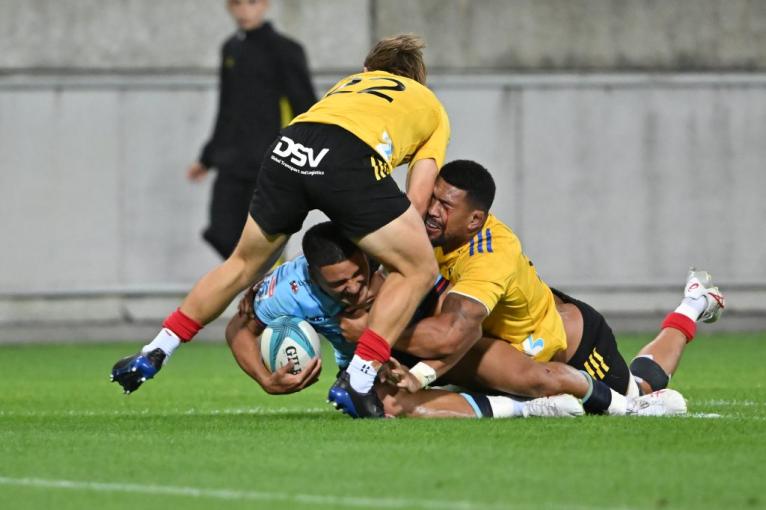 Tuipulotu's mother passed away in January, one of three desperate bereavements to strike the family in recent months. On the day of her funeral, Sione obliterated the Stormers defence, perhaps his finest display in a Glasgow jersey. He smashed the then-URC winners' line while running backwards. His clutch grubber sent Sebastian Cancelliere careering home for the decisive try in the final minutes.
"I lost my oldest brother in December last year," Tuipulotu says. "My mum passed away in January in the States. While I was organising her funeral, my first cousin passed away. That was three in a row for us. During those periods, Sione was playing, and I was in the States, and I told him to just focus on the games. He played for them. It's been tough for me, and for our family. Your mum is the most special person in your life and she was also close to Sione and the kids.
"He didn't know I was watching that game. After the funeral service I had my phone in front of me. He rung me after and said, 'I think grandma was with me on the field today'."
It is Sione's maternal grandmother, the indomitable Jacqueline Anne Thomson, who provides his visceral bond with Scotland. Thomson is from Greenock and, by all accounts, has lost neither her sharp Clydeside accent nor the acerbic tongue to deliver it.
Recent health issues have prevented her travelling to France but gloriously, Angelina has made the trip. Fohe, for once, is staying home, to help organise a new family business with the couple's elder daughter, Kiesse, and support the latest rugby-playing Tuipulotu, Tavi, on his quest for a senior deal at the Rebels. This has been Angelina's first opportunity to see her boy play for her mother's country in the flesh and it is a deeply moving experience for both of them. Sione broke down in a press conference when asked what it meant to have her with him.
Sound ?

You will not see a better angle of That Try from Seba ?#WhateverItTakes ???? pic.twitter.com/qdDTArBxeo

— Glasgow Warriors (@GlasgowWarriors) January 9, 2023
"Sione's mum was always the emotional rock for everyone," Tuipulotu goes on. "She was always giving the kids everything they needed. She is a great mother and you can tell in the way they connect with each other.
"For her to come this time is really special for Sione. Since he moved to Scotland, she never watched him in person, it was always at home in the middle night on TV, then she had to get up and go to work.
"If Sione's gran was healthy enough, she would have gone with her. We always think she doesn't watch the games but she is up and messaging us during the matches, and I always see her comment on Facebook, anything to do with Sione, on the Scotland pages."
On Sunday evening in Nice, Tuipulotu's past and Tuipulotu's present will collide. Scotland play Tonga knowing they must win, and win well, to preserve their hopes of reaching the Rugby World Cup quarter-finals. After being suffocated by the Springboks in Marseille, with a roaring Ireland team to face in the pool finale, there is no room for error.
Fittingly, Sione won his first cap against his father's nation two years ago. Now, with his mother in the stands, he will face them again with the stakes sky-high.
"For us as a family, it will be a massive day," Tuipulotu says. "It will be a great day for Sione to play against the team of his other heritage."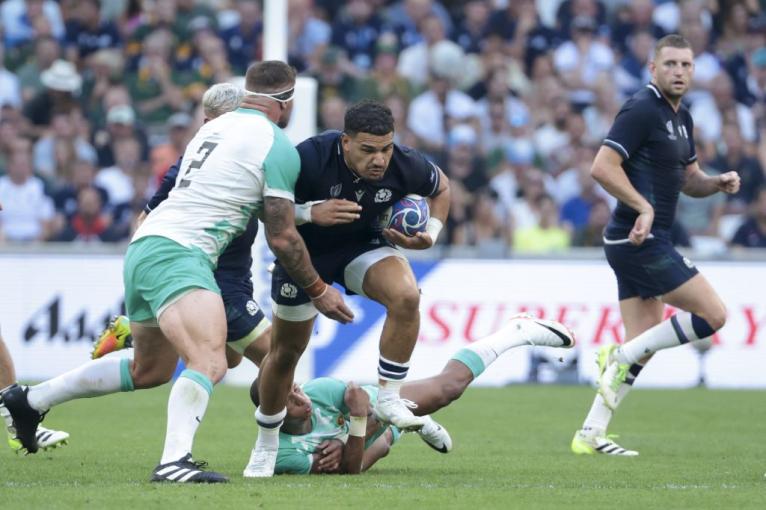 That Scottish heritage remains conspicuous. With Mosese and Tavi turning heads, might there soon be a whole legion of Tonga-infused Tuipulotus igniting a navy-blue backline?
"It's all about them and what they want. They are the ones who are on the field. We can suggest things but whatever makes them happy, we will support 100%. If they all end up in Scotland then good for them, and good for Scotland."
Scots may rejoice at such a prospect. Tuipulotu simply rejoices in the dreams of his boys crystallising before him. Seldom can a child's ambition have changed his father so profoundly. All those hours shifting goods in the warehouses. All those nights dealing with inebriated punters in the doorways. Now, the richest of rewards for the toil and the love as Sione scales the very peak of his chosen sport.
"To be honest, my life… sorry," Tuipulotu falters, as the pride and the tears bubble. "Sione changed my life by playing rugby. He changed the way I looked at things, how to run my family. And he knows that.
"I know he will keep working hard, not only for himself and his family but for the people of Scotland because Scotland gave him the opportunity of a lifetime, to get better as a player and be happy as a human being. I know he is happy – there is no doubt about that."