Rugby's next frontier at hand as records tumble and big questions loom
On a hectic weekend of domestic and international rugby, the Women's Six Nations hit a crescendo in style, the Premiership try-scoring record fell and grave questions loom for Bath and Dragons.
Enjoy our weekly round-up of the major talking points.
The women's game is rugby's next great frontier
No longer should the Women's Six Nations share a stage with the men, nor be chained to the same annual schedule. If this seminal championship, conquered again by England's remarkable Red Roses, taught us anything, it is that the women's game is primed to erupt if only it is given the platform to do so.
Record attendance figures were shattered almost by the week. There were brilliant, febrile atmospheres in Leicester, Gloucester, Edinburgh, Belfast, and Cardiff, capped by a the phenomenal din of over 10,000 in Bayonne on the final day.
These things are hard to measure without undertaking a full quantitative analysis, but the depth and breadth of media coverage has gone through the roof. The BBC showed every game live, and their peak audience figures outstripped those for the popular Women's Super League football. Record attendances have been shattered almost by the week.
Wales are making strides, now they have contracted their first tranche of players. Ireland have recovered admirably from the rancour of last year. Italy faltered but remain a force. Scotland's entire squad must at least be afforded fully professional status in preparation for the World Cup. They were close against Italy, closer still against Wales and so close to winning at the Kingspan that they'll be waking up in cold sweats thinking about how they let it slip for a while yet.
The professionalisation of women's rugby is inevitable, but it needs to be hurried along by those at the top. Less than twenty-four hours after a colossal shift against England, Ireland's Aoife McDermott posted a photo of herself putting in an equally demanding stint in her day job as a nurse. The Scots are all given individually tailored support packages and they have come far under Bryan Easson. A whitewash is cruel after three desperately near misses; imagine what they might achieve if put on a level playing field.
The tournament needs more competition for its entrenched top two now. The Red Roses are almost out of sight after notching a record 23 wins on the trot, but with proper resourcing, one of the others could get up there with France. As the grip of coronavirus loosens on the rugby world, the time is ripe for unions to invest in their female pathways.
Women's rugby should be the game's next great frontier, as it grapples to reach new audiences and catch new eyeballs. Give girls and women (and boys and men) new heroes to idolise. Give them relatable, engaging athletes, nimble on social media. Give them Poppy Clealls and Jasmine Joyces and Jade Konkels. Give them more of this pure, compelling sports theatre. Give them that, and you'll get your money back tenfold in participants, ticket sales and viewing figures.
Van Graan can rebuild something out of this Rec
Those of us of a certain age remember a time when the world gave us certainties. Everything closed on a Sunday so if you didn't have sport then Monday was a long time coming around. You remember Rugby Special like you remember your first pair of boots, your first time fumbling around your garden trying to figure out the peculiarities of this odd-shaped ball's bounce. Most of all, you remember Bath in their Golden Age.
Barnes and Guscott; Redman and Hill; Webb and Dawe; shock and awe. Six Premiership titles in eight years; four doubles; a European Cup tagged onto the end of their great run, you imagined things would stay that way forever because the things you experience in your youth are the things you believe will never change.
But they do. Snooker was box-office in the late 80s, early 90s; Everton were a team to beat rather than pity; a programme called Top of the Pops was essential viewing and meanwhile down at the Rec, Bath had their own form of rock stars.
Not anymore. What happened on Saturday was staggeringly inept, a 64-0 thrashing by Gloucester, but worse than that, the accusation they didn't care.
Well, if so, they better soon start. Come the summer, there'll be a new sheriff in town. Johann van Graan is an incredibly polite man which gives the false impression he may be shy to take tough decisions. He's not. In November he announced he was invoking a six-month clause in his contract to go from Munster to Bath, to go from a team that is currently preparing for a Champions Cup and URC quarter-final to one that is bottom of the Premiership.
He wouldn't have done it if he didn't believe he had the freedom to make changes. Bringing JP Ferreira, his understated but superb defence coach with him, is a good starting point. Put it this way, Gloucester wouldn't have put 64 points on Bath if Ferreira was running their defensive drills.
The Rec is a wreck that needs rebuilt. It is a team with an impotent attack, inadequate pack, indifferent attitude and a general who can't mobilise his troops. That won't change overnight but if you look at what Van Graan did at Munster, making shrewd signings – Tadhg Beirne, Joey Carbery, Mike Haley, Damien De Allende, RG Snyman – as well as knowing when to introduce fresh blood from his academy – Craig Casey, Ben Healy, Thomas Ahern, John Hodnett, Alex Kendellen – it's clear he knows how to put together a team in his image.
But his best quality has been his ability to know who to let go and who to keep. Just six survive at Munster from his first squad selection, back in 2017. Of the squad who played – and were outplayed – against Racing 92 in the 2018 Champions Cup semi-final, only a dozen remain.
That's what Bath need right now, someone with an eye on who to buy and the backbone to call underperforming players into his office and say, 'sorry but your future isn't here, sunshine'. After what happened on Saturday, no-one can complain if they are forced to have that conversation.
Ash splashes into the record books
Watching Chris Ashton run in a 20-minute hat-trick as Leicester Tigers dismantled Bristol Bears was like taking a leap back in time. You were transported back to the days when Ashton relentlessly sniffed out the line for England, to the seasons he spent worrying defenders and nailing tries and trophies like a torpedo for Saracens.
The wing is 35 now, but his instincts have not dimmed with the passage of time. Rumour and rancour spread when he changed clubs three times in 23 months. He risked ending his awesome career as a Premiership journeyman, a bad apple, a player unfairly thought to be arrogant thanks to his flamboyant try celebrations. The Ash Splash is indeed iconic, but it portrayed Ashton in a manner he regrets.
"I wish I'd never done it," he told RugbyPass' Jim Hamilton recently.
At Sale, he had a "difference of opinion" with Steve Diamond. Harlequins was "a tough place to be at the time". He felt so down at toiling Worcester that he reckoned it may be "better that I'm not here". He accepts he is not blameless in the tumult. When the brown stuff and the fan collided at Sixways, Ashton thought he might be done with rugby, an agonising three tries short of Tom Varndell atop the all-time Premiership standings. After all, who would sign a wizened winger with a huge disciplinary rap sheet and four clubs in two years on his CV?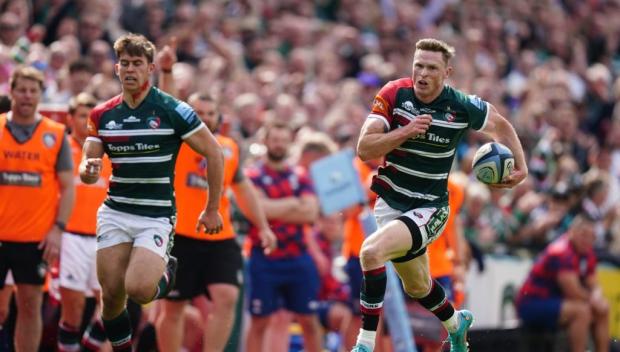 Steve Borthwick, Ashton's gnarled old skipper, would care little about the upheaval. He knows Ashton, he backs him, and his faith has been spectacularly rewarded. Borthwick is so frighteningly laser-focused and impervious to outside noise that the signing of Ashton would have been simple to calculate: will he make us better? Absolutely.
So all hail the Tigers, as they march towards a home semi-final, and an intoxicating Champions Cup quarter with Leinster. All hail their supremo, who has turned the Premiership's foundering tanker on a sixpence. And all hail Chris Ashton, English rugby's greatest gunslinger.
Soroka inspires for club and country
It's hard to know what was more impressive about Alex Soroka, his player of the match performance for a noticeably inexperienced Leinster side at the Stormers, or his post-match interview afterwards. Nine of the Leinster match-day squad – including Soroka – had made under 10 senior appearances. Yet they pushed the South African giants all the way, getting a bonus-point defeat.
Still, the pre-match commentary clearly irked the youngster. "There was a lot of chat about us sending a weakened team and that for the other teams it's going to be easy for them," Soroka said. "So we just wanted to prove everyone wrong."
They certainly did that. While losing, they were winning. If this is what a second string – or you could even say a third string – can do to a team positioned second in the URC, then what does that tell you about Leinster's future? The conveyor belt, thought to have slowed, is clearly still working. Centre Jamie Osborne, wing Rob Russell, hooker John McKee, flanker Soroka, remember their names.
The Soroka name, you might have guessed, is Ukrainian. He grew up in Dublin to parents from Kyiv and Dnipropetrovsk. Grandparents, friends and relatives remain in Ukraine. "My granny is doing fine," he said in a moving interview with the Leinster official website last month. "I don't know if it is the Ukrainian nature but they are so tough."
So, by the evidence of Saturday and his appearances for the Ireland Under 20 team last season, is the younger generation of Sorokas, this one saying he feels as Ukrainian as he does Irish, hence his parting words at the end of Saturday's post-match interview. The 21-year-old is using his new-found profile to raise over €53,000 for a children's hospital in Kyiv, that has been bombed in the war. Ireland and Ukraine has a new sporting hero.
Zebre Parma win at last
They are still mopping up tears in Parma, the droplets that trickled down cheeks when departing Zebre stalwarts were farewelled before their home crowd, and the torrents of cascading elation when the Italians brought their heinous losing streak to an end.
In vanquishing Dragons, Zebre won a rugby match at the 28th time of asking. Fourteen months had passed and 960 points been conceded since their previous victory, against the same beleaguered opposition.
On a sun-scorched paddock, long-serving hooker Oliviero Fabiani, a child in his arms, led the doleful parade of leavers. The Stadio Sergio Lanfranchi is seldom full, but those who continue to back the team know the vast contribution many of those men – Fabiani, Guglielmo Palazzani, Giulio Bisegni, Andrea Lovotti – have made to the cause. Fabiani was among the most visibly emotional when those not playing walked across the field waving for the final time.
Come the endgame, with a scrappy, error-and-infringement-laden nerve-fest claimed, emotion burst out of the Italians like a river in spate. They had almost forgotten the scent and taste of victory. Jacopo Trulla choked up as the ball was lashed off the field to signal full-time. Maxime Mbanda, another on his way out, succumbed to the occasion after a mighty shift in the back-row.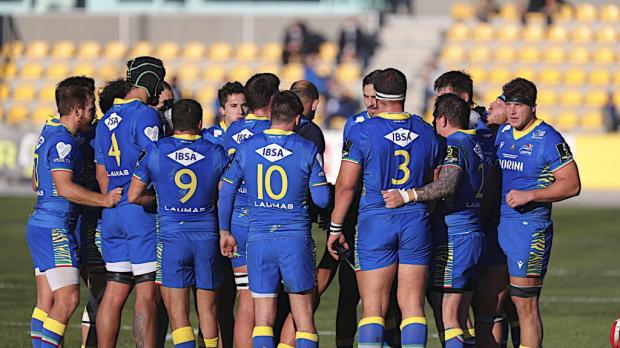 Quite honestly, it is hard to see next season yielding a vast improvement for Zebre Parma. There has been paper talk in Italy about the future of the franchise – their agreement with the national federation comes to an end in 2023 – and typically, three of their pivotal, prime-age internationals – Danilo Fischetti, Giosue Zilocchi and Renato Giammarioli – have taken deals in England. They are on their third head coach of the season after Michael Bradley was sacked, Emiliano Bergamaschi took a temporary leave of absence for personal reasons, and Fabio Roselli took the job through to the end the 2022-23 campaign.
In clearing out the veterans, Zebre hope to make way for a new wave of Italian talent. And that wave is coming. Look at the sterling performances of the Italy Under-20s, with a hefty Zebre contingent, or at the stunning win in Cardiff which ended the national team's even grimmer losing run.
For now, let the tears flow. And well they might. A long-awaited morsel of joy for a proud rugby people.
Dissent in Dragons ranks?
And the Dragons? It seems neither players nor coaching staff can wait for this wretched season to end. The region has been relatively well resourced – word is, Dean Ryan boasts a more substantial war chest than the Ospreys – but the return on that investment is pitiful. Two wins and a draw, with three games left.
Prior to Saturday, Dragons shipped an average of six tries and 43 points in their past six games. Zebre, mired in that horrific run, stuck three more tries on them. They lost two players to the bin in as many disastrous second-half minutes and could have lost another late on. Discipline deserted them. And discipline tends to abandon a team when there is trouble in the camp.
For more concerning than the performances and statistics and results are the mounting rumours of a rift between Ryan and his players. It has been suggested senior squad members have gone as far as expressing their concerns directly to the board, who are expected to offer Ryan a new contract.
Dragons are tooling up in the summer; Sean Lonsdale, George Nott and Bradley Roberts are forwards of sound pedigree; JJ Hanrahan will vie for the 10 jersey with Sam Davies; the marquee, pulse-quickening addition of Sio Tomkinson should add punch to their feeble attack. But all the firepower in the world won't yank them from the rugby doldrums until domestic harmony is restored.