Back

By Gregor Paul
New Zealand is out of sync with the rest of the world
New Zealand, it turns out, might be playing a different ball game to everyone else. That's maybe nothing new, as for decades it seemed New Zealand was playing this vibrant, fast, furious, rugged style of rugby that was light years ahead of every other nation.
But what we are seeing now is that the game in New Zealand is being refereed so differently and leniently that it is out of sync with the rest of the world and potentially stirring up trouble for the All Blacks.
The Super Rugby Pacific final was a thrilling and brilliant spectacle, but so too did it have an obvious moment that would likely have been treated more harshly had it happened anywhere else in the world.
The incident in question saw Chiefs centre Anton Lienert-Brown charge after a kick-off and make a high-impact tackle on Crusaders wing Dallas McLeod.
It was a big moment as the Chiefs were able to counter ruck the Crusaders off the ball, such was Lienert-Brown's dominance in the collision.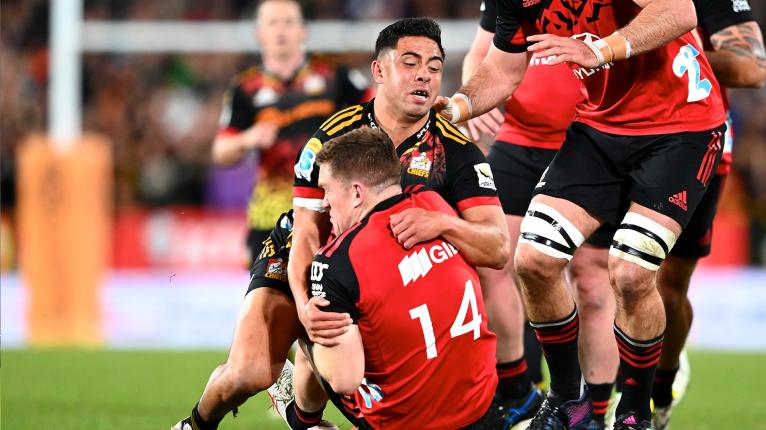 Except, of course, there was one major issue with the tackle – it was technically poor and the experienced All Blacks midfielder's head made initial contact with McLeod's head. And with some force.
McLeod didn't return – he failed his HIA – and given that Lienert-Brown came from distance, had uninterrupted sightlines and every opportunity to drop his own body height before contact, it should have been a straight red card.
There were no mitigating circumstances to lessen the liability of the tackler and yet, firstly referee Ben O'Keefe determined yellow and then TMO, Brendon Pickerill, who had 10 minutes to decide whether it should be upgraded to red, also felt it only merited a caution rather than a sending off.
It was a huge decision as it took place after just eight minutes and while under Super Rugby Pacific rules, the Chiefs would have been allowed to replace Lienert-Brown after 20 minutes had it been upgraded to a red card, it still would have hurt them to have lost such an experienced performer.
But the bigger worry is the messages that were sent out by the decision to leave his punishment at a yellow card. It was almost as if the officials didn't want to spoil the occasion by handing out a red.
Lienert-Brown was forced to attend a disciplinary hearing after the game because it was deemed by the citing commissioner that his tackle had met the red card threshold.
It was a full house, two great teams going at each other hard and an opportunity for Super Rugby Pacific to put down a marker that it remains a compelling competition. So why spoil it with a red card?
That's maybe unfair, but Lienert-Brown was forced to attend a disciplinary hearing after the game because it was deemed by the citing commissioner that his tackle had met the red card threshold.
This was by no means a one-off decision, however, as there is a pattern of games in New Zealand being refereed more leniently when it comes to collisions where the head is involved.
Earlier this year, Reds lock Connor Vest broke his neck in a tackle against the Highlanders. The contact that did the damage saw Shannon Frizell's shoulder hit him on the top of his head. There were arguments to be made that Vest was falling and Frizell had no chance to adjust – but certainly, given there was no attempt by the Highlander to use his arms, there should have been some kind of referral to the TMO.
Instead, referee Pickerill deemed it an accidental collision and that was that. The officials even tried to hurry Vest off the field, which led to his team-mate Harry Wilson speaking out about the incident.
"Rugby has been really big on player welfare the past few years," he said. "For us, there wasn't much player welfare there with a no-arms tackle on his legs and a shoulder, with no arms, to the head.
"That's not ideal. Vesty broke his neck. For me, that's pretty ridiculous. As a playing group, we were very frustrated with the referee trying to rush him off the field."
Certainly, the Reds had a fair point that the incident merited investigation and the fact it wasn't taken seriously added to this idea that New Zealand is more eager than other countries to sometimes brush over things to get on with the game.
If we look back to 2022, there wasn't a red card shown in New Zealand in the first eight weeks. The anomaly was that there had been three shown in Australia by that stage and the feeling grew then that New Zealand referees were more willing and able to find mitigating circumstances to downgrade things.
Why this may be the case is hard to know, but it's possible referees in New Zealand feel a higher degree of subliminal pressure than their peers in other countries.
Our game over the last five years has got slower and slower and slower.

Former All Blacks coach Steve Hansen
So much discussion has focused recently on belittling the way the sport is officiated, with critics lining up to say it is pedantic, stop-start and hard for fans to follow.
The latest high-profile voice to be head in this debate was that of former All Blacks coach Steve Hansen, who told media: "I don't know about falling out [of love] with the game but I think they are falling out with a few things that are happening within the game, that's frustrating people. It can be hard to watch at times.
"If we're being bone dead honest with ourselves it is at the moment. It [NRL] is a better game to watch on TV than rugby is, because it's not stop-start. They apply a lot of common sense to how they adjudicate things and make sure the game keeps some form of flow to it. Our game over the last five years has got slower and slower and slower.
"Rugby's got some interesting things happening in it like red cards, TMOs, the stop-start nature of the game, the lack of cohesion between the Southern and the Northern hemispheres. All those things create a product that's not consistent and it does mean people get frustrated with it."
There is also a tendency in New Zealand for coaches, media and fans to be openly critical of referees, as was evidenced after the Super Rugby final.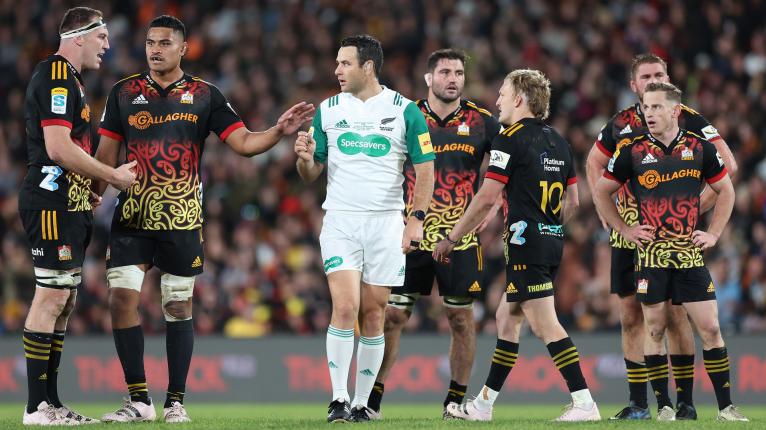 The officials were roundly booed by the Hamilton crowd when they collected their medals and then Chiefs coach Clayton McMillan threw fuel on that particular fire when he was asked about his thoughts on how the game had been handled.
"I honestly think the biggest call, momentum-swinger, was what I thought was a clear and obvious forward pass just before halftime," he said.
"That gives us a scrum, we apply some pressure down that end of the field. [Instead], they score off the play after. That's a big moment.
"I don't want to bag the referee. The crowd did that at the end of the game, maybe that says something."
The Chiefs had found themselves on the wrong end of a 15-8 penalty count and as well as the forward pass to which McMillan referenced, the home side were shown three yellow cards (one to Lienert-Brown) and had a try knocked off in the second half when it was judged that Damian McKenzie hadn't been 10 metres back from a lineout.
The reason the Chiefs found themselves on the wrong end of the penalty count had nothing to do with poor officiating.
The team and their fans may have felt hard done by, but most neutrals – the giant forward pass mentioned by McMillan aside – wouldn't have any cause to believe they were justified to feel like that.
But reacting aggressively and spitefully is all part of the package in New Zealand, something O'Keefee noted himself after the final when he posted this: "Unfortunately, as a union referee at the highest level, I have had to accept and grow accustomed to the post-match vitriol that fans normalise post-game.
"It's a sad reality that it doesn't affect me anymore, but that doesn't mean it's okay."
The reason the Chiefs found themselves on the wrong end of the penalty count had nothing to do with poor officiating and everything to do with the pressure they were put under by a Crusaders pack that performed superbly.
And this is why there is some concern building about how well Super Rugby Pacific has prepared the All Blacks for their 2023 Test programme.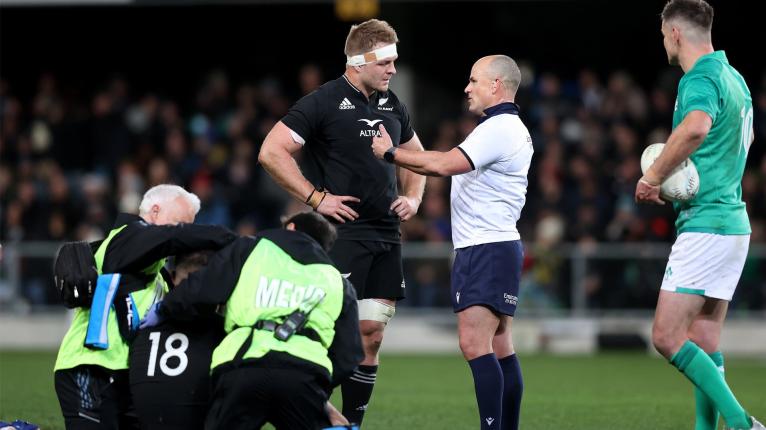 The All Blacks will find there is far less leniency about high tackles at the World Cup where referees will be holding a firm stance and officiating to the letter of the law.
Tackles like the one committed by Lienert-Brown will be a straight red card at the World Cup and probably, too, Frizell's shot on Vest would land him with a yellow at least if not red if it is replicated in France.
And of course, at this stage of proceedings, a red card will be applied under the existing laws of the offending player not being allowed to be replaced.
Discipline, then, is looming as the All Blacks' Achilles Heel.
Too often high tackles that would merit red cards go either unpunished or not severely enough punished in New Zealand, while perhaps, too, it's true that players don't fear the consequences of a red card in Super Rugby Pacific knowing it's not going to permanently leave their team a man down.
Being out of sync with the rest of the world on this is not something that is going to help the All Blacks at the World Cup.