Back
By Nick Bishop
More questions than answers for 'destabilised' Wallabies
In the era of Eddie Jones' second coming as coach of Australia, there are two games of rugby for the price of one. There is the game played out on the field, and then there is another rehearsed afterwards in the post-match press conferences. It is an open question which is the more entertaining event.
The press conference at the Stade de France was one of those media assemblies where the two accounts coincided rather more than they have done previously. Jones was lucid, and for the most part had his feet on terra firma. After the Wallabies' 41-17 loss, he said:
"The scoreboard is always important – don't get me wrong – but we've got a greater aim with this game. In terms of what we want to do, particularly for our first game at the World Cup, we probably did a lot of good things.
"But we have to get a lot better at converting territory to points, and at the same time, when they get into our territory, stopping them from scoring points. It's the most obvious thing, but we had 63% of the territory in the first half and [we] were behind 16-5 at half-time.
"We are not a bad team, but we are not a good team yet. We are going through the process of becoming a good team."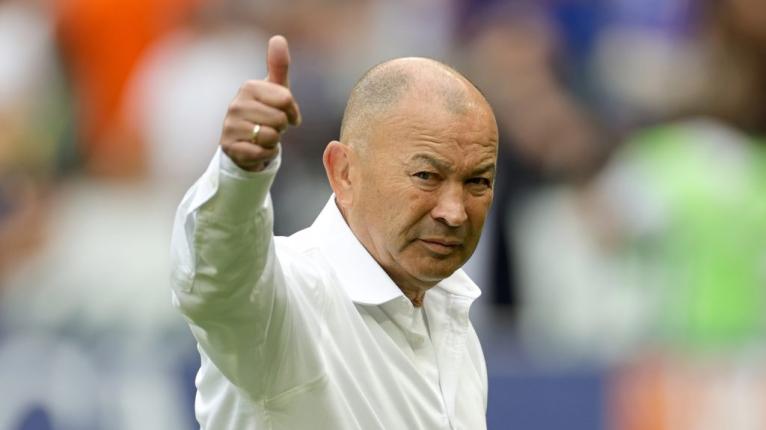 So far, so good. There were plenty of positives for Australia. They seem to have settled on a plan where they keep more of the ball than Jones originally envisaged with his three-and-out policy. On Saturday evening, they forced Les Bleus to make 48 more tackles and built seven attacking phase-counts of four or more.
The starting front-row went well, with Angus Bell and Taniela Tupou winning the only two scrum penalties of the game. Both wings (Mark Nawaqanitawase and Suli Vunivalu) showed real quality in attack, and especially when the ball was in the air. It would have come as a relief for the Wallaby coaches to see the selection of Vunivalu justified, at very long last.
So far, so good. The Wallabies are probably on the right track as far as the game plan goes, and the players look enthused by the strategy. Now flip the coin over, and take a look at what is going wrong. Jones again:
"We've destabilised the team, we have taken away all the leadership that was there previously [and] put a new leadership team in place. We have tried to play a different way and the results haven't been good. It hasn't been good enough [and] I am not hiding away from that. [But] we have a longer-term plan at the World Cup, and that's what we are here for.
"It depends on where your team is in [their] cycle. If you look at those top three teams, they are very established. They have been playing the same way for five years, personnel is very set, so the growth [remaining] in those may be smaller than others… We are still getting to know each other as a team."
Was it necessary to sweep clean with such a savage new broom? The leadership group – Michael Hooper, Quade Cooper, Jed Holloway, Nic White among them – evaporated all at once, with only White hanging on by his fingernails, to a spot in the matchday 23. That is destabilisation writ large, at a stage of proceedings when you least want it, a few weeks before a World Cup begins.
Could Cooper have helped with the process of transformation? At the very least, he might have supported the mentoring of new fly-half Carter Gordon, and the young Rebels k?hai has already gone on the record as having received a stream of good advice from his senpai.
Quade Cooper may have blocked calls from Jones and Hamish McLennan, the Rugby Australia CEO, but he still supports his mates however he can. He probably would have helped on the field too.

"Obviously I have learned a lot from Quade and he has been massive for my growth in the last few months," Gordon told the Sydney Morning Herald. "We are still super-close and we still talk a little bit. He sent me a really nice message when the squad came out and said he is here for me, and is going to continue to help me as much as he can. So that just shows the person he is, and how good a bloke he is."
Cooper may have blocked calls from Jones and Hamish McLennan, the Rugby Australia CEO, but he still supports his mates however he can. He probably would have helped on the field too.
The problem with such a big wad of inexperience, dumped into a team all at once, is performance becomes very uneven. Nobody can really know what to expect, because younger players have been exposed to so few of the scenarios they are required to face at international level. While the likes of Gordon, Nawaqanitawase and Vunivalu have learned to do some things very well in their short careers, other aspects of their game have not kept up at the same rate.
That reality swiftly became evident against France. Both teams enjoyed a lot of success with short attacking kicks, and it was clearly a part of the Wallaby plan to lob kicks just over the defensive line for their two big wingers to chase. Both are 6ft 4ins tall and enjoyed a significant advantage in the air against smaller French opponents.
In the first instance it is Tate McDermott popping a chip over the top for Nawaqanitawase to get first touch. In the second it is replacement half-back Issak Fines-Leleiwasa offering Vunivalu the mismatch against Melvyn Jaminet, six inches shorter.
Over the piece, the French short kicking game was the better co-ordinated of the two on display, especially when the kicks came off the number 10. Compare one cross-kick by Gordon with another scoring example by French fly-half Matthieu Jalibert.
The hang time on Gordon's kick gives the defence time to regroup, mark all the potential receivers and spoil any attempt at a clean reclaim by Vunivalu. The flat trajectory of Jalibert's kick gives Vunivalu and Andrew Kellaway no chance to recover on the right of the Australian defence, which in turn means a try for left wing Gabin Villière in the corner.
It was a repeated theme.
With Vunivalu off the field on a yellow card, the Wallaby defence is caught very short indeed when Antoine Dupont chooses to kick-pass across to Villière, all alone on the left sideline.
Even with both of their wings on the field, the Wallabies struggled consistently with their defensive positioning on the edge.
Here is the most obvious example, with Nawaqanitawase pulled infield to ruck-side and nobody at home to prevent Damian Penaud from scoring an easy try off Dupont's chip on the very next phase.
There were plenty of other scenarios where Nawaqanitawase took himself out of play voluntarily, and far too easily.
In the first instance, Nawaqanitawase sells himself too readily to the intercept and that creates space for France's most dangerous running threat, Penaud, down the right edge. In the second, he reads 'kick' when France had already established they were quite happy to run when offered space out wide, even from deeper positions on the field. Only one long pass is needed for Penaud to work his magic down the touchline. "You never want to give a vampire a taste of blood," as one television commentator put it after another epic long-range Penaud score in the Six Nations earlier this year.
There were also early issues with Gordon's defence of the pocket battleship that is Jonathan Danty in midfield. Danty had already run over the top of Gordon once to set up the following opportunity in the sixth minute.
Nawaqanitawase and Gordon have gotten themselves in a tangle down the left, with the wing again caught infield and Gordon lacking the agility to stop Penaud down the right touchline. That led to a penalty for a high tackle by Tupou, and another shot from lineout for the French dreadnought at the same two defenders. You could almost hear him licking his lips at the prospect.
There have been some signs of improvement from Jones' Wallabies over the past two games. The ball-control game-plan which suits the Australian players best is beginning to ingrain, and they are responding positively to it. Kick, and hope for the best after three phases has been consigned to the bin, and not a moment too soon.
Open-side Fraser McReight is beginning to enjoy Test-match life at a higher tempo, and even the Wallaby scrum was able to thrive against taller opponents in Paris. Some pieces of the puzzle are coming together.
At the same time, doubts – both lingering and deep-seated – remain.
Individual performances are hugely uneven, and team production is a fistful of big unknowns. Gordon offers much with ball in hand, but cannot kick goals. The two big wings attack well but are positional liabilities in defence. It goes on.
Recent developments have only sharpened the questions around the timing of Jones' appointment. If the real aims for Rugby Australia are the British and Irish Lions tour in 2025, or the home World Cup in 2027, why not let Dave Rennie finish the job he had started, and allow Jones to begin his reconstruction work at the start of a new cycle in 2024? There are more questions than answers in Australian rugby right now, and Fiji, Wales and even Georgia will be asking some searching posers of their own in the weeks to come.