Back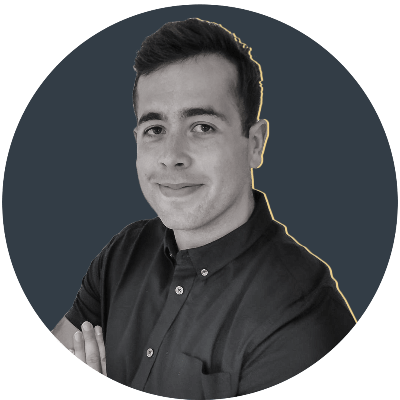 By Jamie Lyall
Loyalty and legacy
It seems puerile to discuss the idea of legacy with a 21-year-old athlete many moons from the apex of his career, but Ollie Lawrence already has a sharp vision of the footprint he yearns to leave on rugby union.
The thunderous young Worcester centre is an entertainer on the field and a deep thinker off it. Like all great performers, he finds sustenance in transfixing the crowds that bellow and sway around him. Unlike many his age, he tempers talent with benevolence.
It was only in the autumn that Lawrence won his first three England caps. He has barely embarked on his sporting journey but just as he carves indelible scars in defensive lines, he intends to make a lasting impression with the game his vehicle.
"Someone I watch quite a lot is LeBron James – look at the legacy he has left behind and all the records he's broken, all the things he's done off the field," Lawrence tells The XV. "That is someone who has changed people's lives.
"His sport is a lot more globalised than ours but every weekend when I go out on to the field there is someone watching who hasn't seen me before and that's what excites me, that's what makes me want to go and give my all. If I can leave that lasting memory then that fulfils me as a person.
"It's about continually doing that, making those first moments for people watching me as special as each game, and being consistent with everything."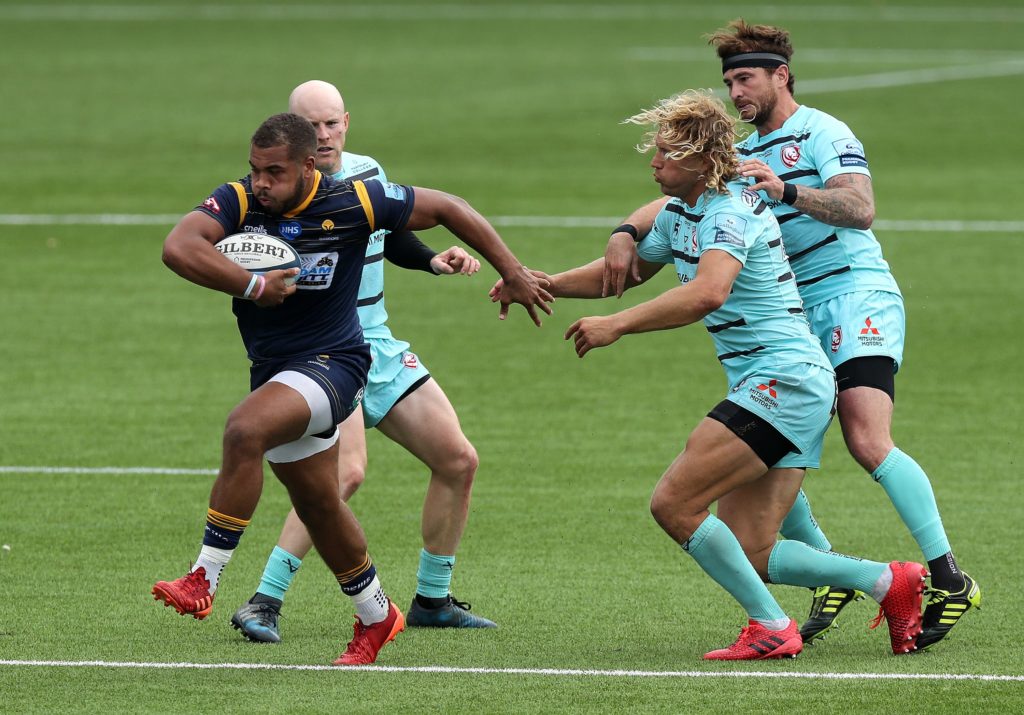 It is apt that a career path so blistering in its ascent should foster a mind that can move just as quickly. Lawrence will not conceal his ambition, but nor will he let it warp him. His talents have forced a rapid coming of age.
At 17, Lawrence was thrust early into the rigours of the professional game, signed by Worcester straight from school. His savage midfield breaks and sumptuous off-loads set the hype train chugging along, but in March 2019, it not so much hit a crooked track as threatened to career off the rails entirely.
A serious ankle injury brought the whole enterprise to a shuddering halt. There was even a chance that the damage might prevent him from playing again. There were dark and torturous days and from the abyss, Lawrence has resolved to invest in mental health support when his rugby life settles.
When I saw the specialist, there was a 25% chance I wouldn't play again. Hearing that from the first injury you've ever had…

Ollie Lawrence
"The way my career progressed, it went from being in school to under-20s to being involved with the England team to playing for Worcester," he says. "It got so much. That journey takes a lot out of you. People don't always realise that. It creeps up on you.
"Everything was going swimmingly for me, then I got the injury in March 2019 and that really set me back because I had never experienced it before. I didn't know how to approach dealing with injury. I was out for six months not doing something that I love doing. There were so many people around me who helped me and without them I would have struggled because I felt really lonely.
"When I went and saw the specialist, there was a 25% chance I wouldn't play again. The odds were in my favour, but it was still scary. Hearing that from the first injury you've ever had…
"As my career progresses, I definitely want to get involved in some form of foundation, some form of giving back through mental health. There is no point in having a platform if you're not going to use it to good effect."
The maturity is obvious, but behind it all is a ferociously competitive core. Lawrence hates losing, an attitude fostered by the rich sporting tapestry weaved in his early years. He was a gifted youth footballer for Birmingham City and Aston Villa, and a talented cricketer for Warwickshire, where he played alongside England's current one-day opener, Tom Banton.
"It might sound silly, but there are skills in each of those sports that help add to my rugby," Lawrence says. "Cricket definitely helped with my hand-eye coordination and my handling and offloading is definitely a reflection of that.
"Football, it could be change of direction or kicking. And also, the competition. Playing so many sports as a kid added to the competitive edge that I have now. That is my biggest fuel – competition.
"When I grew up, I always wanted to play sport to be the best at it. I wasn't happy just doing it. I had to compete to be the best. I'm not going to sit here and say, I want to be the best player in the world, but in my head, I want to be the best player I can be, and I want to be someone that can be remembered in the game. That is what motivates me – my family, and to be the best I can be, and hopefully to be one of the best in the world."
If they had offered Twenty20 or one-day contracts, I would never have played rugby. I enjoyed playing T20 cricket more.

Ollie Lawrence
Indeed, had the quirks of cricket's contracting pathway been a little different, Lawrence might never have thrown his lot in with rugby.
"I never wanted to be a Test-match cricketer, but that's the route you had to take then," he says.
"You didn't have the option of Twenty20 contracts or one-day contracts because if that had been the case, I would never have played rugby. I enjoyed playing T20 cricket more. It would have been a completely different story if that had been available then.
Such opportunities have been hard-earned and bountiful. With his dynamism and outrageous handling, Lawrence compelled Eddie Jones to grant him an England debut against Italy in the final round of the disrupted Six Nations. In the coming championship, he will aim to fill the colossal Manu Tuilagi-shaped void in midfield.
"Making my debut was incredible to be able to get on that field and represent my county will live with me for the rest of my life," he says.
"The biggest thing for me, the messages I've had from Eddie is that all the stuff I'm capable of doing, how consistently and how much can I repeat doing it? How many times can I get on the ball in a game? How many times can I run these lines? How consistent can my kick-chase be?
"He doesn't want me being 8/10 one week, then 4/10, 9/10, 6/10. He wants me to be 8/10, 9/10, 8/10. That's the big thing that I've really worked on since coming back."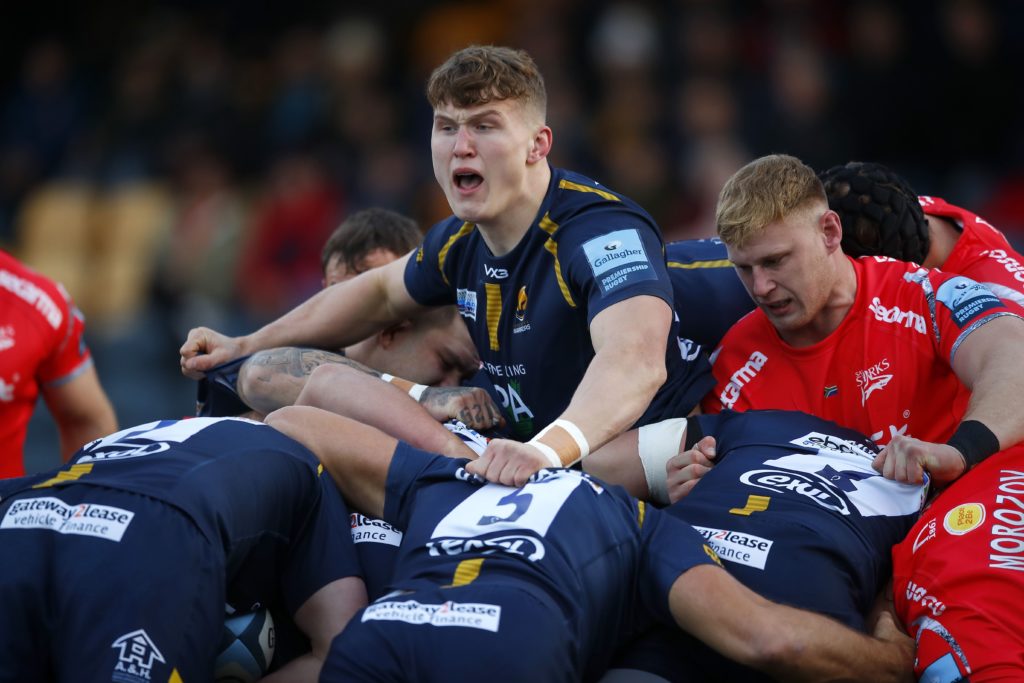 Lawrence is at the heart of what Alan Solomons is sculpting in Worcester and his penning of a new deal in June was a mighty fillip to the club. There is a rod of home-grown talent beginning to harden, around which Solomons and his staff will build their squad. It is spearheaded by Ted Hill, the Warriors' youngest-ever captain at 21, and Will Butler, the vice-captain, a year older. Solomons has elevated the progressive Jonathan Thomas to the head coach role and hired his highly-rated compatriot Mark Jones, one of the sport's foremost young coaches, in a specialist role for next season. Further cheer was added with the news that Duhan van der Merwe, the galloping Edinburgh and Scotland wing, was to join the Sixways band of brothers next season.
Yet the worry is that for all the evolution, Lawrence will not flourish as hastily at Sixways as he might at one of England's more eminent clubs. That he risks stagnating should he stay with Worcester, who have never finished higher than eighth in the Premiership, and as former England fly-half Stuart Barnes wrote in The Times on Monday, may never experience the true, sense-shredding pressure of Champions Cup rugby and league play-offs. Lawrence is not blind to that eventuality, but there is a deep bond between the player and the club who put him on the stage.
"I haven't seen that article but there are a lot of people who have spoken to me about why I'm at Worcester," Lawrence says. "The biggest thing for me is loyalty. Worcester gave me the opportunity to progress to where I am now and I have to give something back. I guess every club is like a family and that's no different at Worcester, the club means a lot to me. That's what makes certain decisions a lot harder for me, if that makes sense.
Unfortunately, if it ever gets to the point where I feel I'm not progressing at Worcester, that's a decision I'll have to make.

Ollie Lawrence
"Solly said to me when I first signed that he had a five-year plan and it is progressing in the way that they want with the younger guys coming through and making strides. Of course, I want to be playing Champions Cup rugby, and I want to be in a team which wins games week in, week out, and pushes for semi-finals and finals, but I have to repay Worcester before I decide to move on. Obviously, that isn't the sole reason, but it is a big reason.
"Unfortunately, if it ever gets to the point where I feel I'm not progressing at Worcester, that's a decision I'll have to make. A lot of people will have opinions on whether I should stay or leave but I honestly don't care. The only one that matters is mine – for now I'm here and that's that."
Such are the cold, hard facts of professional sport, Warriors supporters may be wise to enjoy Lawrence while they can. But for the moment, as ever, he backs his convictions. There are more minds to captivate and a legacy to craft.
More from Jamie Lyall
If you've enjoyed this article, please share it with friends or on social media. We rely solely on new subscribers to fund high-quality journalism and appreciate you sharing this so we can continue to grow, produce more quality content and support our writers.