Back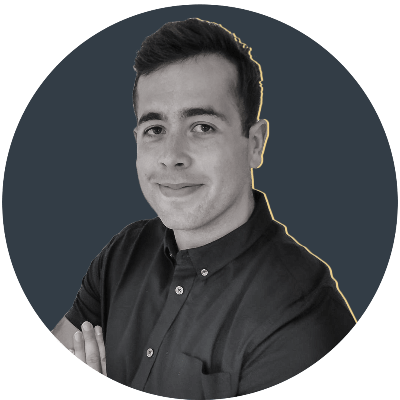 By Jamie Lyall
Lightening the Lood
Constance de Jager's birthday was supposed to be a blissful affair. Get the kids to bed early, crack open a nice bottle of wine, enjoy a few precious hours' serenity without the daily mayhem of rugby and parenthood and sleep deprivation. Quality, child-free time with her spouse is rare these days.
Instead, Constance spent the evening in a Manchester hospital, watching her husband lie in anguish as his season collapsed and his Lions dream seemingly evaporated.
Lood de Jager had broken his tibia, damaged an ankle, and torn the medial meniscus in his knee clean off the bone. The break and the ankle would heal in good time, but that pesky cartilage was making things a hell of a lot worse. Sale's giant Springbok stewed overnight, waiting to see the knee specialist. The early prognosis was grim.
"That night wasn't great," De Jager tells The XV. "I had a chat with our physio at 9pm and he told me, 'Listen, this is serious, you're probably going to be out for a long time'. To give him credit, he said that he wasn't a specialist, and we'd see what the doctor said the next morning. But that night, a thousand things were going through my head.
"It was a freak accident. I was jumping for the ball, landed awkwardly with my studs in the ground and a guy fell on it. You could just hear the break. My first reaction was, I jumped up and just shouted, 'No!' twice. Hard. Loud. I was shocked. Especially with my injury history.
"I'd worked really hard to get back from my shoulder injury, get back in the rhythm again, play a couple of games and get my confidence back, and then this happens."
You just question how many times you can go through this. There's life after rugby as well. With my shoulders, I want to be able to throw a ball to my kids and do the normal day-to-day things.

Lood de Jager
Indeed, the suffering has been pervasive, the torment near-unrelenting. These past two years have brought a World Cup winners' medal and a wonderful move to the Premiership, but they have also pushed De Jager to the brink.
In March 2019, the lock badly damaged one shoulder, leaving him scrambling to make the World Cup. Then, 21 minutes into South Africa's glorious final triumph, he blew the other one. The procedure to fix it, called Latarjet, has a 97% success rate. De Jager was among the 3% to suffer reinjury.
When that joint went again, playing for Sale against Leicester in September last year, he sobbed in the changing room. He wondered how much more he could take; whether his massive body could still handle the demands of the elite game.
"You just question how many times can you go through this," he says. "There's life after rugby as well. With my shoulders, I want to be able to throw a ball to my kids and do the normal day-to-day things. But luckily with how the procedures are, they told me there was no need to panic, that a couple of other rugby players have had the same thing happen to them."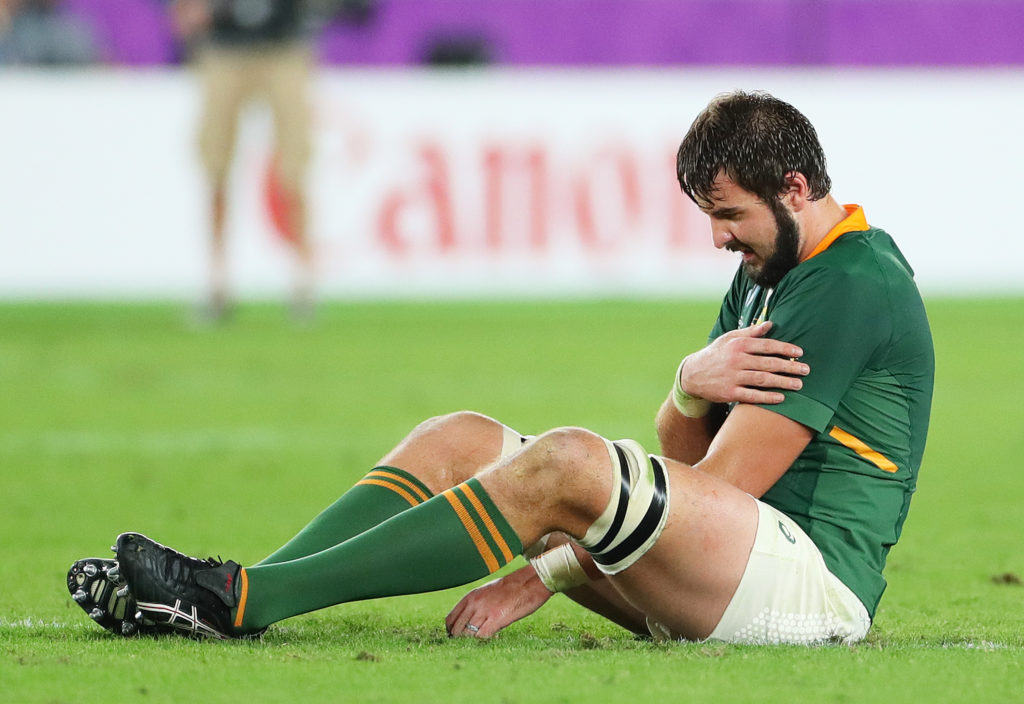 In these bleak moments, Constance is his tower of strength. She was by his side in the hospital, urging him not to submit to the demons running riot inside his head. While De Jager thunders around paddocks and crunches weights in the gym, she stays at home with the couple's two young children, toddler Elijah and baby Annah. She has put her professional goals on hold so that her husband can follow his, many miles from home and the comforting presence of parents.
"She's just amazing," De Jager says. "I really can't do what she does. It's hard, really hard, no time off. I'm training nearly every day. It's not the same as having parents around who can help or sleep over or take them for a day. You don't have that. It's full-time, and my boy is not in nursery, just at home. She sits mostly the whole day with them.
"She gave up her career when we came over to England and for now, she wants to be with the kids while she has the opportunity, to see them grow up and be with them every day.
"I don't think I'm going to let my daughter marry a rugby player one day – it's not worth it, I tell you, it's not worth it! Moving around, and because a rugby career isn't long, if you are lucky, really lucky, you've got maybe 15 years, and for that time, it sounds a bit bad, but you have to be a little selfish.
"If you want to be the best you can be, your spouse has to understand that just for this certain amount of time, they are going to have to make some sacrifices so that later you can really enjoy life together and be financially able to live a comfortable. Hopefully one day those sacrifices pay off.
"If my wife wants to pursue her career again, I'll support her all the way. I'll be a stay-at-home dad, a professional golfer or something!"
I love rugby, I'm obsessed with the game, a real nause, but my family is infinitely more important to me.

Lood de Jager
And when the wheels threaten to come off, it helps, of course, that Constance is a qualified clinical psychologist.
"She's very subtle with it," De Jager chuckles. "I've never felt like a patient but I think she's worked it in there. That knowledge she has is immense.
"She has got a way of putting things into perspective for me. My career is massive, but it's not everything. We have a lot to live for, a lot of other things that I can still enjoy in life even though I'm injured.
"I love rugby, I'm obsessed with the game, a real nause, but my family is infinitely more important to me."
The outlook now is far happier. De Jager is not quite fit enough for Sale's monumental Premiership semi-final against Exeter, but could make the showpiece should his team-mates do the business against the defending champions.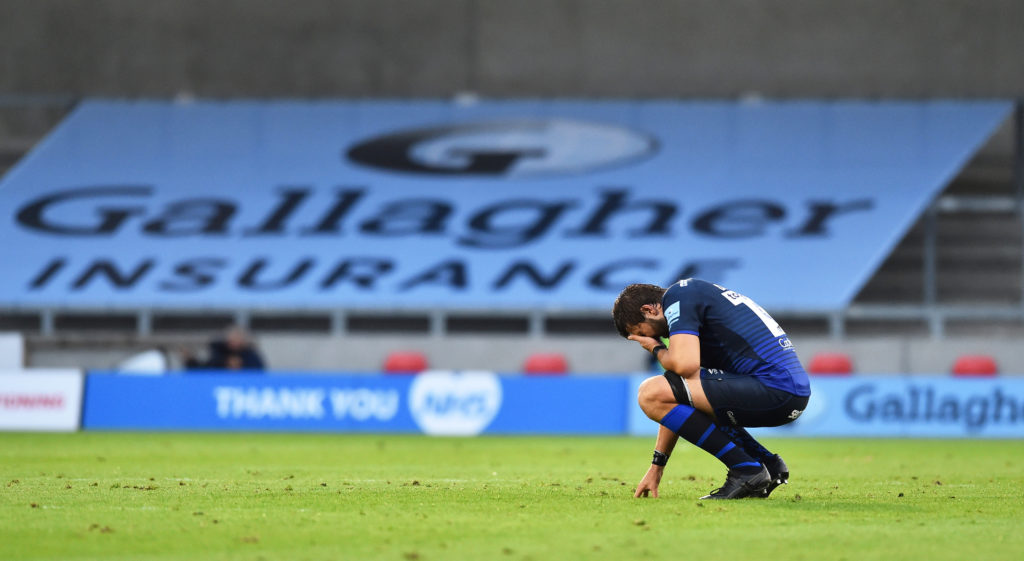 "I don't want to make any promises or get ahead of myself," he says. "I'm running, did some scrums on Tuesday, so I'm feeling good."
Through the grinding rehab drudgery, away from team-mates and cameras and, crucially, the harem-scarem of rugby itself, De Jager has done a power of soul-searching.
He looks back home, back to the eastern fringes of Johannesburg where he grew up, and where a fierce the work ethic was instilled by his parents. His father grafted in a factory that made trains. His mother worked for Kimberly-Clark, producing tissues and nappies.
He looks forward, too. He gazes at the Lions series looming on the horizon and licks his lips, his thirst to do battle with the storied tourists insatiable.
"This is so big for us as South Africans. I know it's also very important for the Lions guys, but South Africa, if you don't know it, is a tough place to play rugby. It's hot, it's dry, it can be very hostile. The weather plays a big role. So many uncomfortable places.
"This is just my opinion, but you have to have an unbelievable set-piece to be successful at Test level, you have to have an unbelievable defence and a very good kicking game. I personally don't think attack is going to win it, playing with flair, beautiful rugby. I may be wrong, if it evolves into that, but if you don't have those basics of a good set-piece, good defence and a good kicking game, that's where it's going to be won and lost.
"It's going to be tough, really attritional; it's not going to be fancy with a lot of running rugby. It's going to be a massive battle at set-piece and who gets the upper hand in the kicking game to get the best territory to score tries or kick points."
I love that guy. He is world-class, unbelievable. The themes he has are so intelligent. He gets players' attention immediately. No two meetings are the same. I've never, ever come across a coach like that.

Lood de Jager on Alex Sanderson
The past shaped him, the future spurs him on, but in the here and now, De Jager is a man immersed in his work. Constance, Elijah and Annah have flown back to South Africa, leaving him to throw himself at his quest to return to fitness, and move in to the family's new house in Manchester.
In a rugby sense, home is a happy abode. Alex Sanderson – innovator, motivator, ingenious trainer – has driven Sale to new heights. Players gush over the originality of his coaching and the excellence of his oratory. The quirky little motifs he develops each week, expanded upon on the training field and ruthlessly realised on match-days.
He is like nothing and nobody De Jager has encountered in the game.
"I love that guy. He is unbelievable. You hear rumours beforehand that he's good, and players try to find out as much as they can from other players who have been coached by him. They all told us good stuff.
"Then he actually arrived and yeah, I don't have a bad word to say about him. I've enjoyed my rugby so much. He's changed the whole organisation. He's world-class, unbelievable, hands-down one of the best coaches I've ever had.
"He is very different. The themes he has are so intelligent, the way he presents in meetings, the way he speaks, he just gets the players' attention immediately. He keeps guys interested. No two meetings are the same. So much work goes into those presentations that he does, you can just see it. Every meeting there is something interesting. I've never, ever come across a coach like that. Very unique."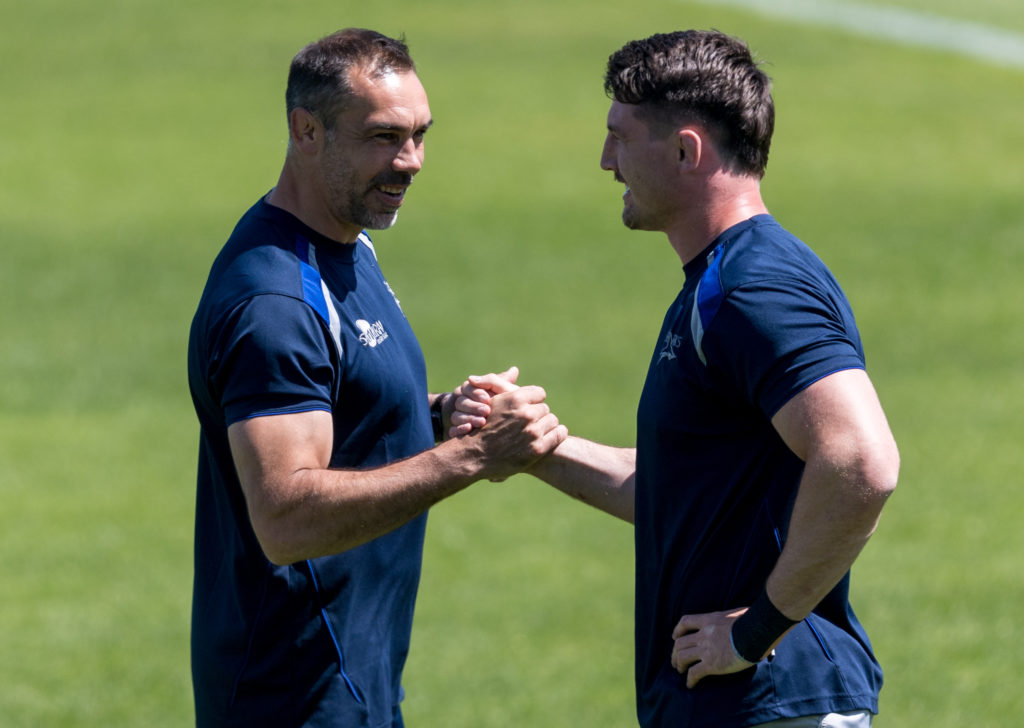 Sanderson has given Sale a greater purpose, a clearer sense of self. They can maim you with sheer, overwhelming malevolence through their battalion of South Africans. But they can pick you apart tactically, cleave you open with their attacking rapiers.
Sale are missing De Jager and AJ MacGinty, their wizard of a pivot. Exeter must do without two of their mightiest juggernauts in Dave Ewers and Sam Skinner.
These new few weeks are colossal for the Sharks. Not since 2006, when Sale won their first and only Premiership crown, have they reached the play-offs. They take on an Exeter side that fought back from 19-3 down, having lost Skinner to a red card, to put them away in the final round of the regular season.
"Oh, it's massive," De Jager says. "When was the last time, 2006? A long time ago. One of the big things when Alex came in was that we have to find our identity. What are we? What is the soul of our team?
"We are not the finished product. Alex would be the first to admit that there is still a long way to go and we want to grow as an organisation and be the best. We can still improve immensely. But I think we have got a pretty good idea of what we are all about."
De Jager, too, knows what he is, what he has, and what he wants to achieve. Even if it means a few fraught birthdays.
More stories from Jamie Lyall
If you've enjoyed this article, please share it with friends or on social media. We rely solely on new subscribers to fund high-quality journalism and appreciate you sharing this so we can continue to grow, produce more quality content and support our writers.