Back

By Gavin Mortimer
Joe El-Abd: 'What a story it is to show little towns can compete against the biggest clubs in the world'
The population of Oyonnax has been declining this century. At the turn of the Millennium the town boasted 24,162 inhabitants, and now it's down to 22, 271, the lowest figure since the 1960s.
Fortunately Oyonnax's rugby club is going in the other direction. At the end of last month the 'Oyomen', as they're known, beat Grenoble in the Pro D2 play-off final to win promotion to the Top 14 after a five year absence. It was nothing less than they deserved, having dominated the regular season in accumulating 111 points, 24 more than Grenoble.
It's ten years since Oyonnax first won promotion to the Top 14 and within two years they were pooled with Saracens, Toulouse and Ulster in the Champions Cup. One of the players from that era was Englishman Joe El-Abd, now the manager of the club and an honorary Oyoman.
He arrived in the scenic town, situated in eastern France just a few miles from the border with Switzerland, as a player in 2012. He'd just spent a lively three seasons at Toulon, one of the first of a small army of overseas players who within a few years had transformed the Mediterranean club into the powerhouse of European rugby. Thirty two when he pitched up at Pro D2 Oyonnax, El-Abd was winding down his playing career and never imagined he would still be here eleven years later.
There's been an intermission, a successful stint coaching the forwards at Castres, during which time the club won the Top 14 title, but the following year – 2019 – he returned to Oyonnax as manager.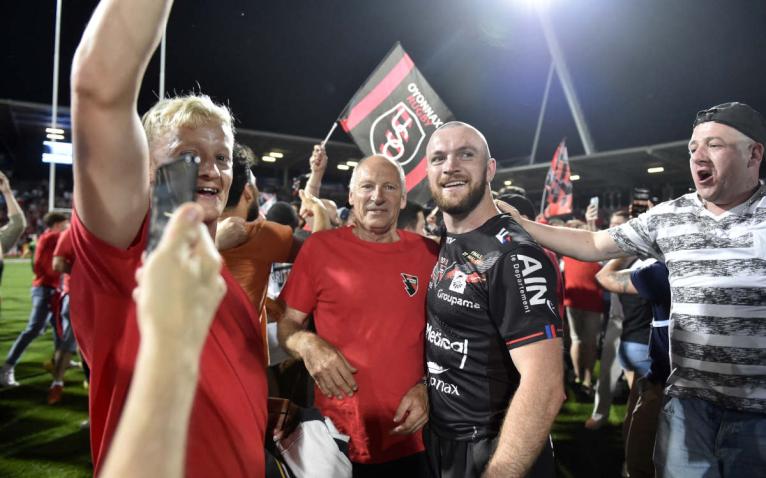 No Englishman has survived so long in French rugby, let alone achieved such heady feats, so what is the secret of Joe El-Abd? "When I came to Toulon [from Bristol] in 2009, having signed a three-year contract, me and my wife thought it would be for three years and then we'd go back to England and make our life there," says El-Abd. "It hasn't worked out like that because we have fallen in love with France, the country and the rugby."
It's the passion that El-Abd finds so attractive about French rugby. Whether it's the Top 14, the Pro D2 or the lower leagues, rugby has always been the main topic of conversation in the three towns in which he's lived in France.
This season he and his wife (they have three children) have gained French citizenships which in El-Abd's case adds more diversity to the mix. Born in Brighton to an English mother and an Egyptian father, he grew up in a sporting family and his younger brother, Adam, played football 300 times for Brighton and Hove Albion, as well as winning a few caps for the Egyptian national team.
When Joe arrived in France his knowledge of the language was 'elementary' but 14 years later he speaks it like a native. "I had to dive in to improve," he says, "but now it's become second nature and I struggle to speak English sometimes. I find myself thinking 'what is that in English again'?"
El-Abd's willingness to immerse himself in every facet of his adopted country has been the key to his success, and it's helped him as a rugby manager, giving him a keen understanding of what to look for in any potential recruit to the club, particularly foreign players.
You need to be a certain person to be an 'Oyoman'. We're here in the mountains, in the middle of nowhere; if you like skiing, fishing, hunting, hiking, then it is a paradise
Pre-season training starts on July 3 and between now and then, El-Abd will spend many hours scouting new talent. "We have a few positions we want to strengthen and that is now where I feel a little bit like I'm playing football manager on a computer game looking for players, seeing what is available out there, what personalities we need to go forward."
Rugby talent is obviously crucial, but there's more to El-Abd's recruitment criteria than just power, pace and scrummaging technique. "We work hard at identifying talent, looking at videos and the stats, to make sure they have the level we require but none of this gets validated until we see whether they have the character to become 'Oyomen'," explains El-Abd. "Because you need to be a certain person to be an 'Oyoman'. We're here in the mountains, in the middle of nowhere, 22,000 people; if you like skiing, fishing, hunting, hiking, then it is a paradise. If you like big towns, if you like shopping, going out drinking, it can be hell, so we have to pick the right person as well as pick the right talent."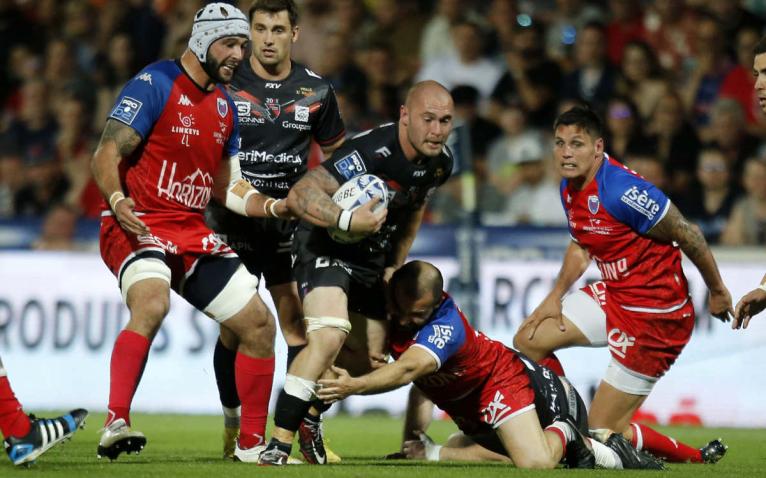 It's also, he adds, about that readiness to embrace the new life, the diligence and broad-mindedness to learn the language, soak up the culture and not whine at the little idiosyncrasies that distinguish French rugby from its Anglophone rival. "There are so many things that are different to other countries, that is what makes it fantastic here in France," says El-Abd.
One of Oyonnax's newest recruits is the former Munster and Ireland centre Chris Farrell, who signed a two-year deal last month, and he joins a squad that includes Kiwis, South Africans, Samoans, Tongans, Fijians, Georgians and a former Scotland international in loose forward Luke Hamilton.
The suggestion El-Abd gives to all new recruits from overseas should be heeded by the numerous English players who have signed for Top 14 clubs next season. "My advice is dive in to the culture," says El-Abd. "Don't have any preconceptions about how rugby should be played or be coached, or how cultures should be. Just enjoy every minute."
Relegation is a very important part of rugby in France, in the Top 14, the Pro D2 and in the national leagues. I think it's one of the reasons why French rugby is so exciting.
El-Abd enjoyed nearly every minute of this season, even if the 14-3 victory over Grenoble in the Promotion play-off final was a tense and dour affair. "The final was an excruciating experience," he says. "We had beaten them twice in the regular season and the media said we were favourites but predicted we would lose, which was a little bit bizarre, but those sorts of comments gave us motivation."
Despite the narrow scoreline, Oyonnax were always in control of the match but they were not their usual precise and clinical selves in despatching their opponents. But that's what a play-off final can do to a team, unnerve even the most composed of players.
His nails may have been bitten down to the quick, but El-Abd is a great believer in relegation and promotion, despite the fact that it has gone out of fashion in most other top-flight leagues. "It is a very important part of rugby in France, in the Top 14, the Pro D2 and in the national leagues," he says. "I think it's one of the reasons why French rugby is so exciting because everyone has an opportunity to move up the ladder and get to the top. It's exciting for the players and coaches – even if it does put your whole season on the line – for the fans in the stadiums and the people watching on TV."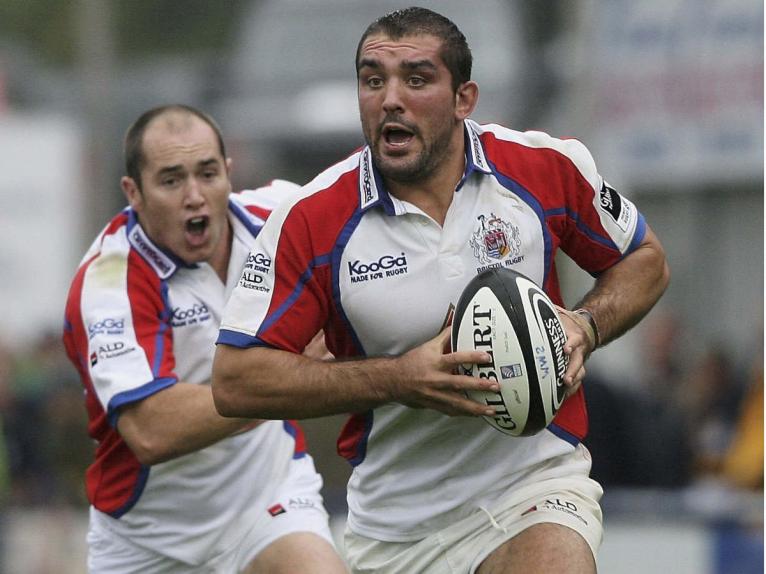 El-Abd banned from his mind, and the changing room, talk of the Top 14 this season, but after a night of joyful celebrations following their play-off victory, he woke up the next morning and immediately turned his thoughts to what awaits. "What an opportunity we have to play against the best teams in the best competition in the world," he says. "There is a great deal of incentive to play against these teams, to see how we go against them, to match ourselves against them. Every single week will be a great occasion, like the atmosphere we've had recently playing in the play-off phases."
We know we have the sixth biggest budget in the Pro D2, and we will have the lowest in the Top 14. But we are an anomaly, a town of just 22,000 people in the Top 14.
A lot of the Oyonnax squad have never played in the Top 14, and that's where El-Abd's vast experience will be crucial. He's been there and done that, as a player and as a coach. "We're looking ahead and thinking what we can do, not just to be in the Top 14 but to stay in the Top 14," he says. "I know we can do it, it takes a monumental effort, from the coaches and the players, and the club and the fans, but we're just going to go for it.
"Yes, we know we have the sixth biggest budget in the Pro D2, and we will have the lowest in the Top 14. But we are an anomaly, a town of just 22,000 people in the Top 14. We are unique in that sense, but what a story it is, to show that little towns can compete against the biggest clubs in the world."