Back

By David Ferguson
Jim Telfer: 'Scotland have to win the next three games, and I think they can'
There are few in Scottish rugby with the experience of playing and coaching against South Africa, and so when Jim Telfer says that Scotland's opening World Cup defeat was not something to be downbeat about he speaks from a position of some authority.
Telfer has significant experience of playing and coaching against the Springboks, first beating them as Scotland captain at Murrayfield in 1969 and, nearly three decades later, as coach with the British and Irish Lions in the Republic in 1997. He is quick to state that the relative strengths of the nations, South Africa with over 120,000 rugby players and Scotland with less than 10,000 men playing regularly, ensures Scotland are always the underdogs, but watching the World Cup opener from his home in the Borders, he thought Scotland were on for another shock win.
"I thought Scotland played very well and to have as much possession as we did in the first half, and the way we defended against a ferocious Springbok side, was really good, and it set things up for an exciting second half where I thought we could win it. But, at the same time, I didn't agree with the pundits at half-time when they said that we dominated the first half, because as good as we were we were actually in our own half for most of the time. So, we needed to step it up.
"What was pleasing was the way we fronted up physically to the Boks' attack and blitz defence, and tried to take the game to them. You could see the work the Scottish front five have put in to the scrums, and they worked tremendously hard to get as low as they possibly could against the Springboks. That was a tactic we used with the British and Irish Lions in 1997, to get under them and negate their power in the scrums, and, in fact, I haven't seen such low scrummaging by any two international teams for years, and, impressively, they weren't going down often.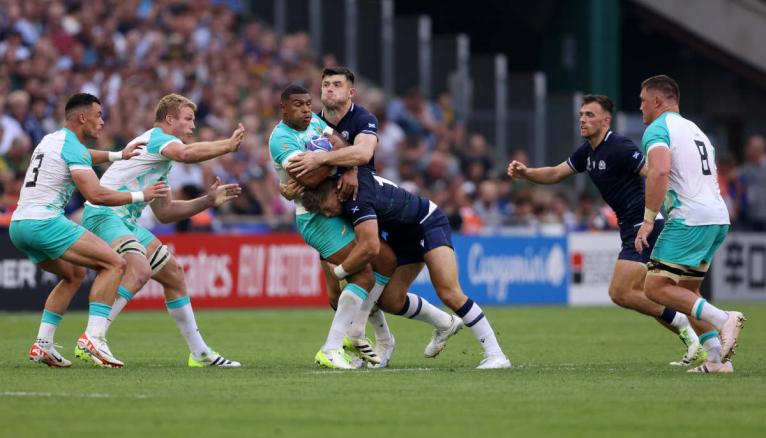 "The difficulty of that should not be underestimated, because it's a huge strength of the 'Boks, and while people will criticise penalties in the second half, some scrum penalties, in all games, could go either way with referees making calls having never been involved in a scrum. But Schoeman did well against Malherbe and [Zander] Fagerson against Kitshoff, not having played for a few weeks, was excellent as well. George Turner's not a particularly big man, and David Cherry is a better scrummager to be honest, so we did very well in the scrums, particularly in the first half.
"But, also, defensively we were well organised, repelled a lot of South African attacks in the early stages, and when you look at it we had the best chance to score a try in the first half."
That great opportunity, when winger Darcy Graham created an overlap on the left flank, but failed to exploit it with Blair Kinghorn and Duhan van der Merwe waiting for the pass, was tougher than it looked, according to Telfer.
I think Darcy actually had to give the dummy first. But then he had to give the pass quickly, and I think he got caught in two minds, with the speed of the Boks coming at him.
"Yes, that should have led to the try and it was extremely well constructed, but it was the speed of the Boks defence that should be praised. Scotland do some very good things at the lineout and that one teed up a try-scoring opportunity perfectly. The passing was brave in the face of blitz South Africa defence, and I think Darcy actually had to give the dummy first, because a defender could have picked off that pass had he given it. But then he had to give the pass quickly, and I think he got caught in two minds, with the speed of the Boks coming at him. Unless you've played South Africa, it's hard to understand how fast they come at you and how hard they work, and when you look at that movement again you'll see South African forwards sprinting from the lineout across the field because they knew the danger and they were bursting themselves to get to the other side of the pitch.
"But there's no doubt that if Scotland had scored there, to go 7-6 ahead, and had their scrum in the ascendancy as the half drew to a close, as they did, we could have seen a different reaction from the 'Boks, who can sometimes struggle when they're trying to come from behind. It was a key moment."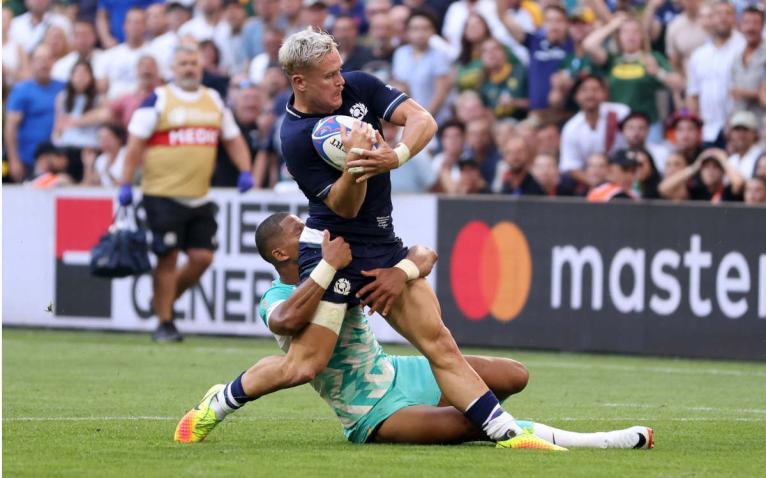 Key also in that move was the rushing defence of Jesse Kriel, and there was much debate over whether the Springbok centre should still have been on the field after his early head clash with Scotland No 8 Jack Dempsey. Telfer was quite phlegmatic.
"It was a red card as the law goes, as we saw the day before with Tom Curry in the England game, who got a three-week ban, reduced to two with the 'tackle school', whatever that is. So the TMO should have looked at it, and it should have been red – it's not consistent – but some of the media and fans have gone over the top, moaning about it. These things happen in rugby, and you just have to get on with it. And bear in mind England won with 14 men so it doesn't mean the result would have been reversed.
"I don't think Finn Russell was malicious with his tackle that was referred to the TMO, but some referees and TMOs would have given him a yellow card for that, so we were maybe lucky there.
Tonga are an unknown quantity in this tournament. They will open their campaign against Ireland, and only then can we begin to gauge the veracity of the claim by coach Toutai Kefu that this the "strongest Tongan team on paper"
"But there's no doubt that Jesse Kriel was crucial to the South Africa win. To quote, the late Bill McLaren, he was like a demented giraffe the way he ran about the park as if he was on fire, flying at the Scottish back line. I think the Springbok blitz defence was ever more intense than I've ever seen it, with Mostart and Pieter Steph du Toit flying into tackles, and both wingers prepared to come infield to hit you. As a player against a defence like that you start to wonder where the next tackle is coming from because you don't see them until it's too late. The good news for Scotland is that no other team will do that, to that level of intensity for 80 minutes, so if we're being positive about the coming games that will have provided a very good early lesson in how quick you have to operate in a World Cup to be successful."
Many Scotland supporters are eyeing the final match in the pool as 'the big one' – and have been since the draw was made – against Ireland in the Stade de France, on Saturday 7 October: a decider for the pool runner-up berth. However, Gregor Townsend has been clear in his messaging within the camp that no player should be thinking beyond Tonga, who they meet in Nice on Sunday 24 with Romania the following weekend in Lille. The Tongans have shown their ability in previous World Cups, notably beaten eventual finalists France in 2011, but with the new World Rugby eligibility rule allowing star All Blacks, Wallabies and caps of other nations to return to their home country, Tonga are an unknown quantity in this tournament. After a poor run-in of results, they will open their campaign against Ireland on Saturday in Nantes, and only then can we begin to gauge the veracity of the claim by coach Toutai Kefu that this the "strongest Tongan team on paper", and how well he has moulded George Moala, Vaea Fifita, Malakai Fekitoa, Charles Piutau, Augustine Pulu and Adam Coleman into the less well-known Tongan side.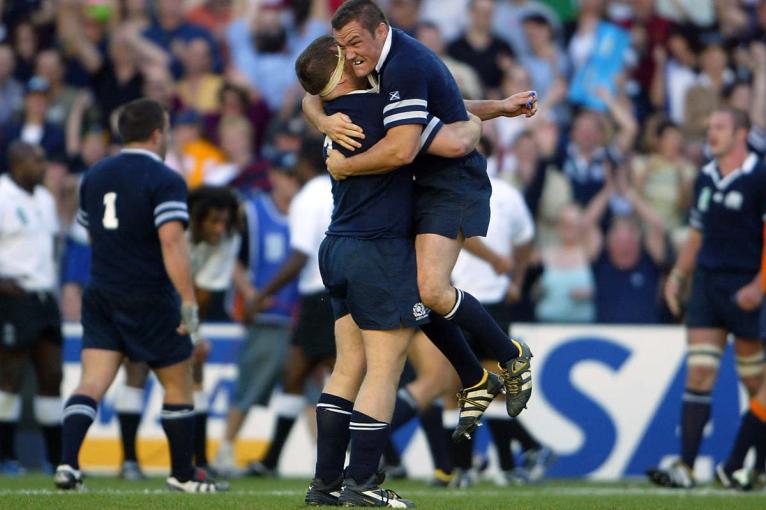 This Scotland team has improved consistency with wins over Georgia, Italy, Fiji, Argentina and Wales in the past year, but the fact that the term 'minnows' is rarely used nowadays points to the growth in strength of the lower-ranked nations and Telfer recalls how Scotland's 2003 World Cup was only rescued by a last-gasp try from Tom Smith and Chris Paterson conversion against Fiji.
"I remember that game quite well," he said, "and it showed the quality of the South Sea Islanders when they have a bit of time to be together and prepare properly. Rupeni Caucaunibuca was the big man for them then, and I can still him sprinting up the touchline, battering off would-be tacklers as if they were flies.
"Ian [McGeechan] and I went down the dressing room at half-time, and we knew we were in trouble, and we got to the door where we saw our captain Bryan Redpath so animated, speaking to the team as I'd never seen him speak before. I knew Bryan well from when he was a boy at Melrose, but now he was putting everything on the line to his teammates, making them aware of how this would be the final and perhaps defining moment in a lot of careers. He left them in no doubt about what he thought of their slip-ups and approach to the first half. Ian and I didn't have to say anything – they came out of that dressing room a different team and yet, the game was still on a knife edge until the last two minutes. Thankfully, we had one of the world's best loosehead props, the late Tom Smith, who knew his way to the try line, and the world's best goalkicker at that time in Chris Paterson.
"That was a long time ago now but Gregor [Townsend] played in that game and he needs no reminder of the challenges Tonga will pose in this World Cup.
if I was in there now, I'd be encouraging the management and players to stay positive. They shouldn't get carried away, and forget all the talk of this being the greatest Scotland team, which doesn't help anyone.
"I actually wish we were playing Ireland next up, because so many lessons from that South Africa game would be fresh. Our lineout has been a real strong point and it didn't perform at key times – I heard that we lost six in the Springbok 22. That's unheard-of for our lineout in recent times, and it cost us great attacking platforms. People will blame the hooker George Turner, but there was more that went wrong than the throwing, and Turner threw perfect balls over the back so he can throw straight as a die.
"But, saying that, I think now there will be some places up for grabs for that Ireland game. Our second rows are good players and Richie Gray's height is a real weapon, usually, but they will come under pressure from Scott Cummings, and we could see Matt Fagerson coming into contention in the back row if he performs well in the Tonga and Romania games.
"But, if I was in there now, I'd be encouraging the management and players to stay positive. They shouldn't get carried away, and forget all the talk of this being the greatest Scotland team, which doesn't help anyone. Just keeps the heads down, recognise that the World Cup is special for all the players and teams that compete, the Tongans and Romanians as much as the Irish, and learn from the South Africa performance.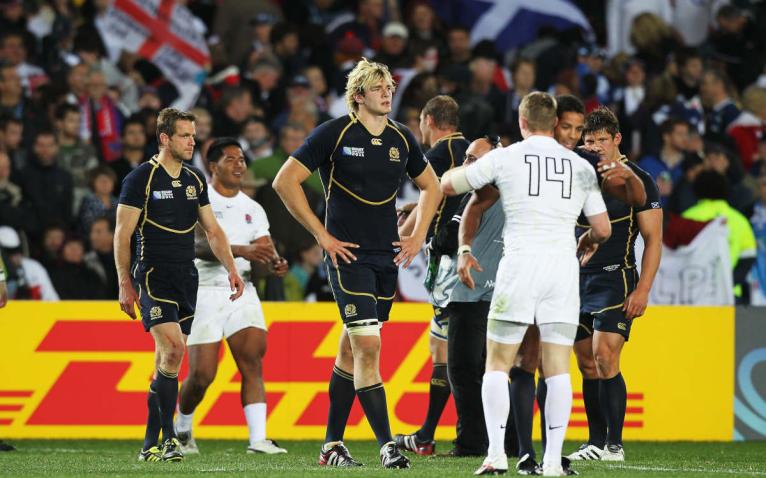 "I remember being in New Zealand the first time Scotland didn't make it out of the quarter-finals, when we lost narrowly to England and Argentina, and no-one talks about how close those games were; they just say Scotland didn't make it out of the pools so must have been terrible.
"The same will be said of this World Cup if we lose another game – nobody will remember in 20 years that we played the top two ranked teams in the world at the time, it will just be 'Scotland 2023: pool exit'. So, they have to win the next three games, and I actually think they can.
"If they learn the lessons quickly from the South Africa defeat they should beat Tonga, and should beat Romania, and come to the Irish game in fairly good fettle and go in against Ireland with an even chance.
"Ireland are the world's No 1, rightly, having beaten New Zealand in New Zealand and been very consistent, so we'll go in as underdogs which suits us. As important as Finn Russell is for us, Jonny Sexton is huge for Ireland, a great leader, a purist type of rugby player in my eyes, and I hope they both avoid injury, but Ireland also have Caelan Doris and Tadgh Beirne, who I put in the same league as Pieter-Steph du Toit and Cameron Woki for athleticism, so there will be great match-ups across the pitch."
He added: "We haven't beaten Ireland for years. So what? That doesn't matter in a World Cup, because this is about what happens on the day, or night. If I was in that camp now, I would say to our players: 'don't forget what you've done, in the past year or so, and don't forget what we can do. Just look at the five tries in the second half against Georgia for example. We are not suddenly a poor team because we lost to the world champions.
"Good teams bounce back from defeat and we showed against the Boks that we could live with the very best. But can we be the best Scotland team? I remember the teams of the 1987 and 1991 World Cups, and the reason they were great teams was because they won tangible prizes, not the World Cup itself, though we were close to the final in '91, but Grand Slams. This team hasn't won anything tangible yet.
"It's a good team, definitely, but they need to show that now by playing at a high level against Tonga, Romania and Ireland, winning those games and going on to the quarter-finals, and then we can talk about how good they really are."