Back

By Jim Tucker
Eddie Jones targets new world order with Wallabies
By the time Eddie Jones had sprinkled "mate" into proceedings for the 32nd time, bullish Wallabies fans were sure they'd caught a glimpse of World Cup glory in Paris, the panache of old, more sausages on club barbecues and taking down the All Blacks.
"We're coming after them," the new Wallabies coach said. It was in answer to whether the Bledisloe Cup might ever touch the lips of Wallabies again.
It is now the phrase that the believers in Australian rugby hope sums up 2023 – from the building blocks of Super Rugby Pacific to the Rugby World Cup and beyond.
There's nothing quite like one of Jones's line-in-the-sand media conferences when he pulls together threads from every corner of rugby with evangelical zeal.
This was one of them. For 42 minutes, 'Full-Throttle Eddie' whipped emotion, anticipation, hope and back-buckling hard work into his vision for Australian rugby to shed the cloak of mediocrity.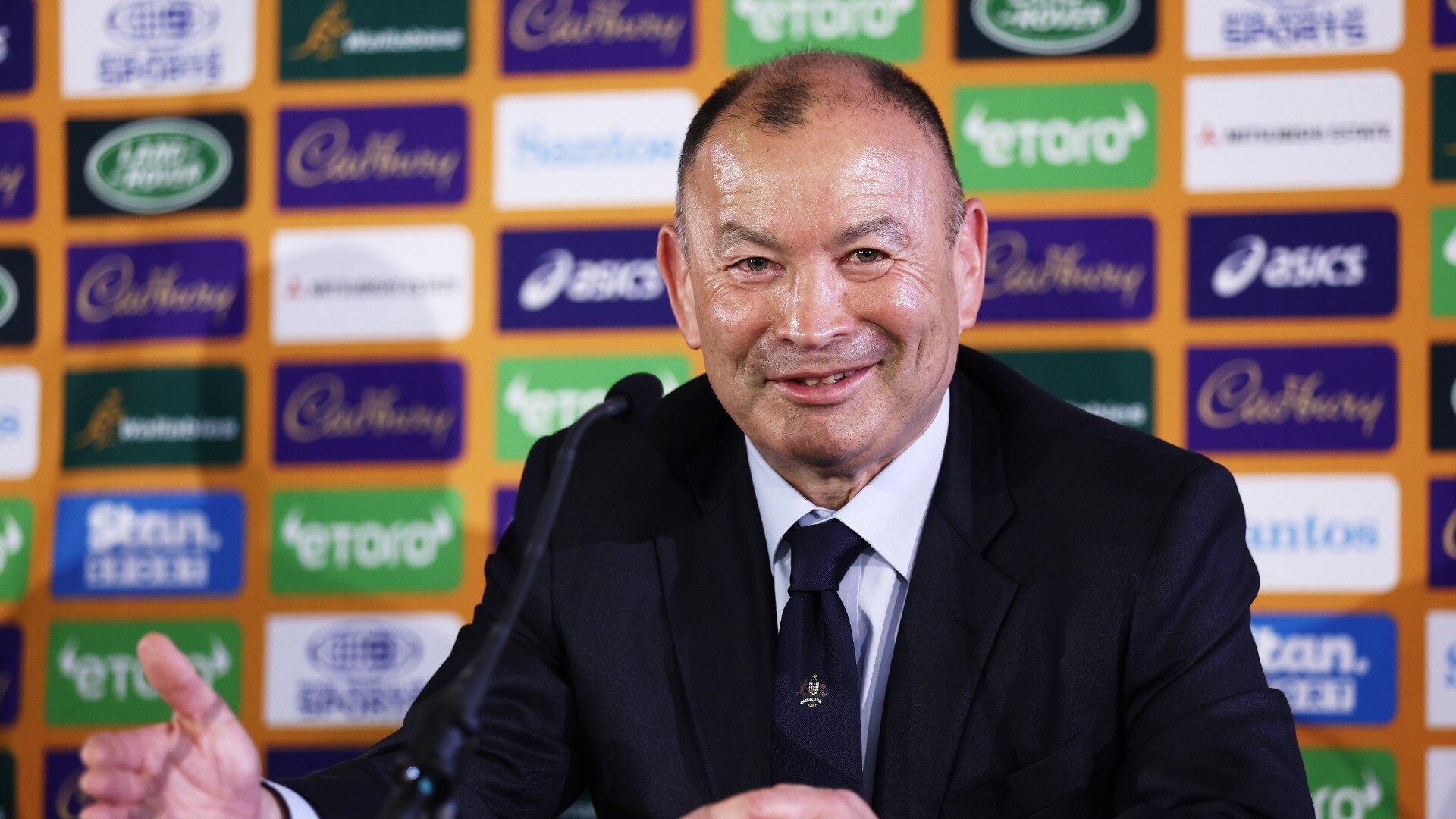 That this was 'Aussie Eddie' again was left in no doubt.
Australian rugby has often rolled out new coaches, new chief executives and other such appointees in swanky surroundings or at head office.
This media conference was back at grassroots for Jones at Sydney's multi-cultural Matraville Sports High School in the working class suburb where he played rugby with the famed Ella brothers, Mark, Glen and Gary in the 1970s. They shared an unbeaten 24-match run in their final school year of mesmerising running rugby before the brothers went on to become Wallabies.
Jones' lower lip quivered with emotion as he recalled those special days with the Indigenous brothers, who gathered again today in the sports hall.
Jones will be winning back support for the Wallabies one person at a time and no pair of eyes is more important to him than Mark Ella, the maestro of 25 Tests in the 1980s. The most renowned of the Ellas has fallen out of love with the game (or the way the Wallabies play it) and no longer attends regularly.
Australia ended up winning the World Cup in 1991 and then 1999. We want to start that period again.

Eddie Jones on the future for the Wallabies
"Mark was saying he doesn't want to come and watch us play until we play well. We need Mark to be at the ground," Jones said of a challenge he is relishing.
How? Jones is inheriting a Wallabies side that he beat 10 times from 11 starts as England coach and has one victory over the All Blacks in three years.
"Australian rugby has gone through tough periods before. If you just look back at when the Ellas came through. In 1977-78, they played Australian Schoolboys. They went and won everything in the UK and it set off a movement in Australian rugby.
"They changed it back to an aggressive, running style of rugby and they changed the fortunes of Australian rugby that culminated in the Grand Slam in 1984 with the world's best coach in Alan Jones. His only competitor is Clive Woodward but they are having a good go at each other. One of them will work out who is the greatest coach.
"Australia ended up winning the World Cup in 1991 and then 1999. We want to start that period again. We're not short of talented players here but talent doesn't win World Cups. What wins World Cups and wins the hearts of people is teams playing with that same spirit the Ellas had, being aggressive, playing with a certain panache.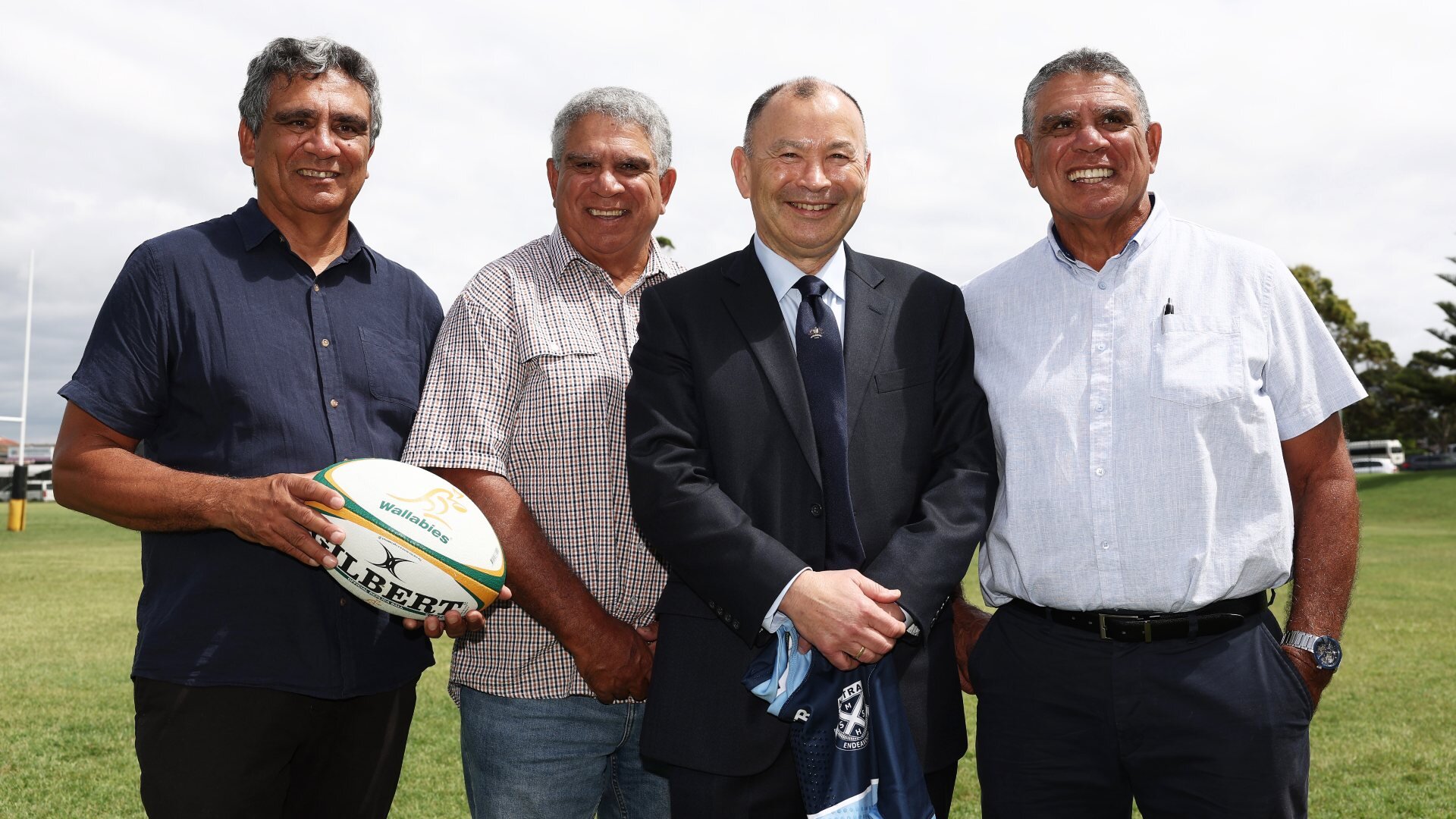 "That doesn't mean you run with the ball all the time because kicking can be as artistic as running the ball. We want to play tough so at the end of tight games, you win those tight games. That's the traditional Australian digger spirit. We want that in the team and that's the opportunity for the players this year. If we play like that, people will want to watch rugby again.
"We want pride back in Australian rugby. That's the most important thing, mate." There's that word again.
Veteran "Eddie watchers" will know that "mate" has many meanings when Jones gets his tongue to work. It's all in the intonation with one of his favourite words.
There's the friendly, welcoming use, there's using the word to emphasise points like above and there's the more drawn out, growling "ma-a-a-te" when he eyeballs someone he fervently disagrees with. There's also one version he didn't use at this media conference, the venomous use where he lets a player know he's let down teammates, his country and his family.
Jones has many shades as his former England players will know. Most of all, the Wallabies need the pattern-drilling master, the whip-cracker and the World Cup guru that players believe can work wonders.
That switch from near misses to winners in tight corners is the button that Jones so often finds. His record says so – and especially in cut-throat World Cup finals games.
Advocates for Dave Rennie who pointed at how close he'd come to some big results, like the narrow losses to the vaunted French and Irish on the tour of Europe last year, missed the point altogether.
It's precisely that failing which resulted in Rennie's demise. 'Mr 38-per-cent' would have been cruising and still in the job with a 65 per cent win rate if the three draws, three one-point defeats and three two-point losses of his reign were all wins.
That switch from near misses to winners in tight corners is the button that Jones so often finds. His record says so – and especially in cut-throat World Cup finals games.
The gains he needs to find in the Wallabies? Far fewer penalties, more striking counter-attack, remaining tough until the final whistle – such developments can all have a huge impact.
"If you look at world rugby at the moment, there's six teams not separated by a cigarette paper. They're so tight," Jones said.
He would have needed to use "nine teams" in making the same point last October when the Wallabies were a limp number nine in the world rankings. They are sixth at present, a team capable of a big win but with no chance of winning three cut-throat World Cup finals games in a row.
Jones is unperturbed because he sees locks, halfbacks, backrow depth, skilful backs, a fair stock of Test-toughened props and perhaps the right No 10.
"The team that learns the most over the next nine months will be the team that lifts the William Webb Ellis Trophy in Stade de France on the 28th of October at about 11pm," Jones said.
"And we're intending that to be us.
"From that, Australian kids will want to play rugby."
Jones has a certain schtick that long-time followers will recognise from this lengthy press conference.
If you did a World XV today on talent you'd have a fair few Australian players in there.

Jones on the state of the Wallabies
He grabs a line at a press conference, a topical news event or a stumble from an interviewer and revisits it several times for comic effect, some niggle or a tangential detour.
It either generates a great sound bite, a solid one or an attempt at trying too hard.
He absolutely nailed it in his first media conference via Zoom more than a week ago when he slapped down Peter V'landys, the chief of rugby league in Australia, who had taken a cheap shot at rugby being boring.
Jones cheekily cut the legs from under V'landys by calling him "what's his name, the horse guy" with a jab at his critic's other role as a leading racing industry figure.
Today, it was mirrors, the ones that former Wallaby Lote Tuqiri suggested every 2023 Wallaby would need because Jones would force them to look so deeply into their souls for improvement.
Wallabies might have to look into individual sponsorships by mirror-makers, Jones joked when taking up Tuqiri's line.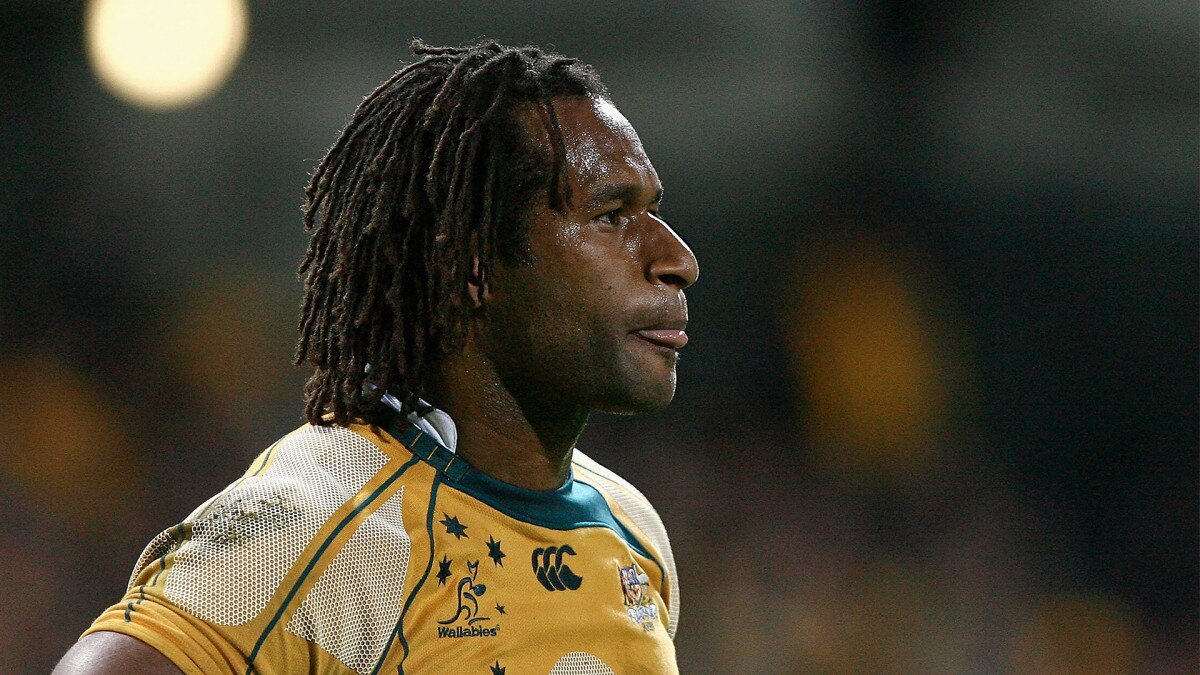 Jones is yet to name his assistant coaches, meet his players as a group or make a start on the team culture he wants. He's excited for that huge task and hopes players will rise equally to "go on a journey that will change Australian rugby."
"What I do know is that our players don't lack talent. They don't lack talent," Jones said.
"If you did a World XV today on talent you'd have a fair few Australian players in there. As I've said before, talent alone doesn't win you Test matches."
Intriguingly, the Rugby Australia chairman Hamish McLennan said he saw a big win in how clean the move from coaching England to guiding Australia had been with Jones.
"I'm surprised there was no 'non-compete clause' there (from the Rugby Football Union) and very happy that there wasn't and delighted at where we ended up," McLennan said.
Jones gets the Australian rugby psyche … He knows Australians want to hear about winning things.
The RA boss wants Jones to trigger something more than just the Wallabies winning more often.
Jones has bought in: "Firstly, I reckon we've got to draw a line in the sand of where we've been and work out where we want to go and have that picture in our head. Then everyone needs to roll the sleeves up.
"If you're cooking sausages down at the Under 8s or you're thinking about getting a pay-TV subscription, do it. We need people to want to support rugby. We need a crowd turnout at the first round of Super Rugby. There's plenty of people who love rugby when the Wallabies win. We've got to win but we need everyone to do a bit more in rugby."
Jones gets the Australian rugby psyche. The Wallabies have been to the summit before, something Ireland and France never have. He knows Australians want to hear about winning things.
Not for him the tack of former Wallabies coach Robbie Deans. When the Wallabies embarked on their Grand Slam tour of the UK and Ireland in 2009, the Kiwi coach just wouldn't utter the term "Grand Slam" as any sort of target. It was bland one Test at a time stuff.
By the time, the Wallabies had drawn with Ireland in Dublin in the second leg, it still hadn't been mentioned and it was a dead duck without promotion.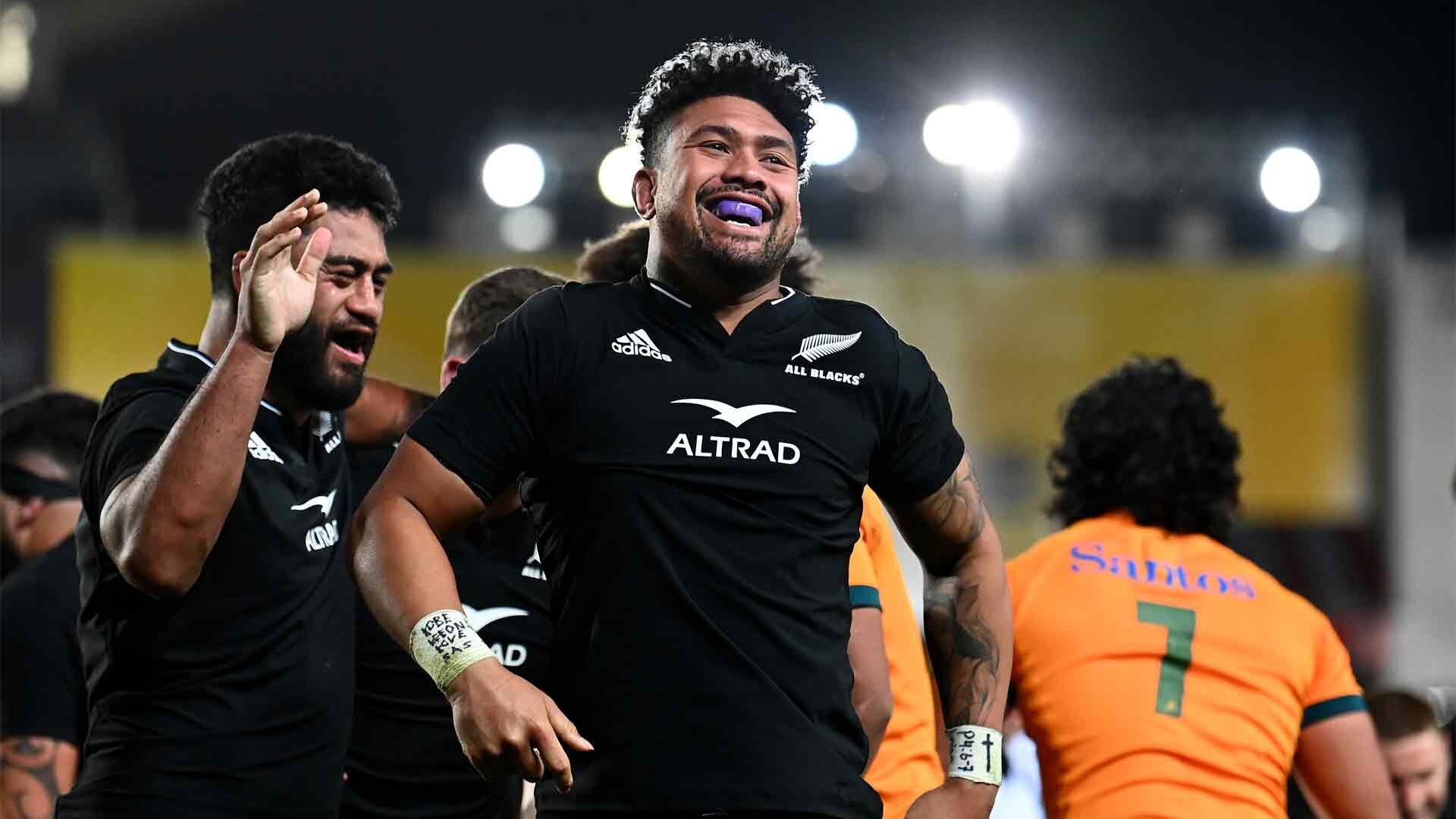 Jones gets that Australians want to hear about toppling the All Blacks not competing with them. It is barely conceivable that it was a Jones team, in 2001, that won the last Wallabies' victory over the All Blacks on Kiwi soil in Dunedin.
"I think the Kiwis have done really well, getting through that tough period last year where if they lost that game in Johannesburg there might've been a change of coach," Jones said.
"I think they're in a pretty good spot but we're coming after them. We're going to be chasing them down the street and that's a good thing.
"We want that rivalry to be tough and I think New Zealand want it as well, so we'll make sure we're chasing them."
Jones won't be content to chase unless he overtakes. A clash against the All Blacks in Melbourne on July 29 will return the trans-Tasman protagonists to the city where French referee Mathieu Raynal left Wallabies' fans apoplectic with his time-wasting penalty last year.
If we can get the lead in the series and go to Dunedin, what a fabulous place to win back the Bledisloe Cup.

Jones on upsetting the apple cart against the All Blacks
"The referee made a difficult decision at the end of the game.  and he's still recovering from it," Jones said.
"Australia went close and we traditionally play well at the Melbourne Cricket Ground (July's venue).
"If we can get the lead in the series and go to Dunedin, what a fabulous place to win back the Bledisloe Cup. That's the picture in my head, mate."
All going well, Jones will have the experienced Quade Cooper to consider as his No 10 at that point after his recovery from a major Achilles injury.
Jones also name-checked Bernard Foley, youngsters Ben Donaldson, Tane Edmed and Noah Lolesio plus utility James O'Connor as 10s in his stable.
"It's going to be competitive, but we're definitely going to have to decide the hierarchy of 10s. You want cohesion, particularly in the spine of your team, so we'll try to get to that as quickly as we can," Jones said.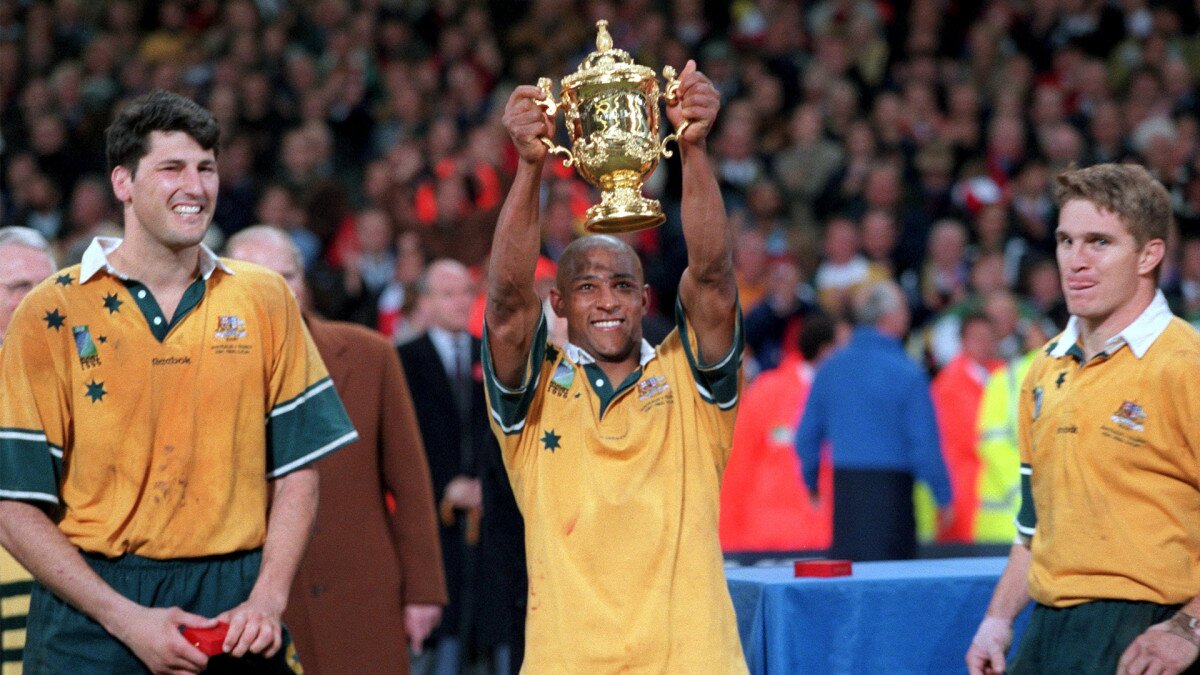 He might have signed a five-year deal to revive Australian rugby but nothing matters beyond the next nine months as far as Jones is concerned.
You want more Aussie kids playing rugby, you win the World Cup in France and you beat the All Blacks.
"We've got to win the World Cup. Our plan is to win the World Cup," Jones said.
"If we win the World Cup it changes things for rugby in Australia. So, our target is to win the World Cup then we'll worry about what happens after that."
You do know with Jones that he's not so interested in silver medals. Sadly, his 2003 World Cup runners-up medal from the Wallabies' loss to Jonny Wilkinson and co went missing in his move from South Africa to England years ago.
"I lost those silver medals somewhere, mate. I think they're in the Indian Ocean. I had about five boxes that included a gold medal and two silver medals. And I never got them back so they're probably in some bazaar in Cape Town being sold," Jones said.
New team, same peak World Cup goal.