Back

By Patrick McKendry
Stand-off supreme
Beauden Barrett's recent comments about wanting to play No 10 for the All Blacks will probably come as little surprise to New Zealand's supporters but they may have turned the spotlight back on Ian Foster's major challenge for 2021.
How Foster gets the best out of Barrett, a supremely talented twice-decorated world player of the year capable of playing first-five and fullback, and Richie Mo'unga, a supremely talented specialist first-five, this year – and all the way to the 2023 World Cup if the head coach's contract is extended – may be what is occupying Foster's thoughts the most during his summer break. Added to that is how he keeps both his players happy.
The ultimate question is whether Foster will stick with the All Blacks' dual playmaker system, a strategy first tried with Barrett and Mo'unga in the drawn test against the Springboks in Wellington in 2019.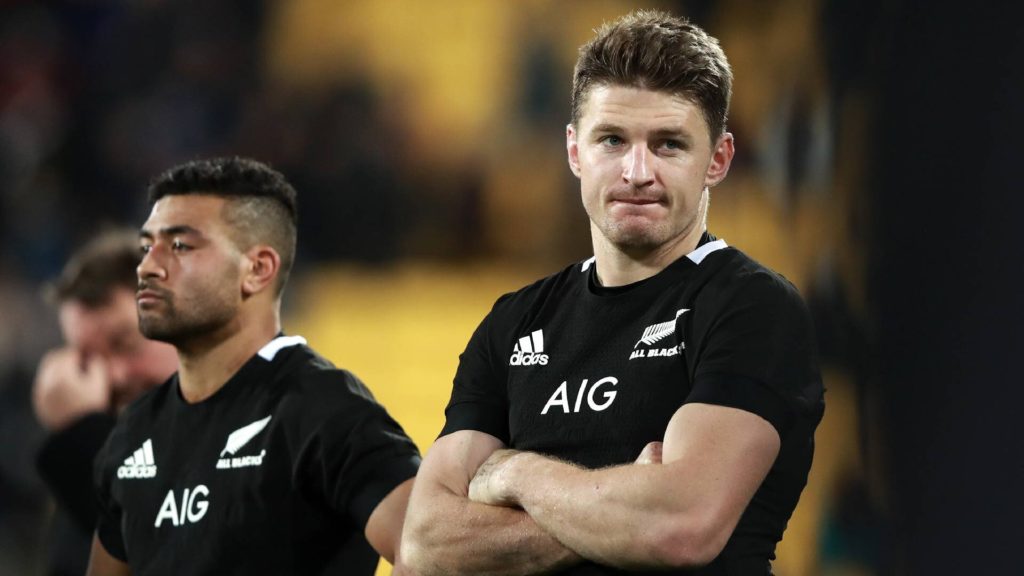 "I think we've learned a lot from one having one game under our belts," Barrett said after the test in which the All Blacks badly needed to factor in a dropped goal attempt in the final minutes. "At times we were perhaps in each other's pockets. Tactically and structurally, if we can be aligned, it will work best for the team and we should see some good rewards from that."
It's likely Foster will persevere because for many the concept is a proverbial no-brainer, particularly in the current era in which well-organised rush defences are in the ascendency. Both Barrett and Mo'unga are brilliant ball players and both have excellent kicking games. Both would feature as the quickest 10s to have represented New Zealand. Barrett was rightly recognised as the best No 10 in the world in 2016 and 2017, while Mo'unga has helped lead the Crusaders to four consecutive Super Rugby championships and has shone brightly at times during his 22 tests.
What isn't in doubt is that when they both start and play well, the All Blacks invariably do the same and win. The pair also seem to play better when they are both on the park – Barrett's return at Eden Park for the second Bledisloe Cup test last year after missing the first drawn test in Wellington due to injury coincided with a better performance from Mo'unga, although the far more muscular and direct performance from the pack was a big factor too.
Barrett was rightly recognised as the best No 10 in the world in 2016 and 2017, while Mo'unga has helped lead the Crusaders to four consecutive Super Rugby championships and has shone brightly at times during his 22 tests.
In fact, Barrett and Mo'unga invariably look at their most disconnected when their forwards fail to fire; the World Cup semifinal defeat to England in 2019 and of course the stunning Tri Nations failure against Argentina in Parramatta. Mo'unga was rested for the Bledisloe Cup defeat to the Wallabies in Brisbane last year, with Barrett earning a rare recent start at No 10. It wasn't a happy one for him or the team.
The pair have also combined for some stunning successes; most notably the response at Eden Park to the shocking Bledisloe Cup defeat to Australia in Perth in 2019, the World Cup pool game victory over the Springboks, the quarter-final victory over Ireland, and last October's Bledisloe triumph over the Wallabies in Sydney when Mo'unga scored 23 points, including two tries, in a record 43-5 win.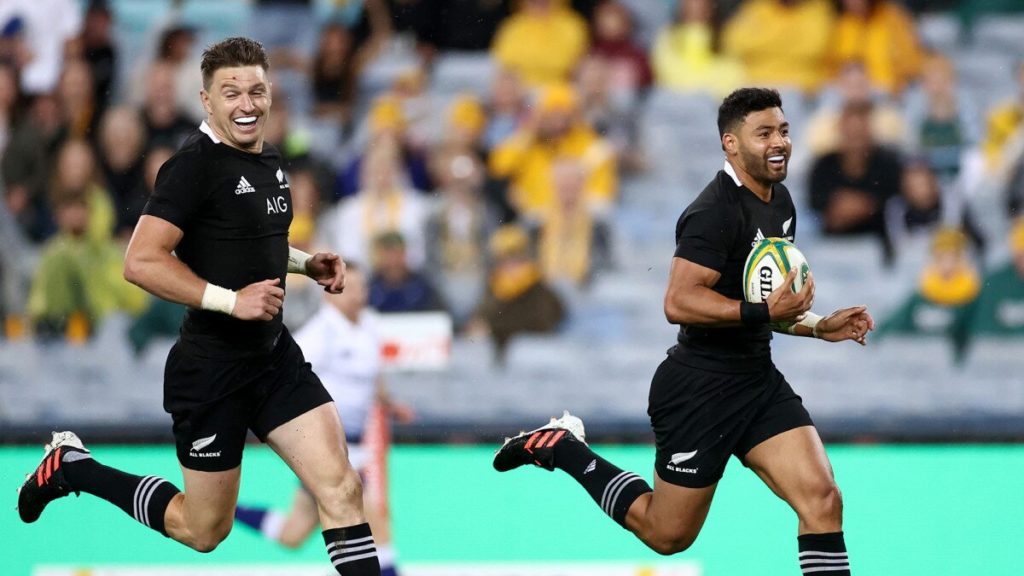 And yet, Foster is unwilling to fully commit to Mo'unga remaining at 10 and Barrett at 15 for the foreseeable future, at least in public anyway, probably mainly due to pragmatism and a reluctance to let Mo'unga, 26, get too ahead of himself. Foster needs at least two world class options at first-five and he certainly has that in Mo'unga and Barrett, who is 29 and has played 88 tests. Also, to publicly state that he now sees Barrett as a fullback would invariably come as a disappointment to a senior and influential All Black, which could result in a degree of disengagement.
Fortunately, the pair get on well.
"He's a cool young guy," Barrett said of Mo'unga after that drawn test against South Africa in Wellington in 2019. "He's very calm when he speaks. Playing alongside him, there's a great sense of calmness and that's a quality of his that rubs off on the boys in those tough moments when you just need to steady the ship and keep things simple."
"I've always said I think he's a 10 who plays 15, and that really hasn't changed," Foster said of Barrett in August last year.
"He's had a pretty rich history in the black jersey as a starting 10. He had a rich history for the first four years as an impact player, coming off the bench and playing 10 and 15, and last year we gave him another job based on a revised game-plan that we felt utilised both of them really effectively."
I've always said I think he's a 10 who plays 15, and that really hasn't changed

All Blacks coach Ian Foster on Beauden Barrett's best position
In his public utterances on the subject, Barrett has generally stated that he's happy to play wherever the All Blacks need him, but more recently he has been more explicit in his desire to play at 10 and this was apparent as recently as last week in his first press conference with his new Japanese club Suntory Sungoliath, where he will play first-five.
"I have got a little bit of work to do in terms of slotting back into that role [first-five]," said Barrett, who was happy to play fullback for the Blues on his shift from the Hurricanes before taking over at 10 for the second half of last season.
"I think one would expect me to play a little more at number 10 and that is certainly something I am aspiring to do back in New Zealand for the All Blacks."
Like many around the world, Barrett's immediate goals may be delayed due to Covid-19. Several Top League games have been cancelled due to an outbreak of the virus – reports indicate that seven Suntory players have contracted it.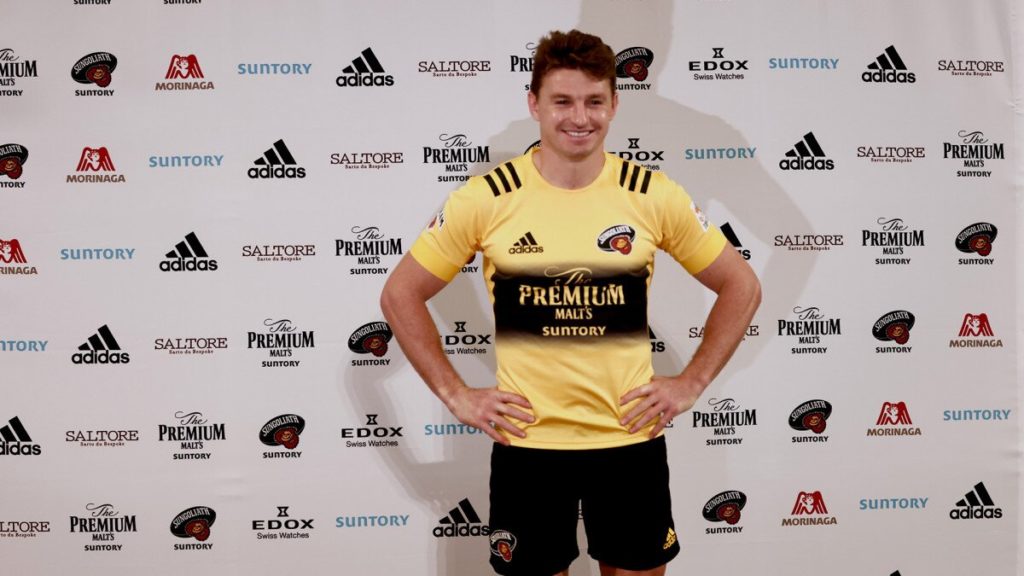 Longer term, Barrett is scheduled to be available for the All Blacks this year following his Japanese sabbatical. The All Blacks' first tests of the year are set to be against Fiji and Italy in July – Covid permitting – ahead of the Rugby Championship.
There is a school of thought in New Zealand which states Barrett may longer be the best fullback in the country, that brother Jordie and perhaps even Will Jordan have overtaken him, and that Beauden may be best suited to an impact role from the reserves bench, a place where he first came to prominence for two years after his test debut in 2012.
It's possible, likely even, that Foster will experiment during the tests against Fiji and Italy but it would require a big change in thinking for Foster to leave Barrett out of the starting side in big tests. It's there that experience counts – it's also why Foster has been reluctant to start Jordie at fullback when his older brother has been available. Mistakes at the top level are invariably punished and while Jordie has tightened up in this area, he has a way to go before he reaches Beauden's level of reliability.
The return of Brodie Retallick this year should help the performance of the forwards – a polite description of the black pack last year would be that it struggled for consistency – which may lift the effectiveness of both Mo'unga and Beauden Barrett, but still the juggling act will remain for Foster; how to keep two of the best No 10s in the world happy in the same team? Nothing but the highest levels of transparency, logic and communication will suffice.
More stories