Back
By Ben Kay
Ben Kay: 'Eddie Jones is the Jose Mourinho of rugby'
In truth, this column would have been easier to write had Eddie Jones lost. All roads now lead to Sydney, and if England can win the Series, everyone will see this Australia tour as the turning point to their fortunes.
For me, since 2019, their biggest problem has been self-belief. There are a number of reasons for that. Granted, I'm not as disparaging as some about Eddie, but I was starting to get really annoyed with him.
Speak to any of the players and they'll say he is the best coach they've ever had for detail and his ability to analyse the game, but for me the number one priority for the head coach is to foster belief in the environment and I'm not sure he's done that effectively for some time.
Contrast his style of coaching with Andy Farrell. If we rewind to 2012, when England beat New Zealand at Twickenham, everyone I spoke to said that win was down to Andy Farrell. He just made them believe all week they were going to beat the All Blacks, and they did so in some style.
Like the players, I think Eddie is a tactical rugby genius, However, during my career we leant heavily on the Royal Marines and Special Boat Service for learning how we could get better. One of my lasting memories is their saying that, 'the best battle plan in the world never survives the first contact with the enemy'.
In other words, the team that adapts quickest survives. England's ability to get out of dark places in recent times has been poor and I think the overriding reason for this is belief. Take the first Test. They shot themselves in the foot with all that whooping and hollering in the first half. Celebrating every minor gain like they'd won the game. That sounded to me like, 'we have to make it feel like we're dominating' but when the tide turned the silent contrast was stark.
I remember when I was at Leicester some of the Kiwi players at Northampton doing it, but it felt contrived. It was like they were trying to create an atmosphere, and false bravado.
Eddie Jones is rugby's Jose Mourinho
There's no doubt Eddie is the Jose Mourinho of rugby. We used to have a podiatrist who worked at Chelsea when he was at Stamford Bridge, and she'd say, 'the players love him, every session is planned to the tee and no one ever has any downtime.' The problem for England is it's become the 'Eddie Jones Show' and has been for a while. The narrative in the press has been more about, 'how clever is Eddie?', than the players.
Background staff are critical because you have to implicitly trust everyone within the organisation. They shape that unbreakable bond to succeed in high-intensity environments. Now I'm not suggesting that England make the environment too comfortable, because that's not what international rugby is all about. You have to be able to deal with backs-to-the-wall situations in-game, but you also need to know what each and every one of the team and staff is going to do in pressure situations and more importantly what they will bring to the group to find a solution. That high turnover, even if it's subconscious, is going to create a modicum of instability or lack of absolute trust.
It's well documented that Eddie has used over 180 players since he came in, and that's fair enough, but look at how are they brought in and jettisoned. I've heard a couple of horror stories about treatment of players and backroom staff.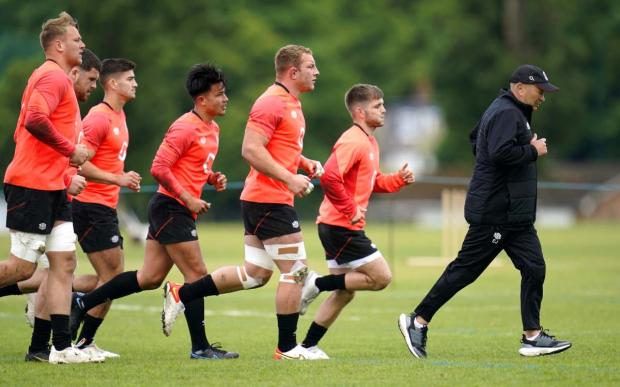 Regardless of whether the players all think Eddie is the greatest thing since sliced bread, that affects the environment because players will think, 'what if he turns on me, or what if he turns on my mate', I don't think that's healthy. If you're worried about making mistakes, you'll hesitate, just when you need to be instinctive. Will you be completely transparent if you're worrying how your point will be interpreted.
For me, the most important gift a head coach can have is to be an enabler and bring the best out in his players. What I've asked myself when England have been floundering is, 'would Eddie Jones put up with anyone else with his personality in the playing squad or backroom staff?' That's a question I'd love to hear him answer. If he wants to take people out of their comfort zone, maybe he needs to do the same himself.
England are behind the curve ahead of the World Cup
By my reckoning, there are 12 more games to the World Cup, so Saturday's game is absolutely crucial. England are well behind the curve of where they want to be. In my mind, you have to feel bullet-proof going into the World Cup, and I think they did in 2019. It can still be recovered, but Eddie has to draw a line in the sand now, and say, 'this is what I'm building, these are the players I'm going to use'. It's about this core group now and how they can achieve something very special together.
So, what motivation have England got? Well the fact they've lost Maro (Itoje) and Tom Curry, both to concussion, is a chance for their team-mates to see if they can they do it without probably the first two names on the team sheet. If they do, it would be a massive boost to their confidence.
Players-wise, I really liked how Billy Vunipola stepped up. His performance levels had started to dip just before the 2019 World Cup, and he'd been a shadow of his former self. Indeed, we thought Eddie had jettisoned him and Mako, when Eddie said as much in his book about there being players who wouldn't make it back. It was a typical Eddie ruse. Last weekend, Billy was smiling and starting to look like the player he was at the start of his England career.
Another hat tip should go to Ellis Genge. He probably should have been yellow carded for leading that elbow into the neck of  the prone Nic White, especially if there had been a fight, but Ellis' disciplinary record is actually pretty good. He wouldn't want me putting words into his mouth, but he likes a bit of niggle and there had been words from the Wallaby camp before the Second Test so he'd have been out to prove a point, which he did. He occupied a lot of the Wallabies mental ram.
It's funny, maybe England had lost their reputations as bruisers up front. Take Jonny Hill in the first Test. It's almost like Eddie had said to him, 'you're not tough enough, you have to prove that you can't be bullied', as a sort of initiation into the inner sanctum.
England's forwards allow backline to shine
The backline still haven't hit their stride attacking-wise but how much better do they look when their forwards are causing carnage? That's the big thing for me, for all the chat about the backline faltering, maybe it's the forwards who haven't been doing their job. I remember when Leicester overinvested in their backline. They had Ben Youngs, George Ford, Manu Tuilagi, Matt Toomua, Jonny May and Telusa Veainu but they didn't recruit well enough in the pack and that lack of balance hurt them. It ended with Sione Kalamafoni having to-do an awful lot of carrying. Now Leicester have done that and you can see the results.
England need reminding that their pack is a traditional strength, and front-foot ball shows rugby still a simple game if you break it down. If you want all-singing, all-dancing backline, the piano shifters have to do their job up front. It was the cornerstone of England's brightest ever attacking performance against the All Blacks in 2019's World Cup semi-final.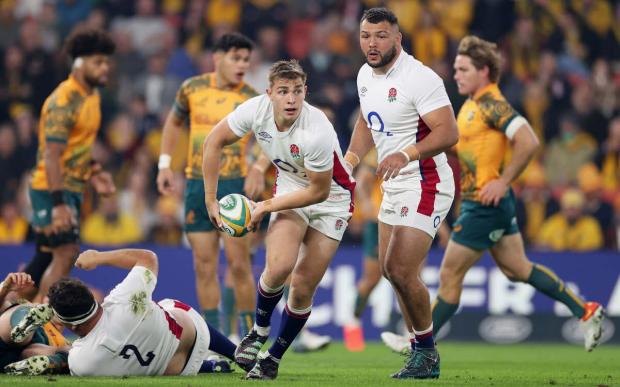 Tied to that is the platform the No 9 has. Ben Youngs has clearly been kept on because Eddie expects him to be his No 1 at the World Cup. As for his No 2, that's where Jack van Poortvliet has thrown his hat in the ring. I'd been told for years by people that he was the best player they'd seen at U20 level, but while he's been good for Leicester this season, he hadn't set the world alight, but that performance in the second Test was unbelievably good and he must have shot up the pecking order. Had Raffi Quirke stayed fit, maybe he'd have stayed as Youngs' understudy and don't forget they have Harry Randall, Alex Mitchell, and a re-energised Danny Care. It's a selection nightmare, but in a good way.
The exuberance of youth
Every squad needs an injection of X-factor, young guys who don't appreciate how serious this Test rugby malarkey is. On this tour, Henry Arundell and Tommy Freeman fit that bracket. Look at some of the guys from 2003, Balsh (Iain Balshaw) was young, so was Tinds (Mike Tindall). Having those players on an upward curve can energise everyone in the squad.
Fans are excited by Arundell, because they don' know what's he's going to do next, whereas (Jack) Nowell has lost some of that unpredictability. He hesitated when he was going for the line, and he got bundled into touch. He's got to get that devil-may-care attitude back because these young kids are fearless.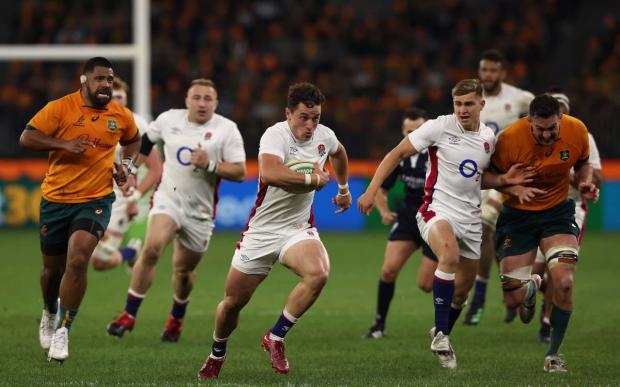 What England need is a smattering of players who have that inner belief, to say 'give me the ball', all the time. Manu's best games for England have all had that, and invariably he scored. Certainly for the Springboks it proved the final nail in England's World Cup Final coffin
Talking about youngsters, Marcus Smith is only 23, and although him and (Owen) Farrell haven't clicked yet, they need time. Farrell stepping up to play first receiver to allow him to drop deeper worked better in the Second Test, I thought it bought Smith precious seconds and I like that selflessness to make others to look better. Their relationship will only improve.