What really happened behind the scenes of the Barbarians' cancellation
Glasgow Warriors No.8 Ryan Wilson has revealed what went on behind the scenes of the cancelled Barbarians – Samoa match last weekend, and some of the 11th-hour call to arms heroics that were answered by a number of players and coaches on the eve of the contest.
The Dave Rennie coached Barbarians were due to meet Samoa at Twickenham in London but the match was called off just 90 minutes before kick-off on Sunday morning because of an outbreak in the Baa-Baas' squad. It was the second Barbarians game in the home of English rugby to be scrapped at the last minute in a row after the 2020 event was cancelled after a number of players breached the team bubble.
Yet there were no such shenanigans in 2021, with the team the simple victims of poor luck.
Frustratingly, Wilson confirms that the invitational team had 23 players read to play the game and Samoa were happy to play, but Public Health England stepped in to cancel the match at the last moment.
"The crazy thing was, and I know there's been a lot of backlash from fans, as in 'Why was it called off so late?'. Genuinely, we kept pushing the bus back, and we were saying 'We're going to make this. It got pretty exciting," Wilson told The Offload podcast.
"At 12.15 pm we're in the team room, packed and ready to go. We're all boots in the bag, 'right boys, we're on, come on' and we're going on the bus.
"That's how close we got to it.
"The start of the event. Someone tested positive the day before on a lateral flow. We had been tested every single day. We were lat flowing like you wouldn't believe. I've never done so many lat flows in my life.
"Someone lat flowed positive, so the doc said 'Come on boys, let's do it again'. He was isolated, he was checked again and tested negative. So we were like 'Oh, okay, false positive. Carry on'.
"Then they triple-checked it and the RFU were like: 'Woah, woah, positive case, we want everyone PCR'ed.'
Called off ? ?

Six positive Covid-19 tests have caused the men's game to be cancelled.

But, the women's Barbarians match against a Springbok women's XV will now be played at 14:30 ? pic.twitter.com/ApJ5dYKzs3

— RugbyPass (@RugbyPass) November 27, 2021
"So that night we sat in a line in the team room… it was like hands behind the back job, mouth open, nose out and he [medical professional] went for it. Absolutely went to town.
"Do you know what the ironic thing was? The guy that tested positive for the lat flow was negative the next day. He wasn't even a positive case. But they did pick up four players, that were positive the next day.
"That night, no one knew the results, no know what was happening. Everything was going ahead as normal. Let's just prepare for the game.
"It got to the point where we had to replace the player, I can't tell if it was forward or a back because it doesn't matter who it was.
"Niko Matawalu, had just played a game at his club and I phone him and said 'Niks, can you get on a plane?' He said: 'I'll be there tomorrow, no worries.
"He's on the plane. Even to the point where he phones me from Twickenham, saying 'Where the **** is everybody?" I said 'Niks, have you not heard mate? The game is cancelled.'
"So Niko is sat at the ground waiting for us to get there, that's how late we knew."
What happened behind the scenes with the Barbarians cancellation?

Captain Ryan Wilson goes through some of the things done to try and ensure the game went ahead ? #Offload pic.twitter.com/UNGrVCWMTd

— RugbyPass (@RugbyPass) December 2, 2021
Sadly for the Baa-Baas, the Professional Game Testing Oversight Group and Public Health England deemed the game too much of a risk, despite negative Tests for both camps on the morning.
"It's not like we all knew. We tried our best, the RFU said no, and then it came down to Public Health England, and they said 'Risk to heatlh'.
"We spoke to Samoa. We said we've got 23 that can take the field. They said were happy to play if you are. We all lateral flowed that morning and all tested negative. We managed to get a team together but they just said it was too much of a risk.
"We were thinking we need players here and we're not getting too many player the night before.
"Petrus Du Plessis, the Australian scrum coach, he drove four hours through the snow to get to Twickenham to find it out he wasn't playing either.
Puts a different slant on Brian O'Driscoll's infamous omission from the third test. https://t.co/c4xet0a5ok

— RugbyPass (@RugbyPass) December 2, 2021
"Dave Renne had said when he got the [Baa-Baas'] job, that he [Du Plessis] had been told he had a chance of playing for the Barbarians. So Parra, Petrus Du Plessis' nickname, he had been training like you never believe for two months."
"He had trained and apparently he couldn't catch a ball. Bless him, even he turned up. There were a lot of broken hearts. It just wasn't to be.
Wilson said that there was the team were prepared to play with the personnel they had, even with players playing out of position if need be.
"We did everything we could to get it done.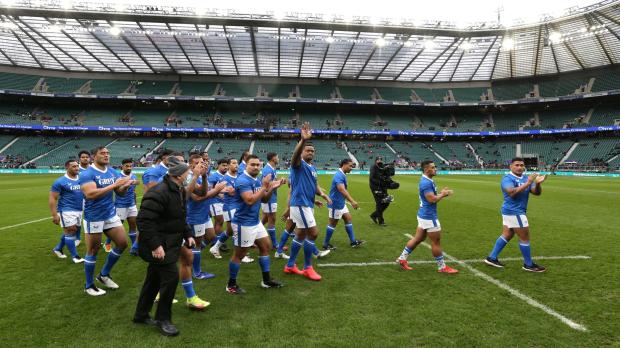 "We were chucking wingers on the back row, I offered to play 12 if I needed to. We just have to wing it. It almost became exciting.
"I know it's bad for the people with Covid but this is the spirit of the Barbarians. Throwing people in left right and centre.
"And we could have done it. To be so close for it to be taken away as well.
"I was sat in a room with Rob Kearney ready to play his left ever game of rugby in a Baa-Baas shirt. We were desperate to be out there and it just wasn't to be."
Comments
Join free and tell us what you really think!
Join Free