The Eddie Jones tirade England got on his first day in job
Former England flanker James Haskell has revealed how Eddie Jones approached the England team when he took over the reins in 2015.
Haskell – who was speaking about mental health on the Under the Surface podcast – said he became a verbal sacrificial lamb of sorts as the Australian looked to shake up the team, which he branded the 'worst in the world' after they failed to get out of the pool stages of the Rugby World Cup.
Haskell believes he was one of a number of players who Jones wanted to get on-side as he took over and it ultimately lead to a fast friendship that remains to this day.
The 57-year-old head coach has been criticised this week after he took a pop at the private schools system and how he believes it creates compliant rugby players that don't fold when put in pressure situations on the field.
The idea has clearly been a throughline for Jones, who accused of the squad of lacking self-reliance on his very address to the team as new head coach nearly seven years ago.
"When Eddie Jones came in as the England coach in 2015, he said 'I want all of you to be self-reliant," said Haskell. "How many people do you think are self-reliant in this room? Maybe 1 or 2 out of the 36'. Now I would say if you were to look at that squad, many more are. But I've always been self-reliant and I learned that because it would have been so easy to have been abroad, sit down and take the cash, not do anything and no one is going to judge you. But if you've got that personal fire to keep you going and to be successful, that's what keeps you alive.
"Eddie came in and changed things dramatically. Suddenly there was engagement with the players, you felt empowered, the environment was aspirational, you were treated like adults – I was treated like an adult, instead of a naughty kid in class.
"Even though I would train really hard, be the first one out and the last one in, all the time, he saw that in me and saw that all he had to do was put an arm around me. He said in his autobiography that he saw there were two or three key leaders and he knew he had to get them onside, and if he could manage them that they would do a job for me, and I was one of them. We've become friends off the back of it. He got the best out of me of anyone in my entire career.
"On his first day he came in and said 'Lads, you guys are the worst team in the world. You're number 8, thrown out of your own World Cup. You're telling me that Scotland are better than you? I'm going to take you to number one in the world, make you the best team in the world. Some of you aren't going to make it through, some of you are going to have to work hard. Some of the coaching staff won't make it. But I'm going to take you to a World Cup final.'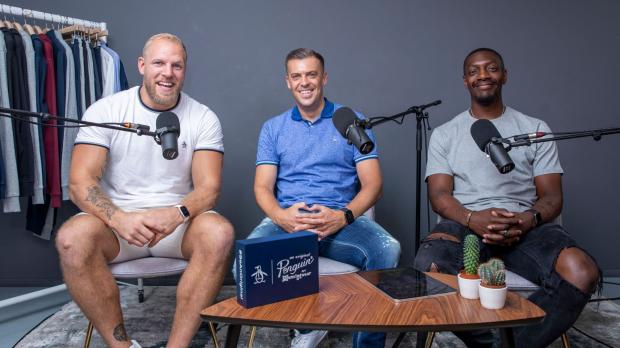 "Then he looked at me at the back and said 'Hask mate, what's your grip strength like?', and I thought 'my grip strength?', and said it's good Eddie. He said 'it's good mate, because you're hanging on!' and then he just walked out.
"Everyone's laughing and he said Hask mate, I had to do you. One day he said I was looking old so he came and made me a protein shake, and then every morning he would make me a green shake in front of all the lads just mugging me off. It was just the most fun I ever had. The best environment."
Haskell was speaking on the Original Penguin X Campaign Against Living Miserably Under The Surface podcast
Comments
Join free and tell us what you really think!
Join Free