'Some of those injuries I saw in rugby, I don't want to ever see again'
A former Springboks' team doctor says he was pressured to keep a player on the pitch despite a head injury during his time as the national team's lead medic – something he refused to do.
AFC Bournemouth's Dr Craig Roberts was South Africa's lead doctor at the 2011 and 2015 Rugby World Cup and recalled one incident where he had to take his earpiece out end communication with an emotional head coach who wanted to keep one particular player on the pitch at the flagship tournament.
If he were ever to return to rugby, the former Sharks medic admits he would have to 'ease' back in given the sport's ferocious physicality and the pressure he felt.
Dr Roberts spoke to Zoe Rundle and Kris Temple on the AFC Bournemouth Podcast and gave a fascinating insight into his eight years with the South Africa national team.
"Rugby is a brutal, brutal sport. The more you spend time away from it, the more you realise how brutal it actually is. It's a full-on collision sport and you do see horrific injuries.
"I really enjoyed being on the touchline in rugby. In football it's quite hard because you're stuck in the dugout, you're not allowed to move.
"In rugby you're allowed to roam up and down the pitch. So you get a clearer view of what's happening but also you're way more involved in the game. You're wired up to the manager and you're giving messages, so it is a different role.
"Some of those injuries I saw in rugby, I don't want to ever see again.
"A lot of time you're heightenedly aware in a rugby game. You're thinking 'What if this? What if that? What if this player goes down? What if this is a neck injury?
"It can happen in football – you can see some horrific injuries in football – but it's not nearly as common.
"It's a tough, tough game. At times you see players colliding with each other and think how on earth are these players going to stand up and they just bounce up and carry on.
"It's a good learning experience. I'm not sure I'd go straight back into rugby now I've done football. You'd have to ease yourself back into it.
"At the time I really loved it but as a doctor you are always on edge. My average heart rate was about 150 for every game, not because I'm running around, it's just cause you're really anxious that something significant might happen that you have to deal with.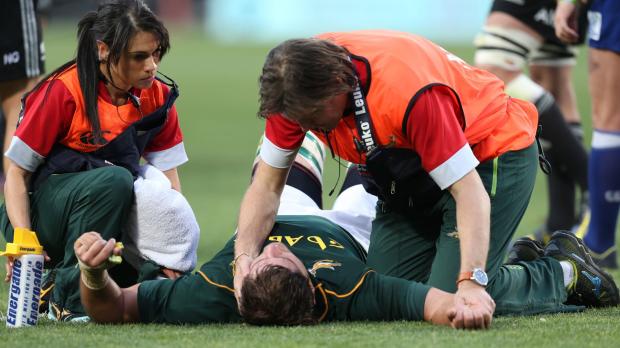 No one injury sticks out to Dr Roberts; there were simply too many to count.
"There were many. I've had players dislocate their knees and their legs are facing their hips and facing the wrong way. I've had horrible neck injuries. I had a player who went into a collision and got complete numbness down both arms. So he was effectively temporarily paralyzed.
"All those things that you have to deal with.
"The hard ones are when players get knocked out cold. You run on the pitch and you always train if a player is knocked out, how to deal with it.
"But when he's on the pitch and he's face down and he's got an obstructed airway and you're in front of a crowd of 100,000 people and a worldwide TV audience of millions focused in on you.
"There's pressure, but you train to do that.
"A lot of those are horrific. But you go into automatic mode. When you look back at things you think 'My goodness that wasn't nice to deal with.
"That's why we train so hard.
"It's just human nature. You have sequences you go through without really thinking about it.
"It's only when you unpack it or debrief afterwards that you think 'how do we do what do better?'. You suddenly realise all the things that you have to do.
"The important thing there is that you are part of the team. I'm not on that pitch alone.
"I've got a medical team with me. I've got medical personnel who can help me on pitch who've all got roles. It's all rehearsed. We practice those over and over again, so when it comes, it's literally automatic."
Unlike in football, medics are allowed on the pitch while the ball is in play and Dr Roberts recalls being wiped out by a player while attending a match in New Zealand.
"I have been wiped out more than once actually," recalled. "It was an interesting experience, especially when the doctor gets taken out. I did get cleaned out really badly in New Zealand, where I did a back somersault and landed back on my feet.
"You are on the pitch a lot. I wore a GPS for a few games and I actually covered more than some players in a game as the medic, so on average you do 7 to 8 kilometres a game, that's up and down a pitch, running on and off giving messages. It's a busy day and you're absolutely shattered and you look at your GPS and you realise why you are so tired.
"I was really looking to get that job. I spent some time at the Sharks. A lot of the Sharks players went on to become Springboks and I need up looking after them as well.
"It's really privileged. It's looking after your national team, it's an iconic team in World Rugby and it's followed like a religion in South Africa.
Roberts admits to taking up medicine to specifically become the Boks' team doctor.
"The prior World Cup they hadn't done so well. If I look back, why I studied medicine, it's because I wanted to be team doctor for the Springboks, so it was a dream come true.
"A World Cup is always special, no matter what sport you're involved," said Roberts, who says the 2011 and 2015 RWC were very different affairs.
Concussion continues to be the elephant in the room for rugby, and while Roberts believes the sport has the lead the way in identifying the issue and mitigating the issue, he does recall incidents in the game which left much to be desired.
Dr Roberts recollects one case in which he had to argue with a head coach about taking off a player who had received a head knock during a Rugby World Cup.
"I don't want to highlight any one incident. There's a lot of pressure, there's a lot of hype around the games.
"They are more intense and you do have to make decisions under that pressure.
"You're also wired up to the manager, who has got direct contact into your ear. So that has its challenges as well.
"I've worked with many different managers. Some of them are amazing and some of them get really emotional on the day.
"I've had a few where the manager is trying to convince you that this player should carry on and try to stay on the pitch when you know clearly he can't. Those are the type of conflicts I don't miss.
"I've had one in a World Cup actually, where eventually I literally had to take my earpiece out of my ear and just walk the player off the pitch.
"He'd taken a knock to the head and was clearly unable to continue and in the moment the manager was very keen for him to stay. He obviously didn't know the information I had, and he was pushing me to try and keep him.
"I always had those discussions with the manager before the game.
"There are certain non-negotiables, and that's a non-negotiable with a player.
"We were left a man down in a very crucial position but that player couldn't carry on. I wouldn't have had many of those decisions but sometimes you have to make those."
Roberts made the tough call to quit rugby and take up another sport but admits he still misses the fifteen-man code.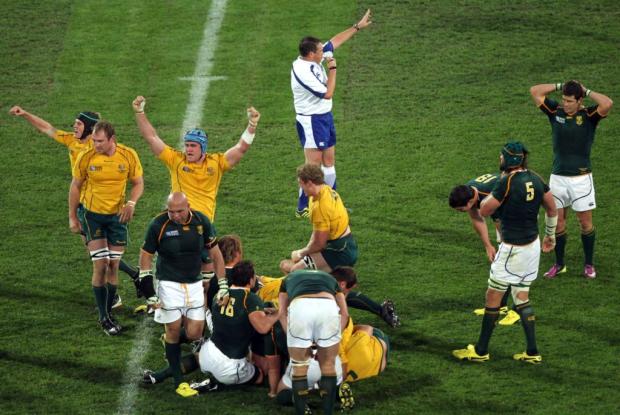 "I still miss it. I'd done my time in rugby and was ready for a new challenge."
Being a medic in Association Football is a very different caper to his first love. Roberts took up the role as team doctor at Bournemouth in 2015 following the Rugby World Cup in England.
"It is very different. Rugby's much more of players working together, so a player can be at 80 per cent and his teammates can cover him.
"In football you are a lot more exposed. There's a lot more one-on-one duels and if a player is not absolutely 100 per cent, they get exposed.
"You find players in rugby will try to play through things, whereas footballers can't do that. It's not that they can't do that but they can't function at that high, high level because of the one-on-one scenarios. That's the way I interpret it.
"It's a completely different sport, I'm still learning it."
Dr Roberts refused to be drawn on the difference between footballers and rugby players as he didn't want to generalise.
"You can't say rugby players are like this, football players are like that. Everyone's their own person and they're all different. That's the challenge in our job, understanding the individual because everyone is different.
"Some rugby players you'd joke that will break a leg and throw it over their shoulder and want to carry on playing, while other rugby players will have an ingrowing toenail and not want to play."
With three decades of experience as a doctor in a sports environment, Roberts said he wanted to be 'diplomatic' when talking about the differences between the two codes.
"I think rugby can learn from football and football can learn from rugby. It took me a while to realise just how different they are. Let's leave it at that for now."
Comments
Join free and tell us what you really think!
Join Free