Ref Watch: The hand of Beauden Barrett
While New Zealand eventually beat heavily-weakened Wales by a near record-breaking margin, Wayne Pivac's team stayed in the contest for around an hour.
During this time two decisions by referee Mathieu Raynal came under close scrutiny with plenty of Welsh fans joining respected former players Michael Lynagh and Brian Moore in questioning the calls.
RugbyPass refereeing and laws expert Paul Smith has taken a closer look at the two incidents.
Beauden Barrett deliberate knock-on
What happened?
Early in the match Wales countered from deep and released Owen Lane down their right wing.
He made 30 metres to the halfway line before looking to offload to Johnny Williams on his inside shoulder.
New Zealand's fly-half anticipated the pass and lunged at it with his right hand, knocking the ball forwards to the ground.
After consulting his touch judge and TMO Brian MacNeice Raynal awarded a penalty to Wales but took no further action.
How Wayne Pivac saw it
Wales head coach first responded to the suggestion that the outcome would have been different had the offence been committed by anyone other than the All Blacks.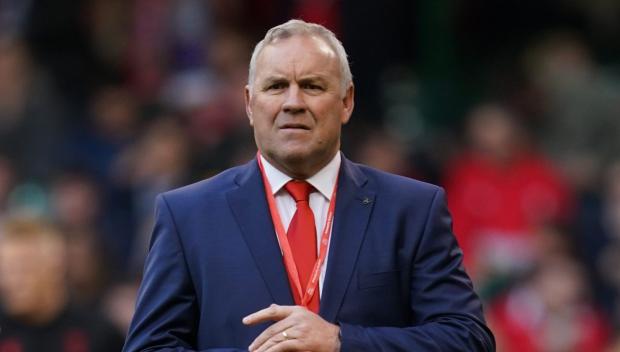 "I don't know if you can say that," he said.
Moving to the decision he added: "But certainly (since) the Barrett knock-on stopped the overlap we'd expect a penalty and yellow card if that was one of our players."
Paul Smith's Analysis
The first thing to clarify – based on some social media reaction – is that a one-handed knock-on is not automatically considered deliberate. That said, the use of one hand does sway the decision towards a penalty rather than a scrum since it is clearly easier to catch the ball using both hands.
To award a penalty the referee has to consider if the offending player has "a realistic chance" of regathering the ball before it hits the ground or another player. In this instance, given the distance the ball travelled away from him, Barrett clearly deserved to be penalised.
Moving to the question of a yellow card award, it is again worth clarifying that there is no directive stating that a deliberate knock-on automatically results in a sin bin.
When considering this option, as with any other technical offence, the officials must next decide whether the offence is cynical and if it stops a dynamic phase of play and reduces attacking options. Where the offence takes place is also relevant – a card is more likely in the defensive 22 than in midfield since a lot less has to subsequently occur for points to result from the illegally-ended move.
The All Blacks head coach shared why Barrett is able to pull in so many intercepts. #WALvNZL #AllBlacks https://t.co/RXPMZo544Q

— RugbyPass (@RugbyPass) October 31, 2021
This knock-on took place 50 metres from the All Blacks' try-line. Having watched multiple replays it is apparent that another defender was only a few metres behind Barrett which removes any possibility of a penalty try award.
However, New Zealand's no.10 had no chance of recovering the ball before it hit the ground and his action did end a dynamic attack which could have further developed against broken-field defence.
On balance Barrett can therefore be considered fortunate not to have seen yellow – although it is not 100 per cent clear cut.
Nepo Laulala yellow card
What happened?
Shortly before half-time Ross Moriarty carried into contact and anticipating the arrival of tacklers Laulala and Ethan Blackadder he stooped forwards from the waist which meant he led with his head.
Blackadder bent to make the first hit but was unable to get below Moriarty's upper body and as a result clipped the right side of his head.
Laulala nailing the prop in the sin bin look ? #AutumnNationsSeries pic.twitter.com/UK4zOWviGm

— RugbyPass (@RugbyPass) October 30, 2021
This bounced the Welsh flanker slightly towards Laulala who immediately attempted a second tackle – also from a slightly bent position – but again not low enough to avoid a much more significant contact with the left side of Moriarty's head.
Neither New Zealand player attempted to wrap their arms until significantly after the contact.
Moriarty was forced to leave the field as a result of the collision.
Raynal's attention was drawn to the incident by his fellow officials and after review he showed a yellow card to Laulala for a "no-arms tackle."
Paul Smith's Analysis
World Rugby's process for making head contact decisions requires the officials to consider if there is contact, how significant it is then whether any mitigating factors exist.
In dealing with Laulala, Raynal and Macneice followed this protocol to the letter.
The head contact was substantial, but given that Moriarty arrived at the contact point with his head just above waist level it was clearly difficult for the Kiwi prop to get low enough to make a legal tackle.
The Welsh flanker's head was also some distance ahead of his legs and lower body and a split second prior to Laulala making contact his running line was slightly shifted by the contact with Blackadder.
A yellow card is therefore entirely justified.
The question of whether Blackadder should also have been carded for failing to use his arms in the tackle is an interesting one.
The level of force appeared less significant, which combined with the height issue and head-lead situation provided Raynal with enough mitigation to downgrade the offence to just a penalty.
Had Blackadder's tackle not been immediately followed by a more damaging illegal contact he may have faced closer scrutiny – but based on this mitigation the outcome may well have been the same.
Comments
Join free and tell us what you really think!
Join Free