Ireland and Scotland's Japan RWC fear factor should be escalating
There are few things as lusted over by sports fans as a great underdog story.
In rugby terms, the pinnacle of this was arguably Japan's infamous win over South Africa at the 2015 Rugby World Cup in England, as the then Eddie Jones-coached Brave Blossoms upset one of rugby's true behemoths in Brighton.
South Africans aside, the rugby world celebrated as the Tier 2 nation surpassed all expectations and bloodied the nose of the two-time Rugby World Cup champions.
Inevitably, eyes now turn towards the upcoming tournament in Japan with hard-to-be-sated hunger for another giant killing, not to mention the opportunity for rugby's second tier to show their worth among the global elite.
Argentina, admittedly a Tier 1 nation with a history full of established scalps, have been talked up as a genuine threat to England in Pool C, although this seems to be on the back of the impressive form of the Jaguares in Super Rugby, rather than Los Pumas.
Mario Ledesma's side were competitive against New Zealand for much of their Rugby Championship opener, although a short turnaround and long travel meant that they were fairly disappointing against Australia in Brisbane a week later. Sat alongside France and Argentina, England will be wary, but they will not be worried based on what they've seen from both teams in recent seasons and months. Under Jones, England have a record seven wins from eight games against the pair.
Perennial dark horses, Fiji's chances have also been talked up globally, as they boast a team full to the brim with game-changing talents. Could they turn the tables on Wales or Australia in Pool D?
Wales will be confident, despite their famous loss to Fiji at the 2007 Rugby World Cup, coming into the tournament as Six Nations Grand Slam winners, and Fiji will need to be sharper against Australia than they have been so far in the Pacific Nations Cup if they want to unseat their local rivals and give themselves a shot of making the quarter-finals.
However, if there are two established Tier 1 sides who should be worried about a dark horse over the next couple of months, then they are Ireland and Scotland, who sit alongside hosts Japan in Pool A.
Unlike Fiji, who have been finding their feet in the PNC, Japan have hit the ground running. They dispensed with Fiji in a 34-21 victory in Kamaishi, before seeing off Tonga, 41-7, at Hanazono Stadium on Saturday.
Against Fiji, Japan were arguably better than the 13-point winning margin showed, whilst they were full value for their comprehensive dismantling of Tonga. One final game against USA looms in a week's time, with the two undefeated teams set to duke it out for the PNC title.
It's not just form that Japan will bring to the table when they take on Ireland and Scotland, as well as Russia and Samoa, in Pool A, it's also home advantage.
Not only will they have that home support, but they also have a well-balanced schedule. They open the tournament against Russia and will then have seven complete days to prepare for their match against Ireland. Ireland, in contrast, will have just the five days between their opener against Scotland and their game against the hosts.
Japan will then have six complete free days going into their test against Samoa, where Samoa will only have had four, following their game with Scotland. Finally, the Blossoms get seven complete days before their concluding game against Scotland, with the Guinness Six Nations side facing a testing three-day turnaround following their contest with Russia.
Both support and schedule will be heavily weighted in Japan's favour at the tournament, just as you would expect as the competition's hosts.
What the PNC has also illustrated is the growing depth that head coach Jamie Joseph can call upon, most notably in the back row.
Having started Kazuki Himeno, Lappies Labuschagne and Amanaki Mafi against Fiji, Michael Leitch and Yoshitaka Tokunaga were drafted in on the flank for the game against Tonga, with all five impressing in their own way over the 160 minutes of rugby.
Mafi's off-field indiscretions aside, he is a player that many Tier 1 nations would love to have in their player pool and the same can be said of the on and off-field abilities of both Leitch and Himeno. Labuschagne and Tokunaga, who competed at the 2016 Rio Olympics in sevens, both more than held their own at openside, too.
Hendrik Tui and Shunsuke Nunomaki are also around the squad and provide options, with Tui having been part of the starting XV on that memorable day in Brighton. Powerful number eight Tevita Tatafu is a further possibility, should Joseph want an extra carrying presence among his loose forwards.
Competition also abounds at scrum-half where, although the more globally known of Japan's nines, Fumiaki Tanaka may well be playing second fiddle at the Rugby World Cup. Yutaka Nagare, whose control of the game and tactical kicking against Tonga was standout, and Kaito Shigeno, who was equally impressive against Fiji a week before, pose a fascinating position battle for head coach Jamie Joseph.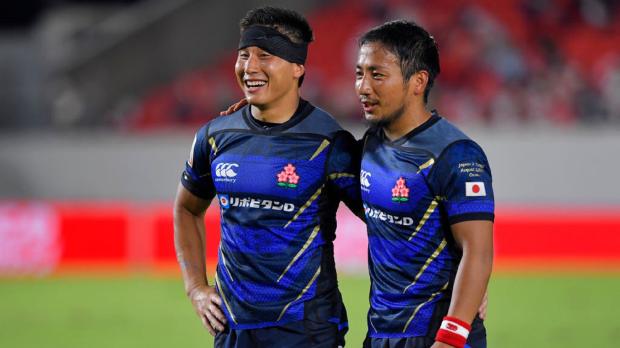 On the topic of control, fly-half Yu Tamura also provided plenty alongside the first-choice starting tight five, although it should be noted that the set-piece foundation that Japan enjoyed did wilt when they turned to their replacements up front. There is ability in the tight five, but there is not the depth on show that there is in the back row, something which you would expect Ireland in particular to be able to expose.
As for the back line, the centre pairing of Ryoto Nakamura and Timothy Lafaele has combined well and Kotaro Matsushima is impactful wherever he is deployed in the back three. If Tamura, Nakamura and Lafaele can stay fit, Japan will have a midfield capable of hurting teams, whilst Kenki Fukuoka should join Matsushima in the back three, giving Japan two very potent operators out wide and/or counter-attacking in broken field situations.
Crucially, it's not just the individual players that Japan have that will enable them to cause teams problems, it's the balance of their side.
They have shown they can play fast, counter-attack and run teams off their feet with quick recycling and width, just as they had to play at the last Rugby World Cup, but they also have the control, kicking game and set-piece prowess to win in an alternative way.
That dual threat that they pose is arguably what separates them from their other Tier 2 rivals, many of whom excel in a very specific style, but who struggle to adapt that when it doesn't bring the desired results or when the pressure comes on from an opponent. Japan's ability to do that could see them prosper over the coming months.
Ireland will not easily be able to dominate the kicking and territory games against them, whilst if Scotland play at the tempo they have seemed to favour over the last couple of seasons, they'll be met with a strong counter-attacking and transition game from the hosts.
As potential celebrated dark horses go, there will be few as passionately supported as Japan later this year and although any wins, including potential ones against Ireland and Scotland, probably won't have the magnitude that their defeat of South Africa in 2015 did, they would provide the perfect springboard for the tournament, fans and support of rugby in Japan once the Rugby World Cup ends.
With talk of a new, higher profile domestic league and improved fortunes at the international level in recent years, the chances of rousing the sleeping giant that is Japanese rugby seem to be improving at a quick rate.
Watch: JRFU vice-president proposes reform of Japanese domestic rugby
Comments
Join free and tell us what you really think!
Join Free