Ex-Lions prop speaks out: 'Us fatties look at a scrum differently'
Former Ireland and Lions loosehead Nick Popplewell has posted an interesting analysis about the intricacies of the scrum and how a strong set-piece is definitely still a weapon where a tighthead is the unsung hero of the entire pack. It was the 1990s when the Irish front-rower was in his playing pomp, winning 48 caps for his country and also starting all three Tests against the All Blacks on the 1993 Lions tour to New Zealand. 
Popplewell finished his career as a Premiership title winner in England with Newcastle before returning to Ireland and going into the residential auctioneering business in Wexford. 
He has retained his interest in rugby and will this year be watching the Six Nations U20s championship with much anticipation as his son Ben, who is following in his father's loosehead footsteps, has been included in the Ireland squad.   
In the meantime, Popplewell has posted a lengthy synopsis of the scrum to his followers on his LinkedIn page which has attracted much feedback after he outlined the enduring importance of the set-piece, mentioning how it was the decisive factor in the series-deciding third Test last August between the Springboks and the Lions.  
He finished up his post by including a picture from his Newcastle days showing a referee in the process of setting up a scrum. Highlighting what he described as a good, healthy gap between the respective front rows before they engaged, Popplewell signed off by stating his surprise that this type of extra gap wasn't re-introduced to the game since the arrival of Covid.   
It was last June when popular prop Gary Halpin, who has now sadly passed away aged 55, featured in a RugbyPass throwback to the last Ireland team of the amateur era in 1995 https://t.co/6MgrerfLRg

— RugbyPass (@RugbyPass) February 24, 2021
Scrum aficionados read on: here is the entirety of what Popplewell had to say. "A loosehead is only as good as a tighthead and vice-versa. I chuckle when I hear the great and the good doing their best to sound competent when analysing the scrum. Invariably it's the loosehead that gets the plaudits when in fact it's the tighthead that is the unsung hero.
"When a scrum goes pear-shaped it's the poor No3 that gets blamed first because most of the weight goes through his/her side and he/she is seen to be retreating. The scrum, no matter how the great and the good try to change the rules to make it easier, can still be the deciding factor on games being won and lost (third Lions Test vs South Africa)," continued Popplewell, warming to his analysis.
"The easy option of analysis is that if a scrum is in trouble the No1 or No3 is incompetent and need to be replaced. Us fatties look at a scrum differently. If we see a prop in trouble we obviously check his height, back and foot positions. Once we are satisfied with that, we check the back row are in strong pushing positions and are in fact pushing, not focusing on simply crucifying the opposing out-half.
"We then have a look at the second rows to see what they are at. Are they positioned low on the prop with straight backs and are they binding correctly? Once the above are in order we look at how the collective unit is functioning. Are they together and are they in time and hitting the scrum as one?
"Sometimes when an opposition has a particularly strong scrum, a pack has to be picked with that in mind, a gangly tall light second row needs to be replaced with a 'door stop', someone of the Jim Glennon/Brian Rigney/Mick Galwey/Aidan Higgins mould (scrummaging in front of these legends was like sitting in an armchair!). The door stop needs to be placed behind the tighthead.
"Yes, you are forfeiting a bit of speed around the park but others around will have to compensate. A week scrum is demoralising, hard to attack and defend off. A strong scrum is a very strong weapon!
"Years ago we tried to sort out issues by applying some of the 'dark arts' of scrummaging (a smack or a headbutt, or two or three!) but times have changed and the TMO has to justify his/her free weekend away.
"Lastly if all else failed we (fatties) would reluctantly agree to Channel One Ball, which literally meant admitting defeat and the ball would go straight in on the hit and get heeled straight out of the scrum through an open gap, hopefully to be picked and got rid of by our scrum-half. It was a great attacking ball but not for the faint-hearted.
"The photo is one from my Newcastle days. The late Paul van Zandvliet at tighthead, our unsung hero, had no reverse gear and the 19-stone No6, Peter Walton of Scotland, was thankfully on my side of the scrum. His motto was scrum first, crucify someone second… (notice the good, healthy gap in the scrum. Surprised it hasn't been re-introduced with Covid)."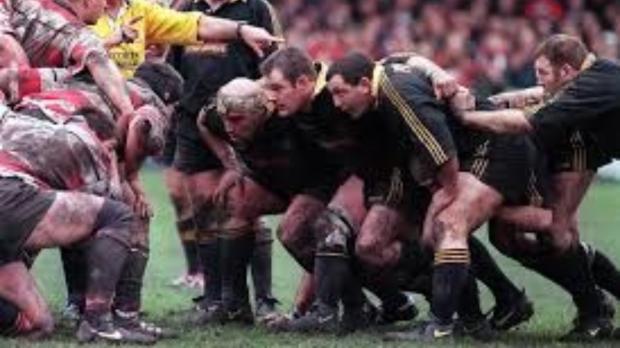 Comments
Join free and tell us what you really think!
Join Free