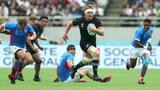 Jerome Kaino on the future of the All
RugbyPass were lucky enough to speak to All Black legend Jerome Kaino this week. He spoke openly about his final season in rugby, what he thinks on the All Blacks' future and this weekend's Champions Cup clash.
25 Sep 9:36 2020
24:15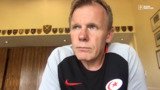 Will rugby clubs be able to survive 6
Can rugby clubs realistically survive another 6 months with no crowds? Saracens director of rugby Mark McCall spoke about the worrying times that lay ahead...
22 Sep 16:19 2020
1:29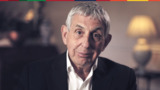 'I was Never Alone' Sir Ian McGeechan
Sir Ian McGeechan shares an incredible story about the 2009 Lions Tour
06 Sep 15:06 2020
2:41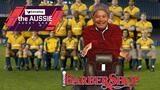 Eddie Jones' Barbershop | The Aussie Rugby Show
This week the guys chat about Eddie Jones' hair requirements, dissect the Super Rugby AU Final, talk through the week's big stories as well as answer some great viewer questions!
24 Sep 8:08 2020
31:58
The Breakdown | Episode 36 | The Rugby
The panel from Sky Sports NZ's The Breakdown talk all things rugby down under as the New Zealand provincial competition continues and we draw one week closer to the Bledisloe Cup test matches.
29 Sep 19:04 2020
52:05
The Breakdown | Episode 35 | Ranfurly Shield
The panel from Sky Sports NZ's The Breakdown analyse all the action from the domestic competitions and also catch up with All Blacks captain Sam Cane from their training camp.
22 Sep 19:37 2020
52:03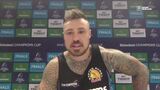 Jack Nowell on Exeter Chiefs and their chances
Jack Nowell speaks to the media ahead of their Champions Cup semi final.
26 Sep 11:12 2020
7:26
The Rugby Pod on Saracens and the end
Big Jim and Goodey talk all things Saracens this week as they were knocked out of The Champions Cup after defeat to Racing.
29 Sep 14:55 2020
6:19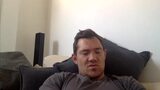 What do Owen Farrell's teammates think of his
RugbyPass were lucky enough to speak to Saracens star Andy Goode this week as he gave his thoughts on England, Saracens and Owen Farrell.
18 Sep 20:44 2020
18:32
Sergio Parisse opens up on on his final
Italian rugby legend Sergio Parisse spoke to Le French Rugby this week baring all on his final season in the sport.
21 Sep 12:08 2020
83:54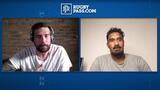 What is the toughest team which legendary All
Legendary All Black Jerome Kaino opens up on the toughest opponent that he has ever faced.
29 Sep 8:31 2020
4:02
Why All Blacks like Ma'a Nonu and Dan
The Aotearoa Rugby Pod discuss how All Blacks like Ma'a Nonu and Dan Carter have been able to extend their careers well past where the previous generation retired, as Nonu heads to France for a second stint with Toulon.
28 Sep 22:13 2020
8:53
Schalk Brits | Bringing Home Gold
Schalk Brits spoke to RugbyPass about his experiences bringing the William Webb Ellis trophy back to South Africa.
16 Jan 15:26 2020
3:08
Rugby Explorer | South Africa
We travel to South Africa for the latest episode of Rugby Explorer. Jim explores the stunning cities of Cape Town and Porth Elizabeth and meets the local rugby communities in both cities.
01 Mar 2:17 2019
43:45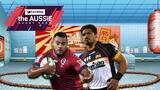 The Final Countdown | The Aussie Rugby Show
In a huge week for rugby, the panel previews the super rugby au final, discuss Dave Rennie's first wallaby squad and talk about the great result of Australia getting hosting rights for The Rugby Championship.
17 Sep 5:49 2020
29:06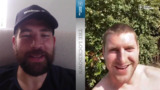 On Lockdown with Finn Russell
Jim Hamilton checks in with Finn Russell on The Lockdown.
28 Mar 11:46 2020
25:54
What are the expectations for this All Blacks
The Aotearoa Rugby Pod panel with James Parsons and Bryn Hall discuss what to expect from this All Blacks side heading into The Rugby Championship in the midst of a disrupted 2020 season coming off the back of a World Cup loss.
29 Sep 20:45 2020
8:24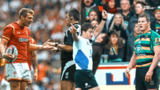 JP Doyle | Stories from a referee
Irish Referee JP Doyle, sat down with Jim Hamilton to discuss his career to date.
16 Jun 9:59 2020
35:13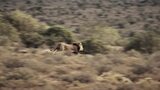 Watch the Lions in South Africa in 2021
In 2021 the British & Irish Lions will make the journey southwards to South Africa, the home of the World Champion Springboks.
02 Sep 8:44 2020
2:45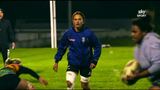 Bay of Plenty captain Lesley Elder on balancing
Lesley Elder opens up on her journey to motherhood and just how tough it is to balance with being a Black Fern.
24 Sep 22:29 2020
2:14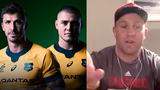 The dark horse combination to be Rennie's first
The Aotearoa Rugby Pod discuss the re-appointment of Michael Hooper as captain and debate who is the front seat to become Rennie's first Wallaby halves pairing.
29 Sep 22:30 2020
6:18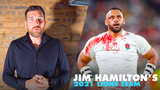 Jim Hamilton picks his 2021 Lions team
Scotland legend Jim Hamilton picks his team for the 2021 Lions Tour of South Africa.
02 Aug 12:58 2020
5:28
Le French Rugby Podcast | Episode 2 |
Toulon legend and former England international Steffon Armitage joins Benjamin Kayser, Johnnie Beattie and Tim Groves to talk about his life playing with Toulon.
12 Sep 10:08 2020
84:32
The Rugby Pod react to Saracens not appealing
The Rugby Pod gave their reaction to the news that Saracens will not appeal the 35 point deduction that they were given in light of breaching salary cap regulations.
20 Nov 15:18 2019
17:37
RugbyPass Ventures: Stuart Hogg
In Episode 1 of RugbyPass Ventures, Stuart Hogg introduces his new clothing line, Johnstons of Elgin.
04 Feb 3:38 2019
4:37
The Breakdown | Episode 34 | NZR CEO
The Breakdown panel of Jeff Wilson, Mils Muliana and John Kirwan are joined by NZR CEO Mark Robinson to talk about the Rugby Championship and the resumption of the Mitre 10 Cup.
15 Sep 21:03 2020
52:01
RugbyPass Insiders | Tonga | Road to Japan
RugbyPass went behind the scenes with the Tonga national team as they prepare for the 2019 World Cup in Japan.
20 Sep 11:25 2019
33:22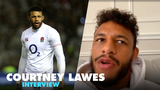 Courtney Lawes speaks openly about England rugby, Eddie
England star Courtney Lawes spoke to RugbyPass this week, opening up on many of the pressing topics circulating the Rugby World. #RugbyPass
23 Aug 15:44 2020
16:26
The Rugby Pod Quarantine Quiz
Andy Rowe turned quizmaster this week as he put Big Jim and Goodey's knowledge to the test in another quarantine quiz.
24 Apr 16:22 2020
5:21
RugbyPass Exceptional Stories | Ian McKinley
It's now roughly eight years since the accident that led to Ian McKinley losing the sight in his left eye. In a freak accident, a stray boot from a fellow teammate perforated his left eye while playing a club match in 2010 for University College Dub
13 Dec 14:50 2018
34:25
The Rugby Pod react to Owen Farrell's red
The Rugby Pod held nothing back as they reacted to Owen Farrell's horrific red card challenge last weekend.
15 Sep 8:44 2020
8:28
Eddie Jones warns against Six Nations expansion
Eddie Jones against Six Nations expansion.
10 Feb 4:40 2020
1:13
The Breakdown | Episode 5
The SkySports NZ Rugby team analyse round 4 of Super Rugby and are joined live in studio by Chiefs skipper Sam Cane. We also hear from a rather chuffed Tim Mikkelson who is set to become the most capped All Blacks Sevens player.
26 Feb 5:33 2020
52:00
Will the Crusaders contingent be too much for
James Parsons and Bryn Hall are joined by Southland Stags captain Tony Lamborn as they discuss all the news from the week of rugby in New Zealand.
02 Sep 0:07 2020
45:00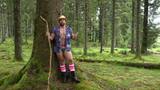 Win £5,000 for your local club thanks to
Budgy Smuggler is hosting a brilliant competition which gives you and your friends the chance to win a club fit-out of your club worth £5000. If that wasn't enough, you also have the opportunity to win 100 pairs of Budgie Smugglers for your club!
10 Jul 15:47 2020
2:06
The Academy - Part One
RugbyPass takes a look behind the scenes at the Leicester Tigers' player academy.
13 Apr 19:46 2019
23:44
JP Doyle's honest reaction to RFU redundancy
Big Jim and Goodey caught up with JP Doyle this week to discuss redundancy, what the future holds now he has some time off and some of his greatest memories throughout his career.
28 Aug 9:18 2020
15:09
France's Chances | DMWJ | Can Shaun Edwards
Jim Hamilton discusses the affects Shaun Edwards will have on the French team's hope at future success.
01 Feb 11:22 2020
5:35
The Breakdown | Episode 31 | Kieran Read
Sky Sports NZ's The Breakdown panel chat to former All Blacks captain Kieran Reid about his return to Counties-Manukau rugby in the Mitre 10 cup this year.
25 Aug 20:22 2020
49:04
Wales to abandon 60-cap rule?
Wales could be about to abandon 60-cap rule.
17 Feb 3:56 2020
2:46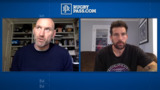 Lawrence Dallaglio Rewatches The 1997 British & Irish
Lawrence Dallaglio sat down with Jim Hamilton to rewatch the first test of the 1997 Lions tour to South Africa.
30 May 14:21 2020
17:04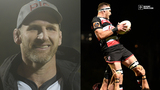 Kieran Read makes NZ Rugby comeback for Counties
The former All Black captain spoke to media after he played 40 minutes in the teams defeat to the Tasman Mako in the opening round of Mitre 10 Cup.
12 Sep 11:57 2020
4:13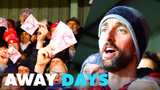 This is what Rugby fans in England are
RugbyPass travel to Gloucester's Kingsholm Stadium to see just how good the atmosphere is at the iconic English rugby ground!
17 May 11:15 2020
6:24
Eddie Jones reacts to England | Tuilagi red
Eddie Jones and Owen Farrell spoke to the media following their sides win against Wales at Twickenham.
07 Mar 20:56 2020
12:48
What makes Sam Cane so good? | Aotearoa
On this weeks episode host Ross Karl is joined by James Parsons of the Blues and Bryn Hall of the Crusaders. They discuss the stocks in the locking position, Aaron Smith's dive and make the case for Sam Cane from a players perspective.
04 Aug 4:06 2020
46:55
Fijian powerhouse Nemani Nadolo on leaving life in
Great to have Fijian International and soon to be Leicester Tiger Nemani Nadolo on the pod this week to discuss life at Montpellier and why he chose the East Midlands to continue his rugby career.
17 May 17:09 2020
7:02
Life After Rugby | Andy Powell
One of Welsh Rugby's biggest characters on and off the pitch, RugbyPass travelled to Brecon to see how life after rugby is treating Andy Powell.
31 Dec 11:57 2019
27:36
Toulon has officially changed hands
RC Toulon has officially changed hands.
03 Dec 4:55 2019
1:22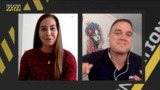 Isolation Nation I Episode 1
Get the lowdown on what your favourite rugby stars are up to in isolation with the premiere episode of Isolation Nation..
03 Apr 3:56 2020
25:00
The Breakdown | Episode 28 | remembering Andy
The team from Sky Sport NZ talk to coach of the Black Ferns coach Glenn Moore, reflect on the life of one of the greats of NZ rugby and look ahead to the final two rounds of Super Rugby Aotearoa.
04 Aug 21:16 2020
52:00
'I'd give my right arm to play for
The Aotearoa Rugby Pod panel with James Parsons and Bryn hall discuss the upcoming Rugby Championship and the sacrifices players will have to make to make to play in Australia.
15 Sep 4:53 2020
4:06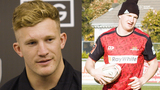 Fullbacks McKenzie and Barrett say North vs South
The captains, coaches and opposing fullbacks from the North and South spoke to media in Wellington as the two teams were announced to play each other at Sky Stadium on Saturday the 5th of September.
03 Sep 4:34 2020
7:24
Rugby Pod I Season 5 I Episode
We're back for the bigger and better Season 5! Big Jim and Goodey are delighted to be back and talking everything from toilet training to Take That as well as catching up on all the major rugby stories of recent weeks.
12 Aug 8:00 2020
71:46
Flyhalf takes out two defenders while never laying
A flanker and a centre in Croatia have come to blows after they both attempted to tackle a flyhalf in a Regional Rugby Championship match in Split.
05 Jun 10:02 2019
1:56
The RugbyPass live reaction to that Stuart Hogg
Andy Goode and Jim Hamilton react to Stuart Hogg's unfortunate drop in the match between Ireland and Scotland in the first round of the Six Nations 2020.
05 Feb 16:48 2020
4:26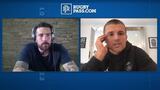 Henry Slade | Lockdown
England and Extere centre, Henry Slade, sat down with Jim Hamilton to discuss being back training with Exeter, salary cuts and Eddie Jones.
03 Jul 10:29 2020
26:38
Andy Farrell and Jonathan Sexton press conference |
Andy Farrell and Jonathan Sexton spoke to the press following Ireland's 19-12 win over Scotland at the Aviva Stadium.
01 Feb 21:57 2020
13:28
Sonny Bill Williams' potential switch
Sonny Bill Williams mega-million dollar code move could see him switch allegiance at World Cup.
04 Nov 8:46 2019
2:38
The Rugby Pod I Season 4 I Episode
Big Jim and Goodey are back and joined by Italy international George Biagi, who updates us on how Coronavirus is affecting his country but also has a positive story to tell. Freddie Burns gives his view on the pay cuts in the Premiership and more..
01 Apr 6:13 2020
54:03
Le French Rugby Podcast | Episode 1
Recently retired former France international Benjamin Kayser & Scotland international Johnnie Beattie bring you some of the juiciest stories from the much debated French rugby culture.
05 Sep 10:32 2020
84:46
Wallabies coach Dave Rennie announces his new squad
Full press conference of Wallabies coach Dave Rennie announcing his new squad ahead of the proposed Rugby Championship
13 Sep 5:41 2020
30:11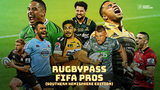 FIFA Pros | Southern Hemisphere Draw
Reporter Sam Smith announces the draw for our southern hemisphere FIFA Pros tournament. 16 rugby players from teams across New Zealand, Australia and Japan will compete for southern supremacy.
22 Apr 4:16 2020
3:36
Folau drama split Wallabies squad
Top Wallabies reveal Israel Folau drama split their World Cup squad.
26 Feb 7:27 2020
2:32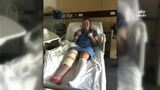 Ariana Bayler opens up on overcoming 3 ruptured
Ariana Bayler has been playing Farah Palmer Cup since she was 16 years old, 3 ruptured ACLs later her pursuit of the black jersey continues.
24 Sep 21:54 2020
2:12
The Breakdown | Episode 27 | Scott Robertson,
The team from Sky Sports NZ's The Breakdown wraps up another entertaining round of Investec Super Rugby Aotearoa. The panel is joined by World Rugby chairman Sir Bill Beaumont and Crusaders coach Scott Robertson.
28 Jul 22:25 2020
52:02
This is what happens when you drive rugby
Who We Are - Being Welsh #Isuzu RugbyPass were lucky enough to meet Welsh Rugby legends James Hook and Shane Williams. We took both the players back to their roots as Jim Hamilton went into the heart of Wales with them.
11 Mar 13:16 2020
8:57
Free Tissues For Welsh Fans | Sam Smith
Sam Smith spoke to Welsh and South African fans after the big match. South Africa secured a narrow victory to the World Cup final where they will take on England #RugbyWorldCup
28 Oct 15:13 2019
4:38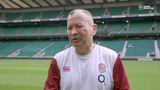 Eddie Jones on how rugby will return to
Eddie Jones, Steve Grainger RFU Rugby Development Director, Claudia MacDonald and Bill Sweeney, CEO of RFU. Eddie Jones is at Twickenham Stadium to launch a new form of socially distanced, government-approved non-contact
09 Aug 9:53 2020
5:54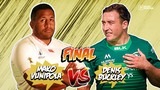 RugbyPass FIFA Pros Northern Series Charity Championship Final
Denis Buckley takes on Mako Vunipola in the RugbyPass FIFA Pros Northern Series Charity Championship Final.
17 Apr 12:51 2020
8:24
The Season | Series 5 | Episode 2
Training ramps up a gear as the team hits the gym to complete their final phase of strength work, while the leadership group provides critical analysis of the recent victory against Auckland Grammar.
17 Nov 1:56 2019
24:00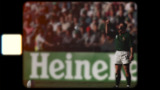 The story behind one of the coolest players
RugbyPass were lucky enough to speak to Joel Stransky, the man who won the World Cup for South African in 1995. Stransky speaks to us about the 1995 World Cup and the affect that it had on South Africa!
04 Jun 16:03 2020
22:58
'He's pretty ruthless around performance' - How Rennie
The Aotearoa Rugby Pod panel discuss what they like about the new Wallabies squad and share insight what they know about Dave Rennie's methods.
14 Sep 23:11 2020
10:42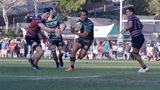 The Season | Series 6 | Episode 1
In episode one, we're taken to Round 6 of the Queensland GPS Rugby competition where the only two unbeaten teams in the premiership race come face to face, We also journey back to pre-season and as the team prepares for 2019 kickoff against Churchie.
20 Mar 6:25 2020
24:00
The fans at the 2019 Rugby World Cup
It's been a few weeks now since the Rugby World Cup in Japan ended. We thought it was worth looking back on some of our favourite moments with the fans!
17 Nov 17:45 2019
5:37
England's Next Top Captain | DMWJ | Season
Jim has his say on who should be the next England captain, the Paddy Jackson fallout at Irish, Folau's case against RA and as usual his social media pick of the week.
08 Jun 16:16 2019
23:29
RugbyPass Insiders | Nadolo | The Documentary
"Nadolo" explores the life and career of Fijian rugby legend Nemani Nadolo.
07 Jul 13:52 2019
30:50
Big Jim's Big Interview
Simon Zebo is in his first season with Racing 92. His summer move to Paris meant he was leaving behind any immediate hopes of adding to his tally of 35 Ireland caps and also his chance to play at the 2019 Rugby World Cup, due to Ireland's policy of n
18 Jan 17:31 2019
13:12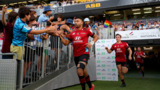 Latest News Southern Edition
Latest News: Southern Edition
17 Apr 10:21 2020
2:31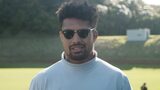 Super Rugby Aotearoa | Ardie Savea backs Pacific
The All Blacks and Hurricanes loose forward discusses his team's upcoming game against the Crusaders, his time at the back of the scrum and the prospect of a pacific islands team in Super Rugby.
23 Jul 4:02 2020
5:51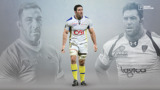 The story of one of the most intimidating
Big Jim is joined by Canadian and Clermont legend, Jamie Cudmore on this week's episode of All Access.
24 Jul 14:21 2020
19:17
Woodward calls for Russell sanction
Clive Woodward calls on the SRU to take drastic action against Finn Russell.
18 Feb 3:29 2020
2:41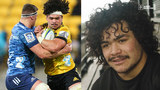 Hurricanes Du'Plessis Kirifi has his sights set on
After bursting on to the scene for the Hurricanes in Super Rugby 2019, the energetic flanker has caught the eye of rugby fans with his ability to get over the ball and handy support lines.
14 Aug 22:15 2020
2:18
The Rugby Pod | Season 4 | Episode
Goodey's eating humble pie after talking up England's chances of a Grand Slam and is admitting his concern ahead of the coming weekend and we look ahead to this year's Calcutta Cup clash.
05 Feb 6:44 2020
90:12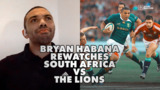 Bryan Habana rewatches South Africa vs The Lions,
Jim Hamilton is joined by Bryan Habana to rewatch the second test between the Lions and South Africa in 2009.
08 May 14:41 2020
16:36
Inside the Barbarians
RugbyPass went behind the scenes with one of the most iconic rugby clubs in the world as they prepared for a clash with Wales at the Principality stadium.
12 Jan 15:47 2020
37:53
Suntory Sungoliath v NEC Green Rockets | Japan
Tevita Li is proving a real handful in the Japanese Top League. Catch up on all the highlights from this Round 4 clash between the NEC Green Rockets and Suntory Sungoliath.
03 Feb 20:04 2020
3:56
The Season | Series 6 | Brisbane Boys
The sixth series of 'The Season' in partnership with Brisbane Boys College - In the lead up to the series premiere, we take a look at some of the personalities involved including barnstorming centre, Jack Howarth.
11 Mar 1:33 2020
1:47
The Season | Series 5 | Episode 4
A must-win fixture against neighbouring Tauranga Boys High School puts the team's success in the firing line.
01 Dec 5:25 2019
24:00
Andy Farrell confident ahead of England clash
Andy Farrell previews his Six Nations team that will face England in Sunday in the Six Nations.
19 Feb 17:41 2020
9:11
The Season | Series 5 | Episode 1
In a country where rugby is king, high schools are breeding grounds for future rugby talent that the sporting world acknowledges to be the most plentiful on the planet.
10 Nov 3:20 2019
24:00
Nigel Owens to retire?
Nigel Owens may retire at end of season.
02 Dec 6:28 2019
1:16
Can the Lions beat South Africa in 2021?
RugbyPass had the pleasure of talking to England and Leicester centre Manu Tuilagi about all things Lions!
21 Dec 19:10 2019
4:42
Nakarawa close to Glasgow return
Leone Nakarawa closing in on a return to Glasgow .
10 Dec 9:18 2019
2:44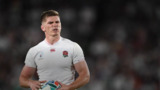 Canterbury lose England kit deal
Canterbury lose out as England seal kit deal worth in excess of £5million a year.
06 May 6:37 2020
1:14
The Rugby Pod | Season 4 | Episode
Former Ireland international Darren Cave joins the team as they preview the Guinness Six Nations. Goodey tries to explain what's gone on at Wasps and the guys give their take on the Championship funding cuts and more.
19 Feb 6:01 2020
63:03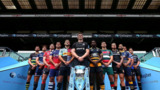 Player group may contest cuts
Rugby stars considering mutiny over Premiership wage cuts.
26 Mar 7:15 2020
1:23
Should the Champions Cup be replaced in favour
The lads discuss the possibility of the Champions Cup being scrapped and replaced with a World Club competition.
10 Apr 10:40 2020
4:11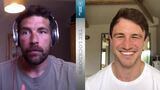 Former pro rugby player honestly reveals just how
RugbyPass speak to the author of best selling new rugby book 'Fringes: Life on the Edge of Professional Rugby.' The former pro player is lifting the lid on just how hard rugby can be for rugby players
12 May 14:40 2020
20:03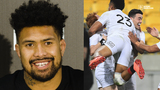 "Make it a fixture" - Ardie Savea wants
Coaches and players spoke to media after the South beat the North in the one-off rep match played in Wellington, NZ on September 5th.
05 Sep 11:34 2020
5:15
Operation Jaypan - Part 1
Follow Jaybor Staunton as he travels from tip to toe of Japan over a packed 10 days to visit the host cities ahead of the Rugby World Cup 2019. Part 1 sees Jaybor travel from the northern city of Sapporo to the bright lights of Tokyo.
26 Nov 6:29 2018
34:35
28 Jul 22:25 2020
The Breakdown | Episode 27 | Scott Robertson, Bill Beaumont and more
Latest Rugby Videos | Rugbypass