Alun Wyn Jones on what happened with Joe
Wales coach Wayne Pivac and captain Alun Wyn Jones speak at a press conference following the team's Guinness Six Nations match against England.
08 Mar 9:23 2020
8:56
This is what happens when you drive rugby
Who We Are - Being Welsh #Isuzu RugbyPass were lucky enough to meet Welsh Rugby legends James Hook and Shane Williams. We took both the players back to their roots as Jim Hamilton went into the heart of Wales with them.
11 Mar 13:16 2020
8:57
The Season | Series 5 | Episode 1
In a country where rugby is king, high schools are breeding grounds for future rugby talent that the sporting world acknowledges to be the most plentiful on the planet.
10 Nov 3:20 2019
24:00
The Season | Series 5 | Episode 2
Training ramps up a gear as the team hits the gym to complete their final phase of strength work, while the leadership group provides critical analysis of the recent victory against Auckland Grammar.
17 Nov 1:56 2019
24:00
The fans at the 2019 Rugby World Cup
It's been a few weeks now since the Rugby World Cup in Japan ended. We thought it was worth looking back on some of our favourite moments with the fans!
17 Nov 17:45 2019
5:37
The Rugby Pod react to Saracens not appealing
The Rugby Pod gave their reaction to the news that Saracens will not appeal the 35 point deduction that they were given in light of breaching salary cap regulations.
20 Nov 15:18 2019
17:37
The Breakdown I Episode 7
Leon MacDonald joins the Breakdown to give an inside look at the Blues camp in 2020. This and all the big rugby news on your latest episode of the Breakdown.
13 Mar 7:45 2020
52:53
Warren Gatland's reason behind saying no
Warren Gatland's reason behind saying no to the All Blacks job.
12 Nov 8:21 2019
1:11
Eddie Jones insists Saracens scandal could be beneficial
Head coach Eddie Jones and captain Owen Farrell hold a press conference in London ahead of the start of the Six Nations tournament.
22 Jan 17:38 2020
12:45
RugbyPass Insiders | Nadolo | The Documentary
"Nadolo" explores the life and career of Fijian rugby legend Nemani Nadolo.
07 Jul 13:52 2019
30:50
Inside the Barbarians
RugbyPass went behind the scenes with one of the most iconic rugby clubs in the world as they prepared for a clash with Wales at the Principality stadium.
12 Jan 15:47 2020
37:53
The Season | Series 5 | Episode 3
A changing room reminder about team values and expectations encourages the squad to train with consistency but mistakes start to creep in.
23 Nov 23:55 2019
24:00
Life After Rugby | Andy Powell
One of Welsh Rugby's biggest characters on and off the pitch, RugbyPass travelled to Brecon to see how life after rugby is treating Andy Powell.
31 Dec 11:57 2019
27:36
England vs New Zealand Wild Post-Match Fan Reactions
Sam Smith caught up with the fans after England's win over New Zealand in the 2019 Rugby World Cup Semi-Final.
26 Oct 12:20 2019
4:11
Can the Lions beat South Africa in 2021?
RugbyPass had the pleasure of talking to England and Leicester centre Manu Tuilagi about all things Lions!
21 Dec 19:10 2019
4:42
Saracens Salary Cap Scandal | DMWJ | Big
Former Saracens player Jim Hamilton discusses the salary cap scandal surrounding his former club. fun stuff
08 Nov 12:38 2019
6:14
Eddie Jones reacts to England | Tuilagi red
Eddie Jones and Owen Farrell spoke to the media following their sides win against Wales at Twickenham.
07 Mar 20:56 2020
12:48
Jones popular option to stay
Jones is the popular option to stay in charge until 2023.
05 Nov 6:33 2019
2:38
Rugby Explorer | South Africa
We travel to South Africa for the latest episode of Rugby Explorer. Jim explores the stunning cities of Cape Town and Porth Elizabeth and meets the local rugby communities in both cities.
01 Mar 2:17 2019
43:45
Kumamoto night | Rugby World Cup City
What rugby fans can expect from Kumamoto's night life scene come when the Rugby World Cup comes around.
27 Aug 11:29 2019
1:08
Rassie Erasmus almost quit Springboks
Rassie Erasmus was on the cusp of quitting as Springboks coach after a run of average results.
05 Nov 8:08 2019
1:28
Schalk Brits | Bringing Home Gold
Schalk Brits spoke to RugbyPass about his experiences bringing the William Webb Ellis trophy back to South Africa.
16 Jan 15:26 2020
3:08
Sonny Bill Williams' potential switch
Sonny Bill Williams mega-million dollar code move could see him switch allegiance at World Cup.
04 Nov 8:46 2019
2:38
The Academy - Part One
RugbyPass takes a look behind the scenes at the Leicester Tigers' player academy.
13 Apr 19:46 2019
23:44
On Lockdown with Finn Russell
Jim Hamilton checks in with Finn Russell on The Lockdown.
28 Mar 11:46 2020
25:54
Rugby World Cup Japan city guide - Oita
In this episode, Jaybor Staunton visits the beautiful city of Oita, that is best known for its water sports and onsens.
05 Dec 5:09 2018
3:41
Eddie Jones warns against Six Nations expansion
Eddie Jones against Six Nations expansion.
10 Feb 4:40 2020
1:13
Matt Giteau's Eddie Jones drinking story from RWC
Matt Giteau remembers an encounter with Eddie Jones during the Rugby World Cup in 2003.
02 Jan 13:41 2020
3:22
RugbyPass Insiders | Tonga | Road to Japan
RugbyPass went behind the scenes with the Tonga national team as they prepare for the 2019 World Cup in Japan.
20 Sep 11:25 2019
33:22
The Season | Series 5 | Episode 4
A must-win fixture against neighbouring Tauranga Boys High School puts the team's success in the firing line.
01 Dec 5:25 2019
24:00
Foden: Stateside | A RugbyPass Originals Documentary
In 2018 former England fullback Ben Foden shocked the rugby world when he confirmed a switch to the newly formed Rugby United New York and Major League Rugby, America's latest professional rugby venture.
21 Jul 1:47 2019
31:51
Rugby Australia reaches agreement with Folau
Rugby Australia reaches settlement in legal battle with Israel Folau.
04 Dec 6:30 2019
1:04
Ex-All Black wants Super Rugby ditched
Ditch Super Rugby? Ex-All Black's sensational alternative for Australia and New Zealand.
26 Nov 7:39 2019
1:03
Stateside with Ben Foden
RugbyPass caught up with Foden in New York to see what a career in rugby is like in the big apple.
25 Jun 12:00 2019
1:03
Is Conor Murray finished as Ireland's starting scrum
Is Conor Murray no longer the first choice selection for Ireland in the scrum-half position? Jim Hamilton, Darren Cave and John Barclay discuss.
17 Dec 20:21 2019
5:38
Life After Rugby | Andy Powell | Trailer
One of Welsh Rugby's biggest characters on and off the pitch, RugbyPass travelled to Brecon to see how life after rugby is treating Andy Powell.
27 Dec 9:28 2019
1:29
SAHRC: 'We have the evidence'
SAHRC dismiss reports they do not have the evidence to charge Etzebeth.
26 Nov 7:11 2019
1:27
Heineken Champions Cup launch | 19/20 Season
This season's Heineken Champions Cup and Challenge Cup for Gallagher Premiership and PRO14 clubs is launched in Cardiff. Players Chris Robshaw, Iain Henderson and Johnny Sexton comment on the upcoming tournament.
06 Nov 14:23 2019
4:56
FUKUOKA | Rugby World Cup City
A guide to the City of Fukuoka which plays host to three Rugby World cup games.
21 Aug 8:36 2019
3:17
Free Tissues For Welsh Fans | Sam Smith
Sam Smith spoke to Welsh and South African fans after the big match. South Africa secured a narrow victory to the World Cup final where they will take on England #RugbyWorldCup
28 Oct 15:13 2019
4:38
We have made something truly special on the
RugbyPass went behind the scenes with the Barbarians rugby team, the most famous team in the World.
07 Jan 18:11 2020
1:28
Andy Goode and Brendan Venter get into heated
Andy Goode and Brendan Venter didn't hold back on this weeks pod as they discussed Saracens and the salary cap scandal.
21 Jan 14:18 2020
21:48
When Jim met Finn
Wee Finn gives Big Jim a kicking masterclass at Racing 92's state of the art facility in Paris. Jim Hamilton caught up with Finn Russell ahead of Scotlands clash with France, this Saturday.
21 Feb 15:16 2019
17:49
Andy Goode is back in rugby
Andy Goode has come out of retirement for one night and one night only! He played in a charity match to raise funds for Tom Day, a police officer who died this year. #AndyGoode
28 Nov 17:22 2019
3:31
Operation Jaypan - Part 1
Follow Jaybor Staunton as he travels from tip to toe of Japan over a packed 10 days to visit the host cities ahead of the Rugby World Cup 2019. Part 1 sees Jaybor travel from the northern city of Sapporo to the bright lights of Tokyo.
26 Nov 6:29 2018
34:35
Andy Farrell and Jonathan Sexton reaction to Wales
Ireland head coach Andy Farrell and captain Johnny Sexton press conference following their victory over Wales in the Six Nations at the Aviva Stadium in Dublin.
08 Feb 19:03 2020
13:22
Wales' Davies decision under scrutiny
Wales' decision to play Davies against the All Blacks is now under scrutiny.
13 Nov 5:18 2019
2:09
Top League & Six Nations | DMWJ |
Jim Hamilton sits down to discuss all the rugby news of the week, with particular focus on the Six Nations and Japanese Top League.
17 Jan 12:09 2020
28:24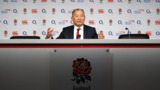 Jones agreed to pay-cut
Eddie Jones 'immediately agreed' to pay cut in excess of £187,500.
27 Mar 7:22 2020
1:14
The Rugby Pod | Season 4 | Episode
The guys round up all the Guinness Six Nations and Premiership action. They discuss the shenanigans at the breakdown in England v Ireland among others. We also hear from Brad Shields on his injury and his quest to get back into Eddie's England squad.
26 Feb 3:17 2020
70:20
Tony Brown snubs All Blacks position
Top candidate's surprise snub.
06 Nov 6:38 2019
1:59
Wisemantel leaves England, Wallabies next?
England attack coach Scott Wisemantel departs as Wallabies job broadens on horizon.
26 Nov 8:24 2019
1:07
The Rugby Pod on Nigel Wray and the
More Saracens chat this week as Big Jim and Goodey discuss what the future holds for Saracens after Nigel Wrays decision to leave the club.
10 Jan 16:42 2020
12:35
Eddie Jones' warns All Blacks
Why All Blacks could be in trouble.
23 Dec 2:59 2019
2:33
The Breakdown | Ian Foster answers questions from
We asked new All Blacks Coach Ian Foster your questions on Sky Sports NZ's The Breakdown.
13 Feb 8:48 2020
4:38
Dave Rennie and Wallabies a done deal -
Dave Rennie to coach Wallabies.
25 Oct 5:31 2019
2:47
Sonny Bill Williams unveiled by Toronto Wolfpack
Sonny Bill Williams speaks at a press conference alongside Toronto Wolfpack head coach Brian McDermott and chief executive Bob Hunter following his move to the Super League newcomers.
16 Nov 17:42 2019
22:10
JR EAST PASS - South Tohoku
JR East offers the JR EAST PASS for international visitors to Japan which allows sightseers to travel around freely for 5 days on the JR East Japan network.
19 Jul 18:38 2019
2:52
Six Nations won't rule-out paywall
Six Nations £300m paywall deal: 'We would not rule anything out'.
02 Mar 11:04 2020
1:24
Justin Marshall on All Blacks' Bronze Medal Prep
RugbyPass' Sam Smith sat down with Justin Marshall to discuss the All Blacks drinking ahead of the 1999 and 2003 Rugby World Cup Bronze medal games.
29 Oct 12:39 2019
2:01
Rugby World Cup Memories - Neil Back
On the eve of the RWC in Japan, England great Neil Back sits down with RugbyPass' Jim Hamilton to recount his Rugby World Cup Memories #RWC2019
16 Sep 12:35 2019
9:57
World Rugby roasted over haka
World Rugby branded a 'joke' for reported haka fine.
30 Oct 6:02 2019
2:47
Matt Giteau on being smashed in the 2003
Matt Giteau recalls his memories of the 2003 RWC final against England in his home country.
08 Jan 13:38 2020
2:22
Matt Giteau | RWC memories
Former Australian International Matt Giteau, sat down with RugbyPass to discuss his memories of playing in the '03, '07, and '15 Rugby World Cups
17 Oct 14:33 2019
10:37
The exact salary cap clause
The one line in the salary cap rules that's likely to become a legal battleground for Saracens.
12 Nov 4:33 2019
2:50
RugbyPod | Season 4 | Episode 23
We gather up a host of familiar faces to discuss the home nations' chances in the upcoming Six Nations plus some huge rumours, more Saracens fallout, refereeing controversies and much more...
29 Jan 3:12 2020
73:47
Saracens facing potential 35 points reduction
Saracens facing potential 35 point reduction and a real threat of relegation.
04 Nov 5:21 2019
2:43
Fukuoka at night | Rugby World Cup City
What Rugby fans can expect In Fukuoka at night during the Rugby World Cup.
27 Aug 11:27 2019
1:55
Frans Steyn challenges Prince Harry
Frans Steyn challenges Prince Harry to a beer boat-race ...
03 Nov 5:12 2019
1:15
Robertson's moment of truth awaits
Scott Robertson's moment of truth awaits as All Blacks interview looms.
06 Dec 8:32 2019
1:28
Toulon has officially changed hands
RC Toulon has officially changed hands.
03 Dec 4:55 2019
1:22
End of an era for Saracens
McCall confirms Saracens squad will be broken up.
20 Jan 4:08 2020
2:42
KUMAMOTO | Rugby World Cup City
A guide to the City of Kumamoto on the island of Kyushu which plays host to two Rugby World Cup games.
21 Aug 8:43 2019
3:31
David Wallace on what it was like to
RugbyPass had the pleasure of interviewing Ireland and Lions star David Wallace.
21 Dec 18:56 2019
4:24
The Season | Series 5 | Episode 5
A single kick ends up being the difference between a successful season or a failed campaign and Hamilton hearts are tested in the Tauranga rain.
08 Dec 2:36 2019
24:00
Scottish head coach says player has not contracted
Press conference with Gregor Townsend after the Scotland head coach named his team to face Wales in Cardiff on Saturday. #SixNations
12 Mar 14:46 2020
9:28
Post-Final Fans Out of Control | Sam Smith
Rowdy scenes in Tokyo after South Africa beat England to lift the Webb Ellis trophy.
02 Nov 13:07 2019
3:22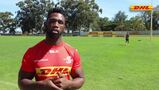 Siya Kolisi's message on Covid19
Springbok captain Siyamthanda Kolisi's message for fans concerning the Covid19 outbreak.
26 Mar 12:36 2020
1:55
How Sonny Bill Williams $10m deal transpired
How the Sonny Bill Williams deal transpired: Inside the '$10m dollar dinner' deal.
15 Nov 8:32 2019
2:42
Wales confident as they make Rugby World Cup
Credit: World Rugby. Press conference with Wales head coach Warren Gatland and captain Alun Wyn Jones after Wales get through to the World Cup semi-finals with a 20-19 win over France at Oita Stadium.
20 Oct 14:06 2019
13:56
Springbok Victory Tour - Cape Town Part 5
The Springboks take the Rugby World Cup on a victory tour of Cape Town.
11 Nov 10:09 2019
0:12
Robertson opens up about Brown
Crusaders coach Scott Robertson opens up on losing Tony Brown's support for top All Blacks role.
13 Nov 9:33 2019
1:13
OITA | Rugby World Cup City
The City of Oita plays host to teams such as New Zealand, Wales, Australia and Fiji and two World Cup quarter finals.
27 Aug 11:06 2019
3:03
Scott Robertson breaks his silence
Scott Robertson breaks his silence after losing out on All Blacks coaching job.
13 Dec 3:27 2019
1:18
Mooar torn over coaching future
In-demand Scarlets coach Brad Mooar torn over coaching future.
16 Dec 8:06 2019
1:09
All Blacks door ajar for Gatland
A two-year contract for Ian Foster keeps the door ajar for Warren Gatland.
12 Dec 3:51 2019
2:18
The Lockdown | Episode 1 | Ian McKinley
Jim Hamilton is joined by Italy International and Benetton player Ian Mckinley to discuss the effects of COVID19 on the everyday life of a rugby player living in Italy.
20 Mar 11:44 2020
20:02
The Rugby Pod | Season 4 | Episode
Goodey's eating humble pie after talking up England's chances of a Grand Slam and is admitting his concern ahead of the coming weekend and we look ahead to this year's Calcutta Cup clash.
05 Feb 6:44 2020
90:12
Sonny Bill Williams joins Wolfpack
Sonny Bill Williams joins Toronto Wolfpack.
08 Nov 6:00 2019
2:45
Nakarawa case raises questions
Nakarawa case raises awkward questions about Top14's treatment of PI players.
07 Nov 7:27 2019
2:44
Rugby World Cup Japan city guide - Kumamoto
In this episode of Operation Jaypan, Jaybor Staunton visits Kumamoto, a city on the Japanese island of Kyushu. Join him as he meets the locals and explore the culture of the city.
26 Nov 3:29 2018
5:19
When will Premiership Rugby return? - Premiership Rugby
As the coronavirus continues to impact sport across the globe, Big Jim and Goodey caught up with Darren Childs to discuss the likelihood of the Premiership season being resumed.
30 Mar 10:46 2020
11:49
Springbok World Cup Glory | DMWJ | Season
Jim Hamilton Discusses the news of the week in the Rugby World after South Africa claimed World Cup gold.
08 Nov 11:54 2019
26:16
Saracens scandal to benefit New Zealand?
How the Saracens salary cap scandal could strengthen New Zealand rugby.
24 Jan 4:52 2020
1:28
Extent of Saracens' breaches revealed
Damning report reveals the extent of Saracens' salary cap breaches.
23 Jan 6:02 2020
2:22
Russell's career in own hands
Russell warned he must make the first move to salvage Scotland career.
24 Jan 7:10 2020
2:32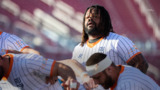 Bastareaud's rocky start to MLR
Bastareaud was already 'clashing' with his new MLR coach and captain.
23 Mar 6:37 2020
1:21
Schmidt's not-so-fond farewell
Joe Schmidt's not-so-fond farewell as IRFU blame him for World Cup failure.
06 Dec 3:48 2019
2:43
Dylan Hartley reveals what it was like to
Former England captain has revealed what it was like to captain the team under Eddie Jones.
28 Nov 16:07 2019
3:31
Rugby Australia issue rights statement
Rugby Australia issue statement following reports Foxtel could dump rugby union.
25 Nov 7:59 2019
1:47
06 Nov 14:23 2019
Heineken Champions Cup launch | 19/20 Season
Latest Rugby Videos | Rugbypass