South Africa
Thirty-two capped Springboks – 13 of whom were part of the Rugby World Cup-winning squad in Japan a year ago.
Rankings



The
RugbyPass Index
tracks several key data points to create a score, which we use to rank every player and team we track.
Find out more about the RPI
.
Top Ranked Players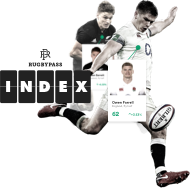 Who's on form, and who's off their game?
Explore live rankings for hundreds of teams and players around the world.
Explore the RPI

Statistics
2019
2019
2018
2017
2016
2015
2014
vs
2019 Season
2019 Season
England

2 Nov

France

9 Nov

Scotland

16 Nov

Wales

23 Nov

Ireland

7 Nov

England

14 Nov

Italy

21 Nov

Wales

28 Nov

Argentina

14 Aug

Ireland

10 Jun

Ireland

17 Jun

Ireland

24 Jun

Ireland

10 Nov

France

17 Nov

Italy

24 Nov

Wales

1 Dec

Wales

1 Jun

England

8 Jun

England

15 Jun

England

22 Jun

England

11 Nov

Italy

18 Nov

Wales

25 Nov

France

9 Jun

France

16 Jun

France

23 Jun

Argentina

17 Aug

Argentina

24 Aug

Australia

7 Sep

New Zealand

14 Sep

Australia

28 Sep

New Zealand

5 Oct

Argentina

15 Aug

Argentina

22 Aug

Australia

5 Sep

New Zealand

12 Sep

Australia

26 Sep

New Zealand

3 Oct

Australia

17 Jul

New Zealand

24 Jul

Argentina

7 Aug

Argentina

18 Aug

Argentina

25 Aug

Australia

8 Sep

New Zealand

15 Sep

Australia

29 Sep

New Zealand

6 Oct

Argentina

19 Aug

Argentina

26 Aug

Australia

9 Sep

New Zealand

16 Sep

Australia

30 Sep

New Zealand

7 Oct

Australia

19 Jul

New Zealand

26 Jul

Argentina

9 Aug

Argentina

16 Aug

New Zealand

20 Sep

Namibia

27 Sep

Italy

3 Oct

Canada

7 Oct

Japan

19 Oct

Wales

26 Oct

England

1 Nov
Attack
Team Play
Defence
Discipline
Average Gain

Lineouts Won %

Scrums Won %

Tackle Accuracy %
Attack

Team Play

Defence

Discipline