Back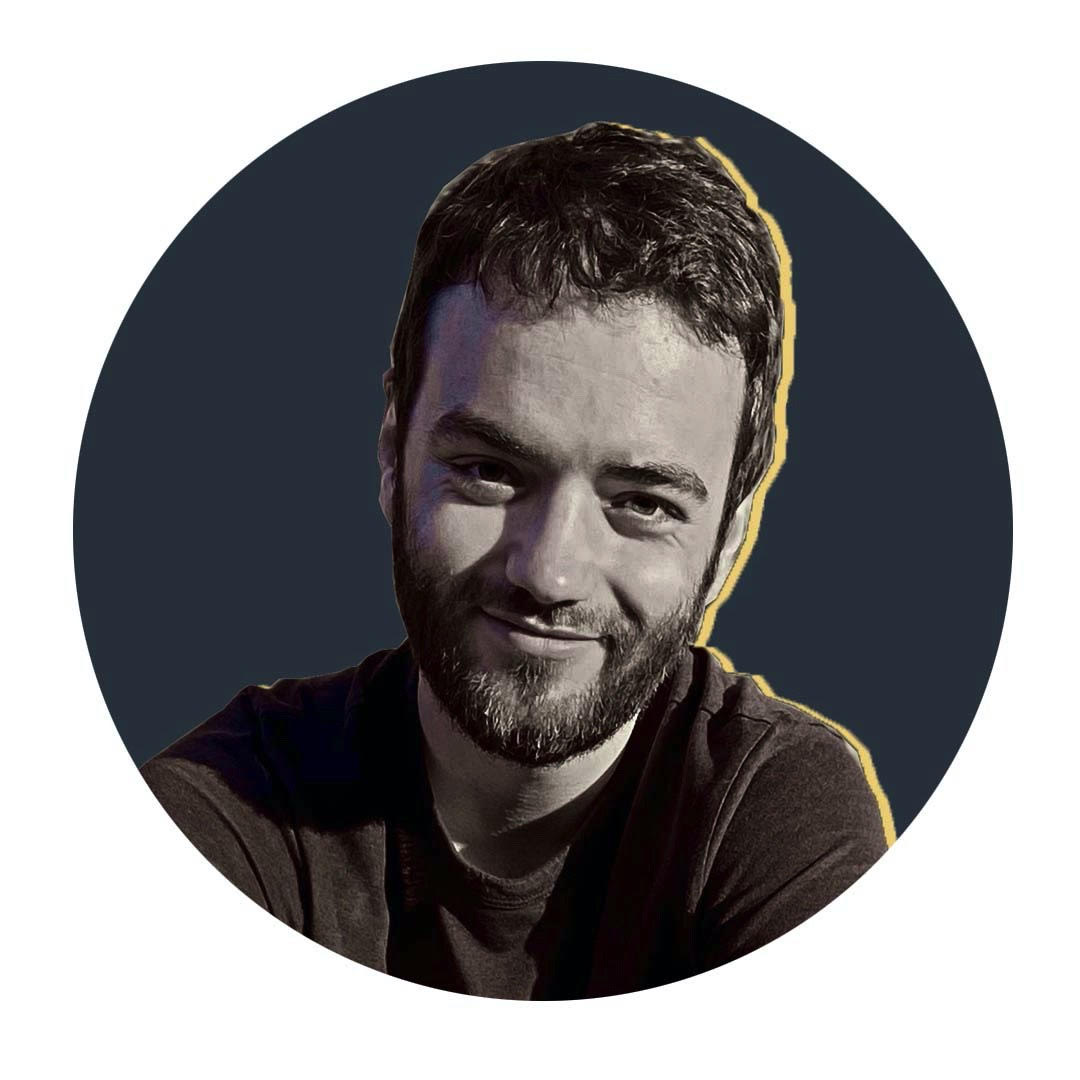 By Will Owen
The quiet genius of Jaz Joyce
Wales are in a tight corner. They need a try to seal the game. They've gone through the phases, but need a simple bit of flair to see them over the line. "Give it to #11!" scream the crowd. Sound familiar?
For the last generation of Welsh fans, everyone's favourite player was Shane Williams. His ability to step out of trouble, his electrifying pace and his technical know-how were nothing short of mesmerising. For the current generation, that player is Jasmine Joyce. She burst onto the Sevens scene with her jet-heeled speed being her main calling card. Much like sizzling Shane, "Super Jaz" used this as an opportunity to broaden her skillset and become a truly world class athlete.
When you think of Jasmine Joyce, a few things come to mind. One, of course, is her disarming media presence. Most of the rest are… well, similar. Joyce is known for her textbook fade on the outside of solo defenders – think no further than her 60m individual effort for the Barbarians against the USA, her many Sevens exploits or her disallowed try against Italy in 2019 – which serves the hypothesis that all TMOs are snitches.
Joyce, however, is no one-trick pony. This may be her world-beating trademark, but she has expanded her game immeasurably in the last couple of years. Let's take a look at a few underrated world-class pieces of play from Joyce.
These first two examples are from Wales' Autumn test against Japan, around the 55 minute mark: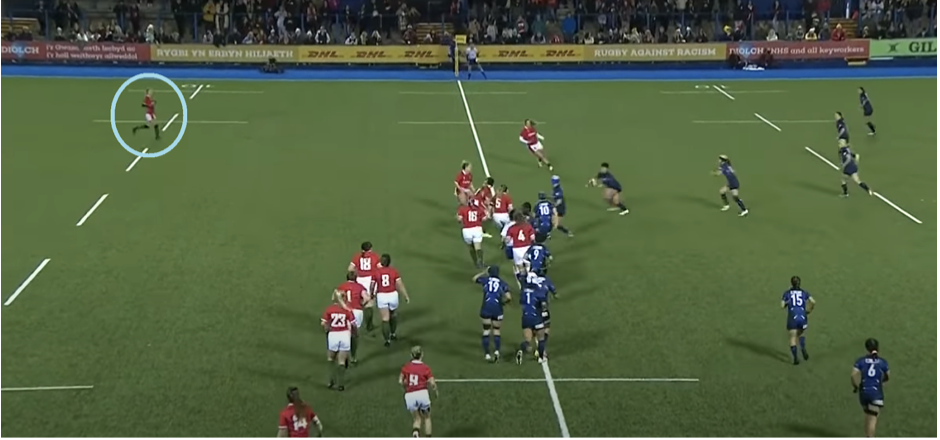 Playing at fullback, Joyce has spotted from the backfield that Wales aren't numbered up and Japan hooker Nijiho Nagata is about to make a line break. While the temptation is to tackle the ball carrier, Joyce instead chooses to mark the space outside Nagata.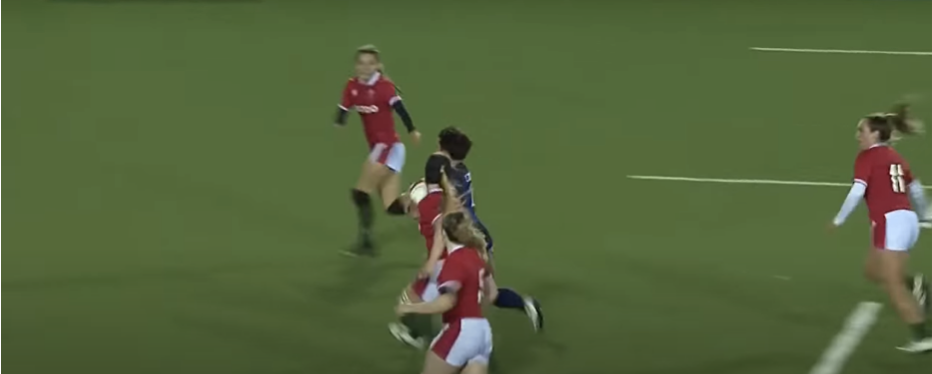 Trusting flanker Beth Lewis and fly-half Elinor Snowsill (out of shot to the left, also in the backfield) to have the speed to catch Nagata, Joyce covers the pacy backs on her outside, knowing she's the correct woman to cover them.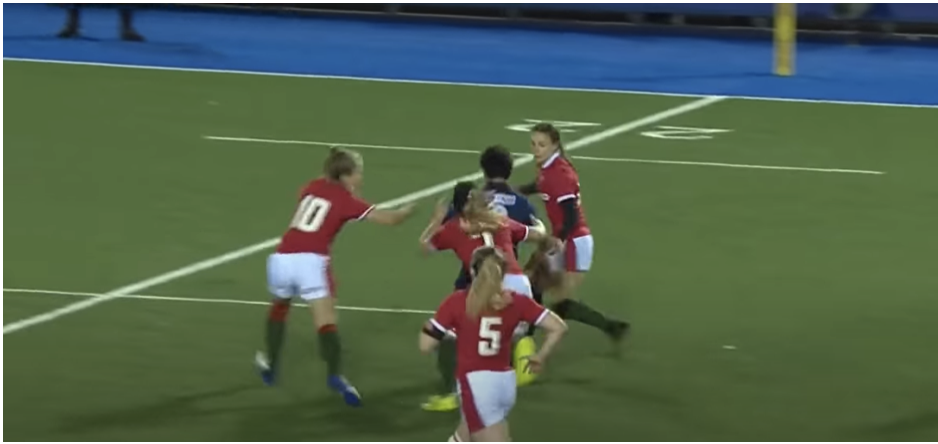 Positioned just outside Nagata, Joyce blocks off the pass. The Japanese hooker makes a huge 30m gain from this break, but is unable to link up to turn the opportunity into a try, all thanks to Joyce's smart defending. Snowsill and Lewis complete the tackle in combination, and Wales quickly re-organise their D.
Wales then defended for another seven phases in their own 22, before another huge play from Joyce.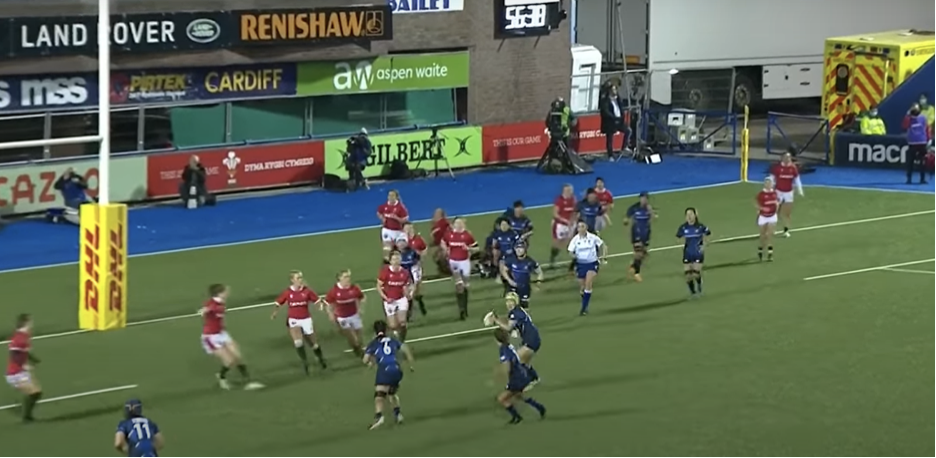 Here, Japan's Kanako Kobayashi has the ball, with several options outside her. Flanker Seina Saito is running a short line, fullback Ria Anoku is in the boot, and winger Hinano Nagura is on the wide outside. In the above image, Joyce is the last woman in the Welsh line, meaning she is covering winger Nagura, with her inside defenders looking to drift.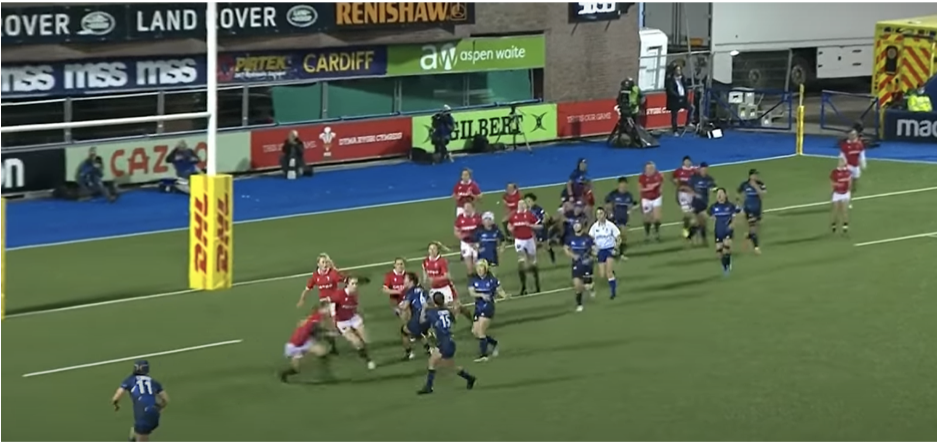 The best way to beat a drift defence is to run hard and really engage defenders, forcing weaker tackles. Japan attempt to do this, but Joyce's instant decision making pays off here. Ball carrier Kobayashi thinks Joyce is covering the winger, so opts not to throw the wide ball. Joyce reads this and bites in on Anoku. At this stage, it would require a wondrous pass to reach Nagura. Even if Anoku makes the quick pass, it will likely hang in the air long enough for the Welsh cover to drift.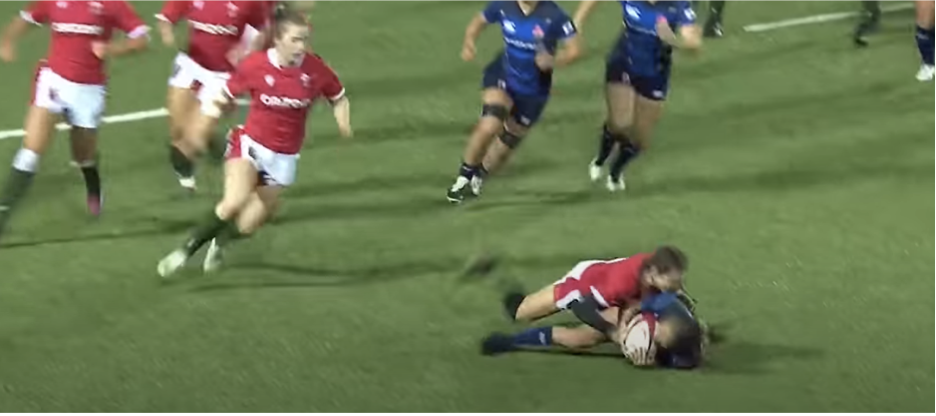 Joyce flies in on the skilful Anoku and decks her with a thunderous shot. She is low enough to generate a powerful hit, but high enough that the offload isn't still an option. She immediately pops back to her feet to contest. The Japanese clearout is good, but Joyce slows the ball long enough for the Welsh defence to cover both sides.
This sequence ends with a Japanese knock-on, with thanks to two world-class pieces of defence from the Welsh fullback – one subtle, one less so.
Right, now we've seen her defensive prowess, let's have a quick look at the intricacies of her attacking play. The following analysis is of her try against Ireland in Round One of the 2022 TikTok Six Nations: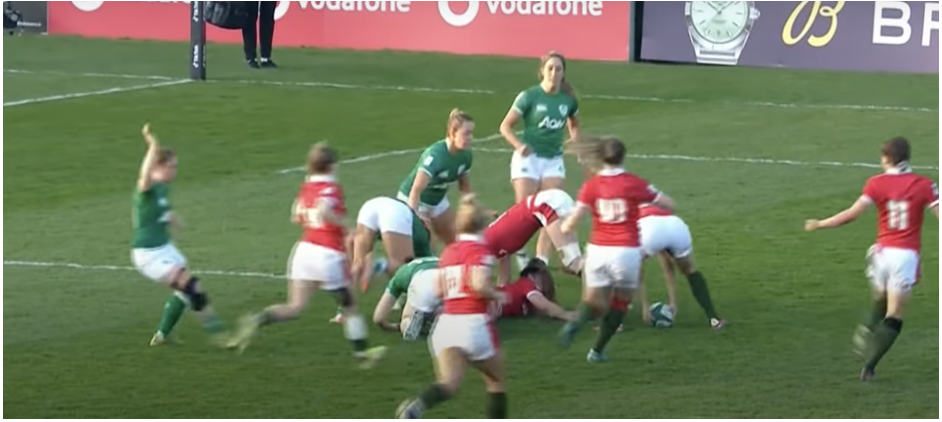 After a carry from Kayleigh Powell, Wales generate a quick phase. Joyce and Snowsill both wrap around, identifying a potential 3v2 on the blindside. Hannah Jones picks up and feeds Snowsill.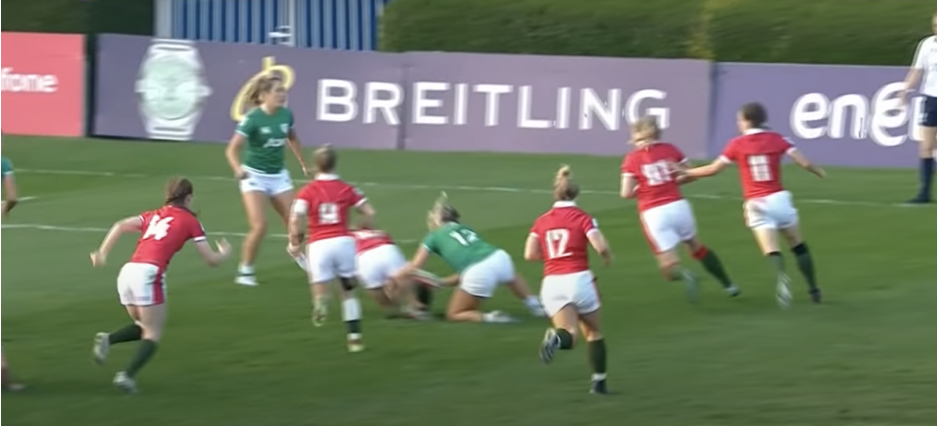 This time, the temptation for Snowsill is to run diagonally and engage the outside defender, Eimear Considine, and free her winger. Instead, Joyce gestures for Snowsill to stay square and attract the inside woman, Lucy Mulhall (tracking across from the left of the above image). Snowsill does so and delivers a 'lift' pass to Joyce.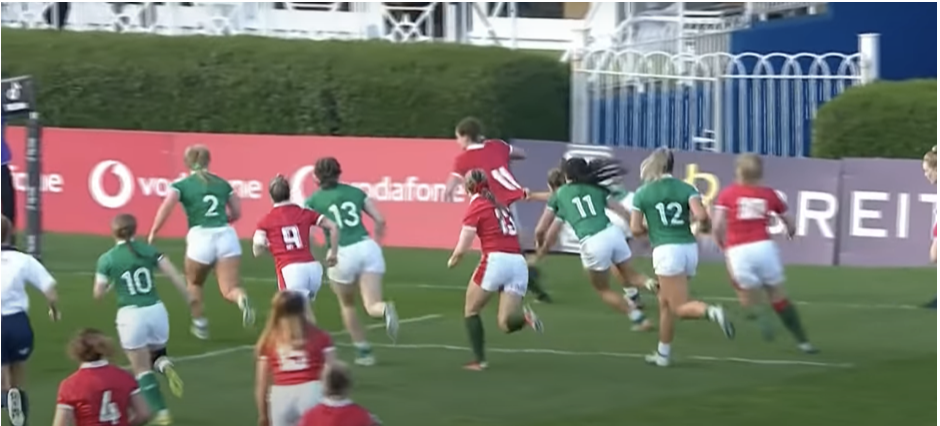 Instead of trying to force a 2v1, Joyce knows a 1v1 is enough, because she has positioned herself perfectly. She is mere a metre outside Considine, and with Super Jaz's acceleration, that's around 100 square kilometres to someone with normal human speed. Considine can only manage an arm tackle, so Joyce breaks free.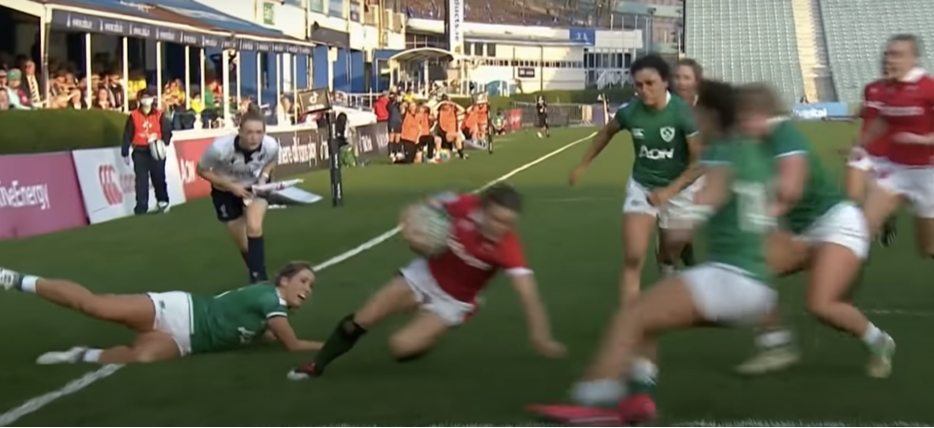 And now for the finish. Joyce dives infield, which has several benefits: she doesn't have to worry about a full-stretch one-handed dot-down in the corner, she isn't going into touch, and most importantly, it doubles as a sidestep. It's a superhuman skill to step someone without actually moving your feet, but Super Jaz manages this. With Amee-Leigh Murphy Crowe cornerflagging, the Welsh winger ducks inside and grounds the ball for a crucial try that only the best wingers in the world could finish.
We have now reached the stage at which an improving Wales team have the facilities to supply the tremendous Joyce with the inches of space she needs. They don't rely on her in the same way they used to, but she is a key player in Ioan Cunningham's setup.
The environment in this Welsh camp feels similar to that of Warren Gatland's Wales men's team around 2011. If a game may be decided on a moment of magic, Super Jazz can come up with the goods. Much like Shane Williams, she is a top-drawer finisher with the technical skills to evade defenders when heavily marked. The best players come up with big moments, and Joyce does that on a weekly basis.
Without any shadow of a doubt, Jasmine Joyce is the most exciting player Wales has produced in over a decade. In an era (correctly) dominated by physicality and kicking, a player who still can break through the world's strongest defences is like gold dust. Joyce is a true Welsh great in the making, and a favourite who never fails to get anyone in red on their feet. Jaz(z) hasn't been this popular since the Miles Davis era.