Ashton takes flight to write himself into the record books
The dust had barely settled from Antoine Dupont's latest award than the rugby world was headlong back into the domestic swing of things and the Premiership and URC didn't disappoint. Taking centre stage, however, was the Women's Six Nations, which was resplendent in the sunshine, with healthy crowds and some Champagne rugby. Here's RugbyPass+ take on a bumper weekend…
The arch finisher puts the Tigers in the play-offs
There must have been times when Chris Ashton thought he'd never draw level with Tom Varndell as top try-scorer in the Premiership. First there's the interminable bans that have kept him out of the game for 36 weeks. Then he upped sticks from Saracens and headed to Toulon after a fall-out with Eddie Jones.
A peripatetic few years followed as Ashton first went to Sale Sharks, Harlequins and Worcester Warriors. Sixways, threatened to be his final destination as management stayed tight-lipped over his non-appearances. Ashton abruptly left the club when Steve Diamond, his coach at Sale, pitched up and for the months, no one in rugby was sure they were going to see the 41-cap England wing.
Then in February, rumours circulated that he'd spotted training with Leicester, coached by his old Saracens team-mate. When the news was finally confirmed Ashton was thrust into the starting line-up promptly and after just five games, he's scored three tries. His brace yesterday against Exeter Chiefs were textbook Ashton. Expertly picking a George Ford cross-field kick out of the skies to dab down, and preying on some uncharacteristic indecision in the Chiefs backline, to pick up a loose ball and show the pace to keep four Exeter defenders in his vapour trails.
The flyer from Wigan turns 35 tomorrow, and he now has five games and a few knockout games, if selected, to stand alone. Speaking to RugbyPass+, he said, 'from a very young age I had a desperation to score tries'. How many tries he's scored is up for debate but Ashton did a rough totting up on a night out. I remember talking to Chris Wyles and David Strettle on a night out about scoring tries. My memory is hazy, but I think I've scored around 260 tries in my professional career.'
When he finally does hang up his boots, he will be missed. A loveable rogue, whatever your views on him, that he is one of England's finest ever finishers is beyond doubt.
Red Roses Pack a punch
It is nigh-impossible to envisage anybody stopping England's charge for an 18th Women's Six Nations crown. On Saturday lunchtime, they did without an eye-watering volume of talent and experience – Natasha Hunt, Jess Breach, Amy Cokayne, Shaunagh Brown, Hannah Botterman, Lydia Thompson, Vicky Fleetwood… the list goes on – and still stuck 57 points on an improving Scotland side who, despite the grim scoreline, played pretty well.
Undefeated in 19 matches, the Red Roses have a frightening talent pool and crucially, a slew of full-time professional athletes unburdened, at least to some degree, from the nebulous and exhausting hurdles often flung in the path of female players.
Leading the charge in Edinburgh was Marlie Packer, an England stalwart at 32 with 80 caps to her name, and one of world rugby's greatest scavengers.
In hoovering up 93m from 16 carries, Packer helped herself to three close-range tries – each the product of canny open-side support play. She pilfered four turnovers on the jackal, a constant Red Rose thorn in Scottish sides. She broke a couple of tackles, and made 22 of her own without missing. It was a fabulous individual showing.
Packer's position is indicative of the goods at Simon Middleton's disposal. He could just as easily have started Fleetwood, a similarly all-action workhorse, or Sadia Kabeya, a 20-year-old tearaway, on the open-side flank. Instead of juggernaut Poppy Cleall and captain Sarah Hunter at six and eight, he could call upon Harriet Millar-Mills, Sarah Beckett, Alex Matthews, or shift world player of the year Zoe Aldcroft back from lock.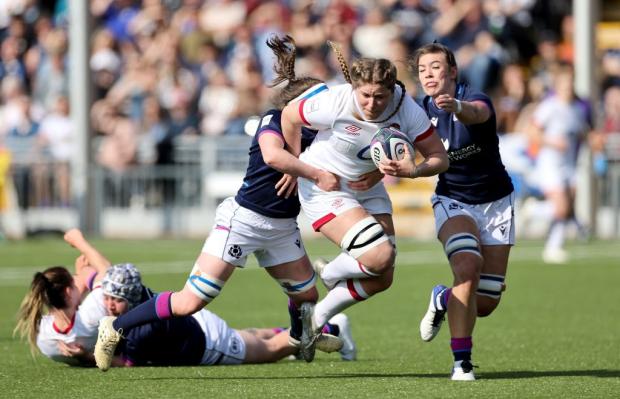 This is a stunning array of excellence. Middleton used 37 players across the four autumn internationals, where New Zealand's rusty Black Ferns (twice), Canada and USA were thrashed on four successive weekends. He plans to shuffle his deck in the opening throes of the championship, before zeroing in on France, England's only credible title challenger, in a mouth-watering final fixture.
These are exhilarating times for the Red Roses, but for the women's game at large too. The World Cup looms this autumn. The Six Nations has its own window and a title sponsor in TikTok. Its opening round delivered fabulous tries,  stunning moments – particularly Wales' late, match-stealing corker in Ireland – and, perhaps most importantly of all, record crowds.
Around 4,000 watched the Edinburgh clash, with Saturday morning trains between Glasgow and Scotland's capital city heavily populated by those clad in rugby jerseys, men and women, boys and girls alike. A large swathe lingered at full-time, lining the short fenced alleyway from the Dam Health Stadium back to towering Murrayfield as they clamoured for selfies and signatures. Such growth, and the emergence of new idols, can only be good for the game.
Boks office attractions
There were times on Saturday when it looked like we were watching the future go up against the past. And the future – represented by Even Roos – was winning.
The Stormers No8 is 22. His opponent, Duane Vermuelen, had 35 candles on his most recent birthday cake. When there were just 33 on it, he was named man of the match at the 2019 World Cup final.
Kieran Read,
Jamie Heaslip
,
Taulupe Faletau
,
Sergio Parisse
,
Billy Vunipola
,
David Pocock
, Louis Picomoles, he's faced the best. The one opponent you never beat is time, though. And as Roos ran riot in the opening quarter – helping the Stormers establish a 14-0 lead over Ulster – this looked like one fight their former player wouldn't win.
But he proved us wrong. Delving deep into memory's scrapbook, Vermeulen found a way to influence this game. So did Ulster. After a blistering start when they decided to play the way they have played all season, the Irish province quickly discovered a grim reality, namely that it is one thing playing fast and loose in the chill of a Belfast winter, another to do it in the 25 degree heat of a South African summer.
Fourteen points down after six minutes, torn apart by the counter-attacking thrust of the Stormers back three that marries pace with adventure; this had all the makings of a hammering. Instead it evolved into the most compelling match of this URC season, if not the most intriguing game of any involving an Irish province in 2021/22.
Here's why. Three weeks ago, anyone glancing at the URC table with a lazy eye would undoubtedly have drawn the usual conclusions, namely that the league was lopsided, that there were too many mediocre teams in it, that the South Africans were overrated and one-dimensional.
Well, here's news for you. They're anything but. Even the supposedly weak Lions have managed three wins on the trot. That's what happens when a team is finally able to play games on home soil, under a blazing African sun, and in the Lions' and Bulls' case, at altitude. Throw in the discomfort of European teams spending half a day on an aeroplane in the week of a game, training and living in unfamiliar surroundings, and you can quickly see why home and away has such an impact on results.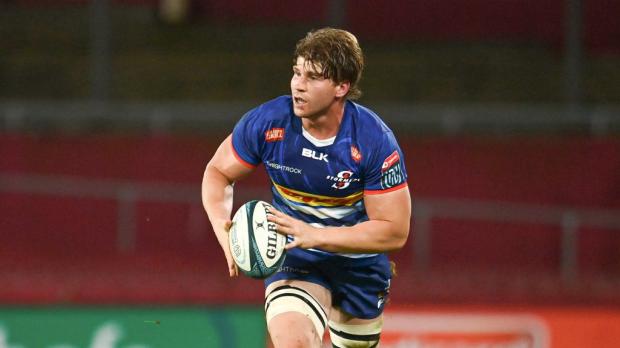 The supporting evidence backs up this thought: across the last three weeks, South Africa's four URC franchises, Bulls, Lions, Stormers and Sharks have played 12 home games, winning 11. All year, as they suffered travel sickness issues of their own, the polite word was that they'd become a force next year. Well, you can scrap that thought.
They're a force now. Three of them, Stormers being the best of them, Bulls and Sharks are already in the play-off places; the Lions aren't there yet but with only one of their remaining games scheduled north of the equator that could easily change.
And the implications will be felt. Not only could the URC have their first South African champion – they'll probably need to secure home advantage for at least one of their play-off games for this to happen – but they'll be representing the league in next year's Champions Cup.
It's going to happen, folks. Three of the sides are already in the qualification places – all three have more home fixtures left to play than away ones – and there's only one way those results are going to go.
For the armchair fan, that's going to throw up some intriguing match-ups next season, the potential of seeing Saracens at the Bulls; Toulouse in Cape Town; Racing in Durban. They won't like it, not the travel, not the conditions, not the rugby IQ of these formidable sides.
We saw it on Saturday. When Ulster tried Plan A, the Stormers reacted with glee, utilising the pace of their back three, Warrick Gelant, Seabelo Senatla and Leolin Zas, to devastating effect. Fourteen points and six minutes later, the call came from the coach's box. "Eh lads, scrap that idea."
They did. They boxkicked. They mauled. They got back in the game. They even won a scrum penalty, no small feat when you consider Steven Kitshoff and Frans Malherbe were on the pitch at the time. This time the South Africans reacted, finding a way to disrupt Ulster's brilliant maul.
And on it went, a quiet classic in an off Broadway setting, one team refusing to give up, getting to within three points as the clock ticked down, having a Callum Reid try – correctly but infuriatingly – disallowed in the 78thminute, all the while providing proof that this disrespected league is gradually evolving into a bloody good one. The Scots have improved; the four Irish sides are good; the South Africans have arrived.
The rest of Europe are about to find out. "No team can just turn up there and win," said Johann van Graan, the Munster coach, three weeks ago, at a time when the South Africans had only one side in the top ten of the league. "Even the Crusaders and Brumbies, when they were at their best and when they brought their strongest sides, they struggled down there. It's hard."
The Welsh and Irish have found that out. Wait and see, the French and English will figure it out for themselves next season.
Edinburgh thrive in the Shark tank
Whatever you make of South African involvement in the URC, it cannot be denied the four heavyweight entrants have proven fiendishly hard to beat on home soil.
Little wonder, with the travel and acclimatisation involved, the lung-burning high altitude in Johannesburg and Pretoria, and a bevy of Springboks now available to the franchises.
Edinburgh have set the standard for northern hemisphere tourists. In conquering a Sharks side laden with Test pedigree, they became the first European opponent to win in South Africa.
This was an exemplary away performance, a match that further underlines Mike Blair's burgeoning credentials as a top-class coach in the making, and that while Edinburgh have reinvented themselves on his watch, they can still summon the grit and stubbornness which defined the Richard Cockerill era.
These Sharks are not world-beaters – they sorely needed a play-maker to grab the game by the scruff in lashing rain – but they have lost only twice in their past eight games, dispatching South African, Welsh and Italian opposition. On Saturday evening, they fielded Ox Nche, Bongi Mbonambi, Siya Kolisi, Makazole Mapimpi and a smattering of less familiar Boks. It was a serious outfit.
Blair Kinghorn's international opportunities remain fleeting, but he is emerging rapidly as a genuine alternative to Finn Russell at Test level. His game management and two smartly taken tries were compelling. Emiliano Boffelli is one of the signings of the season. Ben Muncaster is still a pup at 20 years old, but has so many promising tools in his arsenal already. A trip such as this will be brilliant for the back-row, and Edinburgh's blossoming young crop.
Few northern visitors will win in Durban. Few will take anything at all in South Africa – that much has already become abundantly clear. Edinburgh's quest only gets tougher. Johannesburg, and high altitude, awaits. They have already proven themselves capable of winning precious points while others falter.
Investing in talent pays dividends for rejuvenated Wales Women
Wales Women pulled off what is unequivocally the finest win in the professional era in beating Ireland Women 27-19. The irony, of course, is that this was their first international since the Welsh Rugby Union (WRU) handed out a dozen professional contracts in the New Year and another dozen part-time contracts. The difference was there for all to see.
Twelve months ago, the Welsh team were thrashed 45-0 by the same opponents and seven losses in a row had led to a public clamour for improved resources to be invested in the team, which duly arrived not long after Nigel Walker took up his post as Performance Director. Ioan Cunningham, the highly-rated former Scarlets coach, took over from Warren Abrahams, and in the sun in Dublin, Wales dazzled.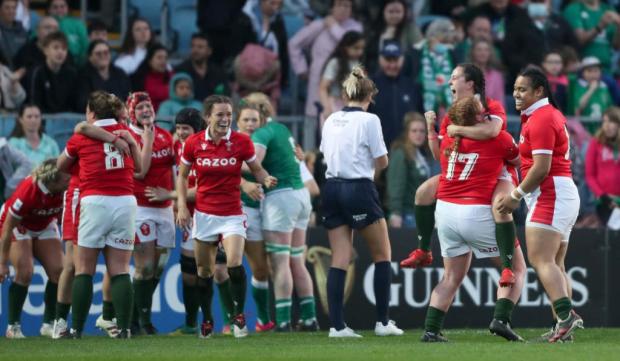 Ireland had led 14-5 at half-time, but Wales grew into the game and their improved conditioning told. A customary Jaz Joyce try and a second score by Donna Rose pulled them in front for the first time on 74 minutes and the coup de grâce was applied by Hannah Jones, who blazed over the line with a minute to go. It was an unexpected bright spot for a union who had come under increasingly vocal scrutiny after a humbling loss to Italy the week earlier. In the wake of the victory, Cunningham called for the Welsh public to support the team. "The girls deserved that win, they worked so hard. It would be great to have a huge crowd for them next Saturday at Cardiff Arms Park."
Expect a few more bums on seats after that morale-boosting victory.
Déjà vu
It was like Twickenham all over again. Only this time it was Connacht's Tom Daly rather than England's Charlie Ewels. Otherwise the script was so similar; the underdogs reduced to 14 players for 78 minutes after a recklessly high tackle; motivated to prove a point, good enough to hold a one-point lead as the clock ticked towards the three-quarter mark.
And then, lights out. Like a flick of a switch, we saw the difference 15 men can have on 14. On 53 minutes, Leinster trailed 8-7; at full-time they had won 45-8.
A contrite Daly held his hands up afterwards, according to his coach, Andy Friend. There's a lesson there, for him, for Ewels, for any player with the cop on to now realise that refs aren't going to shirk flashing red cards for these kind of tackles. The law has been brought on to keep players' safe but it is only by killing the chances of teams winning that defenders will cop on. They'll all learn eventually and the game will be a safer – and better – one.
Why reward mediocrity?
Empires don't fall. They disintegrate gradually. First a crack, then a brick, in the end, rubble. In the 1970s, you couldn't imagine Wales ever ceasing to be a force – and even when they dipped alarmingly in the 80s and 90s – you always felt they could come back. And they did, spectacularly under Warren Gatland.
But now? Their international team is fading, their regions are struggling desperately. It's not something anyone wants to see. A strong Europe needs a strong Wales. But right now they don't have one side in the top eight of the URC standings but are guaranteed to have a Champions Cup representative next season. That's doing no one any favours. It's rewarding failure. If you aren't good enough to finish as low as eighth in a league then you shouldn't be given a European lifeline.