Back
By Owain Jones
Akker van der Merwe: 'Yes, I stutter, but it's not who I am. It doesn't define me. It doesn't own me.'
The town of George is an idyllic waterside base for city slickers from Johannesburg. Outside the bustling town lie mile upon mile of pristine, golden sands, which lead out into, at first, turquoise waters of the South Atlantic, but before long the blue turns inky black and you're in great white shark territory.
If you don't fancy the water, many drive along what is known as the Garden Route, where you'll find championship golf courses, isolated farms, and scenic treks into the Outeniqua mountains, made famous when cricketer Hansie Cronje perished in a plane crash there. Hell, a little ring around and you can happily book yourself on a safari to spot the Big Five. Locals pride themselves on living in an area with such diverse, jaw-dropping vistas.
For all its visceral attractions, it was the beach that provided young Akker van der Merwe sanctuary, somewhere to escape the rigours of school, teenage angst and instead hit the surf, or play rugger with his kid brother Duhan.
Such was his attachment to the water that in summer holidays, he donned his red trunks and worked as a lifeguard. While he couldn't claim to be Mitch Buchannan of Baywatch fame, several times,he had to spring into action, or put the 'shark infested waters' sign up after sightings of a great white. He took his responsibility to keep tourists safe seriously.
Overall, his childhood was idyllic. Daily bike rides to the local school were interspersed with fishing trips on the lake, when everyone took a breather from the family store, Akkers Hardware. Slowly but surely rugby started to reel him in.
These days rugby fans know him as a human battering ram, the 'Raging Warthog', with a low centre of gravity and the acceleration of a sprinter.
Indeed, when van der Merwe takes the ball at pace, just metres out, with his explosive 108kgs frame, he ricochets off defenders, and usually emerges with a broad grin, a stroke of his majestic golden beard and ensures Sale Sharks are five points to the good.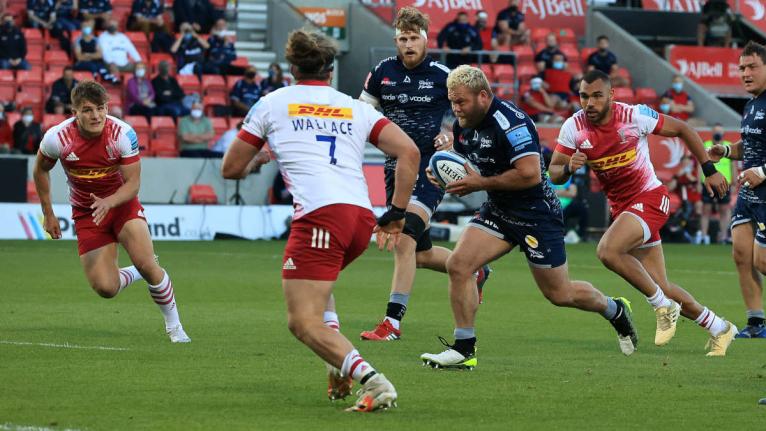 However, his bucolic upbringing did bring its challenges. Van der Merwe had a stammer from a young age, and as a young kid, was subjected to the usual cruel jibes that cut to the core. Instead of crushing his spirit, it made him stronger.
"Yah, when I was younger, it was a big issue, because young kids can be brutal with the amount they tease you. Yes, I stutter, but it's not who I am. It doesn't define me. It doesn't own me. As I've got older, I wouldn't say I've made peace with it, indeed I've accepted it will always be at the back of my mind, but since I got to Sale, I've taken to speaking more at meetings. Now, whatever I have to say, I feel like I've got power saying it."
Van der Merwe is easy company, as he navigates the sleepy countryside lanes around Cheshire after training, and you can barely pick up moments of hesitation in his engaging conversation.
While swatting away bullies, his burgeoning rugby reputation grew, first as a combative 9, but he also played as an 'eighth man' for the B-Team at Hoërskool Outeniqua, where he realised a penchant for skittling defenders, At 16, he made the switch to hooker and hasn't looked back, only venturing back to his old position once, when with the Lions.
"I didn't give Faf (de Klerk) any tips, put it that way, but in 2014 I played 60 minutes at hooker and both of our 9s got injured. Rob du Preez's dad was our coach with the Lions. He'd known me as a kid so he knew I could play there. For the first 10 minutes, it went pretty well, but then I could barely walk. Never again."
Unsurprisingly, his all-action performances started to get noticed. It helped that he had shone athletically at school, helped by his rich gene pool. "My genetics are good. My dad was very strong man. He played at hooker and I have watched a recording of him scoring a try back in the day and he could move as well. My mother was a sprinter and did a lot of athletics, so I've been lucky."
It wasn't only the stammer he had to overcome. At 20, calamity struck when he injured his ACL, while at North-West university, studying financial accountancy. A tortuous 15 months out of the game ensued, and again the criticism and comments reappeared. "I've spent my life with people doubting me, so I actually like proving people wrong. The amount of times I've been told, 'oh, you're not going to make it after injury', or 'you won't come back the same player'. Over time, I have built this unshakeable resolve."
If anyone saw a recent Instagram clip of Akker outpacing his 'little' brother Duhan on the sand, they'll know he his fast-twitch fibres are in good working order. His inner-most fears that he would lose his pace after the operation proved unfounded, thanks to one man. "After my operation the guy who rehabbed me actually made me the man I am today was S&C Jacus Coetzee, who now works at the Bulls. He actually made me faster than I was before the operation. He is one of the best in the world and I can't thank him enough."
He progressed to the Lions, where he regularly picked up Man of the Match awards for his explosive carries in the tight and broken field, and at 24, he took a call that saw him spirited away to Paris for a four-month interlude with Racing 92, as a medical joker for Dimitri Szarzewski during the 2015 World Cup. "I really enjoyed my time there but found the language pretty difficult to pick up. Just talking was fine, but in games when you're blowing, it was difficult to understand French, especially at lineout time. When they're giving me calls, I wouldn't know where the ball was supposed to go. I loved Paris. How can you not love that place."
He returned for a stint with the Sharks to further hone his game, but though he loved his home country, representing the Springboks on three occasions during 2018, at first Bismarck du Plessis, but then Malcolm Marx and Bongi Mbonambi stood in his way, and it was a chance conversation with Faf de Klerk that saw him gravitate to trying his luck in Europe, which was essentially rugby's 'Silk Road' for economic migrants of a weak rand.
AJ (Armand Johann) Van der Merwe has excelled in the Premiership, since arriving in 2019. He has more gainline success than any other hooker, he has evaded more tacklers and lies second for carry dominance, defenders beaten and line breaks. In short, he is a handful, and well on his way into becoming one of the Premiership's finest imports.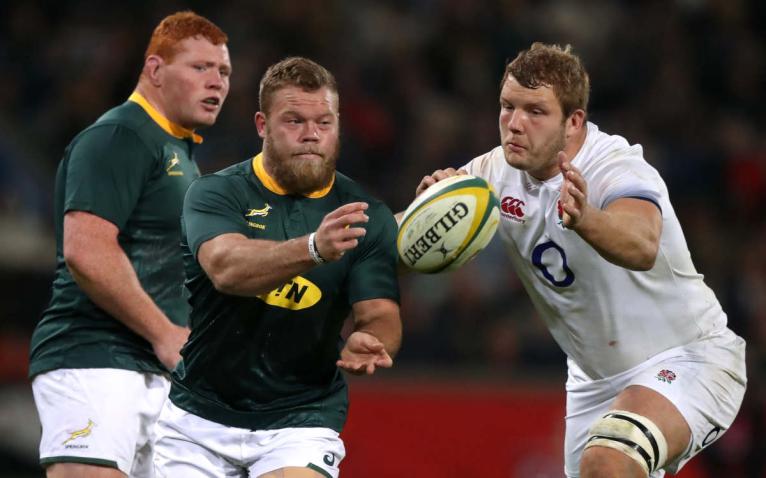 Despite one expected response from someone used to vitamin D, Manchester has been a happy home for the South African. "The weather isn't always the best up here but the people around me make everything better", he chuckles.
After four years in Cheshire, he is doing his best with the local vernacular too. "I have tried to get the dialect right, I'll say, 'y'alreet pal' to the lads, but everyone laughs at me so I'll stick to South African-English wherever possible."
After a week in which Sir Alex Ferguson visited the AJ Bell to pass on his words of wisdom, Van der Merwe, is in thrall to another Alex. Alex (Sanderson) who is hoping to add a trophy to a nascent coaching reputation. He rates Sanderson very highly. "After Dimes, who I loved to bits, Alex has taken things to another level. He makes you think a bit deeper, almost on a philosophical level, about what you bring to the squad. He's brutally honest, but he is up for a laugh when it's the right time. He is always asking us, 'why do you want to succeed? Why do you play? What is your purpose? He holds us accountable for our actions, which I like. You're not on edge around him exactly, but if you say you're going to do something and you don't do it, he'll call you out. He has a soft, compassionate side when the time is right, but he has a harder edge, which you need, too."
That Northern grit was on show two weeks ago in the titanic 21-13 tussle with Leicester Tigers, where van der Merwe saw Northern pride reaching fever pitch first hand. "The excitement was building all week, but the players tunnel of fans before Leicester was ridiculous. It was about 50 metres long and 15 people deep. The energy we got from that was amazing. It's been a while since I had that and I can only compare it to playing for the Springboks "in South Africa. It gave us such a boost."
After the game, van der Merwe says the club laid on food and had a few beers, something that didn't go unnoticed. "You have to have balance in your life, so we had a proper get together with the Sharks family. The weather wasn't quite good enough for a braai but allowing my wife, Angie, and I to run around with our two little boys, Anrich and AJ Jnr was really appreciated."
After a week's training, the intensity is set to ramp up at Twickenham, where a Northern invasion of TW2 is expected. Amongst the crowd will be his mother Dulene, who will be rooting for him, having flown over from South Africa. Again, Sale will look to their senior players to roll back the years and try to recreate the spirit of 2006. Akker says the experience of England internationals, George Ford and Manu Tuilagi will be vital. "Manu is big and pretty terrifying on the pitch but off it, he is the most genuine, down-to-earth human being I've ever met. He's always up for a laugh and even when he's injured, he brings so much energy to the squad. He is a huge player for us."
As for Sale's conductor, George Ford, van der Merwe says he is the on-field coach, directing play, and driving standards. "George brings an intensity to meetings. At training he wants everything to be spot on and you can see our attack has improved with him. He works well in tandem with Rob du Preez. Of course, his kicking is unbelievable and game management is next level but what I really like is the calmness he brings to pressure situations."
Van der Merwe knows that for all the confidence induced by a successful season and tub-thumping semi-final, Saracens are clear favourites. His side will have to be at their very best in every department to win it. "We are underdogs, there's no doubt about that. Saracens are very well-drilled team and they execute their gameplan to a T. They haven't won five Premierships by accident and are a great team with few obvious weaknesses. However, the bottom line is we have to focus on ourselves. We have pride in our D, and we can cut sides apart when we get the opportunity."
Now a seasoned pro, van der Merwe, isn't allowing himself too misty-eyed about what a victory could prompt, but says if they can overcome Saracens, it will rank as a career highlight. "Honestly, if we can lift that trophy, it will be so, so special. It's not just about us, we're doing it for the North of England. The more voices in the stand, the better it will be. Our fans will give us an extra lift. It's been 17 years since we last did it and we don't want to travel all that way and go home empty handed. I will leave absolutely everything out there on the pitch."
Van der Merwe has had to work hard for his success, and there would be few dissenters if he was seen lifting a cup at the culmination of an epic Premiership final.