Why the referees should really be looking at the Dan Biggar tackle on Samu Kerevi, not Rhys Patchell's
'It was the best of times, it was the worst of times, it was the age of wisdom, it was the age of foolishness, it was the epoch of belief, it was the epoch of incredulity, it was the season of Light, it was the season of Darkness, it was the spring of hope, it was the winter of despair, we had everything before us, we had nothing before us, we were all going direct to Heaven, we were all going direct the other way – in short, the period was so far like the present period, that some of its noisiest authorities insisted on its being received, for good or for evil, in the superlative degree of comparison only.' (Charles Dickens – The Tale of Two Cities) 
Wallabies coach Michael Cheika is in the middle of his own winter of despair after his side were defeated 29-25 by a disciplined and deserved Welsh side in the seminal and controversial pool D match at Tokyo on Sunday.
The combustible coach was left seething after yet more contentious officiating regarding a tackle contest between the ball carrying Wallaby centre Samu Kerevi and replacement Welsh flyhalf Rhys Patchell which ultimately saw Kerevi penalised for reckless conduct with his forearm for indirect contact with the throat of the upright Patchell.
Cheika said, "It was pretty funny because I thought I had seen that tackle before, it could have been Reece Hodge, I am not sure. When our guy makes that tackle and has the high tackle framework in his head, he gets suspended.
"This guy doesn't think about the high tackle framework and we get penalised."
Michael Cheika is somewhat justified in his anger, yet the comparison to the Reece Hodge tackle on Fijian Peceli Yato in the opening pool match which saw Hodge suspended for three weeks is not the tackle example Cheika should be comparing the tackle that drew the attention of TMO Ben Skeen.
In fact, Cheika should be looking at the tackle that effectively introduced the reserve Patchell into the contest in the first place.
The Dan Biggar tackle on Samu Kerevi.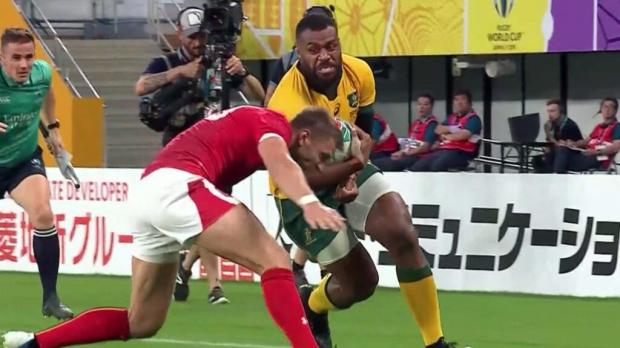 Let me explain; The Rhys Patchell tackle on Samu Kerevi is lawful, albeit high, as there is no contact with the head or neck of Kerevi. Ironically its lawfulness is assisted by the ball runner himself.
If you look at Rhys Patchell, he is very upright and appears to be attempting to affect a 'soak tackle' on Kerevi thus preventing Kerevi from offloading and creating further attacking momentum for the Wallabies. Yet what would be a probable consequence if Kerevi were to have kept his arms straight down by his side (something very hard to down when you are running)?
I submit that the head and or shoulder area of Patchell would have either directly or indirectly come into contact with effectively the same area of the ball runner Kerevi thus rendering the Patchell tackle unlawful per the new troublesome World Rugby High Tackle Decision Making Framework.
Continue reading below…

Now turning to the Dan Biggar tackle on Samu Kerevi a short time before the Patchell tackle. Here we see Biggar going into tackle Samu Kerevi but importantly Biggar himself places his head in a dangerous position, that being in front of the ball runner.
Kerevi, as he should have complete right to do is looking to bump off the defender Biggar with his right forearm and shoulder. Subsequently, contact was made between Kerevi and Biggar with the ball being dislodged and Biggar being removed from the field for a head injury assessment that he later failed.
The rationale inference is that the head area of Biggar come into direct or indirect contact with the body of Samu Kerevi namely the right shoulder forearm area thus dislodging or contributing to the dislodgment of the ball and injuring his head at the same time.
Yet not a peep out of the TMO, assistant referees or match referee Romain Poite. Why not? We have a player with a head injury. Or were they happy to accept that Dan Biggar contributed to his own demise by poor tackle technique?
Clearly, there is a player who has sustained an injury to the head as a result of contact with a ball runner who is leading with a shoulder forearm, albeit at a lower height. Yet Samu Kerevi was not deemed to have been dangerous or reckless in this incident.
Turning back to the Patchell tackle, at the point of contact Kerevi has his left shoulder and forearm also tucked into his body, it is the follow-through that slides up onto Patchell's throat, effects no injury what so ever yet is deemed reckless by the officials. Despite advocacy by Wallabies skipper Michael Hooper arguing that poor tackle technique was a factor in the Patchell incident referee Poite was having none of it.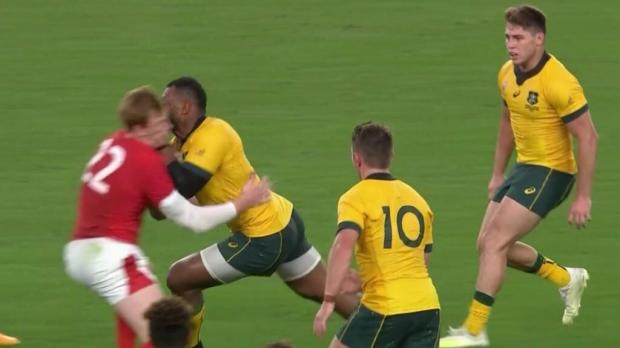 The tackle techniques of Biggar or Patchell were poor. Both had contact made to the head and throat respectively due to where they chose to place their heads not directly due to the actions of the ball runner Samu Kerevi who on each occasion at the point of contact had his respective forearm tucked to his own body.
One received a head assessment injury, the other attracted a penalty for his side. If World Rugby is concerned about player welfare, why was the incident concerning the injured player, not an issue for the officials at the time yet the other 'reckless' and worthy of a penalty?
It is contentious and inconsistent officiating that frustrates player, coach and fans alike and such accompanying confusions breed discontent, despair and ultimately disillusionment with the game. It is difficult to fathom that during a World Cup, the showcase of the game, that the Code's governing body World Rugby has facilitated such a tense atmosphere when it comes to the point of collision during a match despite its good intentions with its new High Tackle Decision Making Framework.
Whilst the Code is not dying, I suggest the officiating of the point of collision in this tournament requires a 'recall to life'. I'm not convinced justice is actually being done to the players affected by the officiating and the World Rugby's Judicial officers.
"Whatever is, is right" is the dictum of the Old Bailey. Should not apply to World Rugby and how it administers the game but I fear it is heading in that direction and perhaps further judicial reform is required to avoid further contention.
It is a game of two teams and a game of two halves, but to prosper it should only ever be a game of one clear understanding.
Cheika and Hooper reflect on loss to Wales:

Comments
Join free and tell us what you really think!
Join Free