'I'm upset lots of players have to hide their sexuality for years before they retire... I want everyone to be themselves'
Denny Solomona arrived fresh off the London train from Manchester the other evening with an olive branch. It was a year ago when he copped a ban he believed thoroughly unjust. He was found guilty of using homophobic language towards Worcester fly-half Jamie Shillcock despite nothing being picked up on the referee's microphone. 
It was one man's word against another. However, rather than contest the reputation-damaging findings, the fear of a lengthier ban if his appeal against the four-week suspension was lost – it would have ruled him out of England's summer tour to South Africa – meant he buttoned his lip and sucked up the punishment.  
A year on from that grubby saga, Solomona, who still protests his innocence, isn't afraid to stick this head above the parapet for a very positive reason concerning homophobia. The Israel Folau saga has dragged rugby through the mud in recent weeks, his 'gays will go to hell' rhetoric not to Rugby Australia's liking.
Now what Solomona would like to see happen is for homosexuals to have the confidence to come out while they are still playing the game, not wait until they are retired as happened with Gareth Thomas, the former Wales and Lions skipper. 
Coming out while someone is still part of the dressing room would, believes Solomona, be a massively transformative development for the sport. "I'm upset that lot of players have to hide their sexuality for an amount of years before they retire and then say they have come out, that they are gay," said the Sale winger to RugbyPass.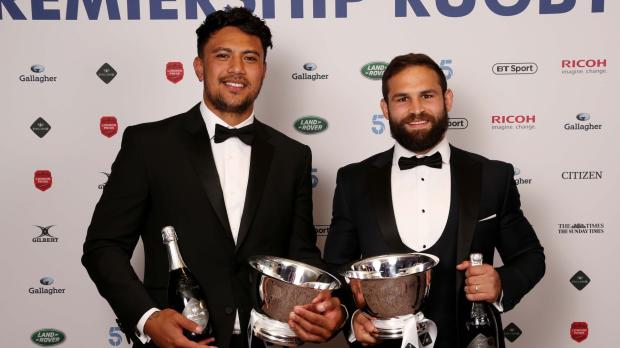 "I hate that. I want everyone to be themselves. I love everyone for the way that they are regardless of what they do and what they are. I love them and I respect them. You know that is the biggest thing that we need to cover, equal rights. We need to accept everyone for who they are and what they do, regardless of what they are and what they believe in. I think everyone needs to be respected.
"When you see a human being express themselves it's the most beautiful thing. It's amazing. When the best fly-half or the best scrum-half expresses their talent, it's the best thing that they have ever done. I feel like that is the exact same with sexuality and mentality and I feel like that is what needs to be expressed out into the world, that everyone needs to express their beliefs and what they want to do."
Ladies and gentlemen… your joint @premrugby top try scorer @DennySolomona ?? pic.twitter.com/cg1pCzfyqg

— Sale Sharks? (@SaleSharksRugby) May 22, 2019
Social media was the vice that led to Folau's very public downfall. Solomona is wary of its mediums and how what is messaged can be negatively interpreted. Instead, give him face to face interaction any day rather than the often faceless judges and juries who cast aspersions online. 
"Face to face interaction is a lot better because you can gauge where people are at emotionally and physically," reasoned the 25-year-old. "Social media is a big platform where nowadays it's a very big thing, as you can tell from a lot of international stars being a lot more outspoken than they would have been.
"But there is a lot of misinterpretation within text messages, Instagram, Twitter, within any social media. When you are face to face you can interpret the impression and the expression that is given to you. That is what what is important, that we can kind of engage that physical integration within each other and speak about our feelings in what we do. It's a lot more better than telling each other what we do in Instagram and social media."
We are only getting started ?? ?? @JamalNiaz pic.twitter.com/Up5ocEjVqi

— Denny_Solomona (@DennySolomona) March 30, 2019
Fronting up and being candid was the reason Solomona was on his visit to London. He knew he would be getting an award for finishing the Premiership season as joint top try scorer on 12 along with Northampton's Cobus Reinach, but just as important was his nomination for the Gallagher Insurance Community Player of the Year award that honoured players for commitment to both their sport and the wider rugby community.
Solomana ultimately didn't win on the night – the award went to Bristol's Nick Fenton-Wells. But he was delighted his dedication towards raising awareness of men's mental health along with supporting Sale Sharks' work in the community was recognised by his inclusion on the shortlist. 
"It's amazing. It would be great to have that accolade of having players' player of the year (won by Danny Cipriani), but adding more purpose into my life is having a life outside of rugby. If I can impact one or two lives outside, I think I have done my purpose in life as an influencer.
Good luck to the dog whisperer tonight at the @premrugby awards ???

A lot of hard work these past few months & it's been epic to witness! A well deserved nomination…?? @DennySolomona ??????? pic.twitter.com/DnRi47YYV1

— Craig Monaghan (@craig_monaghan) May 22, 2019
"If it helps one to five players in the world, I feel like I'm fulfilling my purpose in life. If I feel like I have encouraged one to five young kids to chase their dreams to become a professional athlete, if I have encouraged one to five adults to speak about their feelings or their mental health and if I have saved one or three lives, I'm happy I have done my job not only as a professional player but actually as a human being in general," he explained.
"We have a mental health campaign at Sale where we go around different organisations and talk mental health. We talk about depression, anxiety, PTSD, all sorts. We have a guy called Craig Monaghan, an ex-veteran, so he talks about PTSD anxiety levels. I talk about rugby. 
"Everyone thinks as a rugby player we have this sparkling life that we live, that you train twice a week, turn up Saturday and play. My talk is more the depression side where no-one sees the amount of local injections. I wouldn't say that (this happens) as a club but local injections that players do take, or local injections that they do take leading up into the week to try and get through any little niggle they have to play the week after. 
"That is the sort of thing we speak about. That regardless of what sort of lifestyle you do live everyone suffers from their mental health, everyone suffers from the same thing and what we do is try and expose that. Try and attack the stigma of everyone is a bit scared of saying I'm a bit depressed or I'm a bit suicidal. I'm happy to say I'm a bit depressed, I'm happy to say I was suicidal and I hope other people can be happy and express the way they feel. If they are feeling the exact same way, reach out to people."
There was no reaching out towards Solomona as of last Wednesday by England, who face the Barbarians at Twickenham on June 2. It's now last June since he was capped internationally. "I actually have no idea. I'm taking it day by day. If Eddie Jones calls me up, Eddie Jones calls me up. If he doesn't I'll have a pre-season to look forward to."
What a pre-season that is likely to be at Carrington given Steve Diamond's multiple high-profile signings. Sale even got an off-season boost this weekend, Champions Cup qualification secured due to the final day results in the French Top 14. "In regards to the depths of the squad, it's going to be a top-four (Premiership) team definitely," reckoned Solomona. 
"We have got I would say the best back row in years to come. It's the best back row Sale have had in years in regards to (Sebastien) Chabal and that as well. If you think about it, with Curry twins (Ben and Tom), both JL (du Preez) twins, Jono Ross, Josh Strauss, we have got international back rows in every three positions. 
"One of the best finishes you'll ever see!"

"Even Yoda can't levitate like that!" ?

When @SaleSharksRugby get a bit of space they are simply breathtaking ?#RugbyTonight pic.twitter.com/Jr96LvleTq

— Rugby on BT Sport (@btsportrugby) May 22, 2019
"Whether you have a Currry, Curry and du Preez brother or we have Curry, JL or Jono Ross in the back row, it's going to be a brutal back row and when one back row replaces another, the other team will be like, 'Bloody hell, what have I got myself into?'
"We play entertaining rugby, we express ourselves in our skills and our assets. We have got an international back row, international front row with a back line that is very athletic and has try scoring machines in myself, (Chris) Ashton and Marland Yarde and Byron McGuigan. 
"Even youngsters like Arron Reid, we have that strike power and with that strike power there are even better tries to come next season," he said. Despite this, he deflected praise away from his quite extraordinary show of dexterity in dotting down in the corner last weekend versus Gloucester. 
@DennySolomona @SaleSharksRugby Is there a better way to end the season ? ??????? pic.twitter.com/iD4oITBL8I

— Dom Edge (@Dom_Edge001) May 18, 2019
"It just comes down to, 'I need to ground this ball, we're losing and we have only got a certain amount of minutes left'. It just comes down to whether I want it more than the defender. I have done it numerous times against rugby league teams. I'm happy to see that my assets have been exploited in the rugby union scene as they have been in rugby league.
"But if it wasn't for Ben Curry, Curtis Langdon, Faf de Klerk and AJ MacGinty, I wouldn't have been in the position to score that try. When I get the ball, I am confident of finishing any try (chance) given to me. That is my job first and foremost as a winger, to finish opportunities. Ben, Curtis, Faf and AJ gave me that opportunity."
WATCH: The RugbyPass documentary on concussion in rugby
Comments
Join free and tell us what you really think!
Join Free