Beaten at Leicester last weekend, Gloucester bounce back against Wasps with a power-packed display capped by Billy Twelvetrees.
Rankings



The
RugbyPass Index
tracks several key data points to create a score, which we use to rank every player and team we track.
Find out more about the RPI
.
Top Ranked Players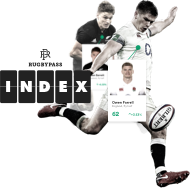 Who's on form, and who's off their game?
Explore live rankings for hundreds of teams and players around the world.
Explore the RPI

Statistics
vs
2020 Season
2020 Season
Worcester

31 Aug

Exeter

7 Sep

Leicester

15 Sep

Sale

21 Sep

Newcastle

27 Sep

Gloucester

5 Oct

Northampton

16 Nov

Bristol

23 Nov

Saracens

30 Nov

Bath

22 Dec

Harlequins

28 Dec

Northampton

5 Jan

Bristol

14 Feb

Sale

22 Feb

Leicester

1 Mar

Newcastle

8 Mar

Gloucester

22 Mar

Worcester

5 Apr

Exeter

13 Apr

Saracens

26 Apr

Sale

1 Sep

Worcester

9 Sep

Harlequins

16 Sep

Exeter

23 Sep

Bath

30 Sep

Saracens

7 Oct

Northampton

27 Oct

Newcastle

17 Nov

London Irish

25 Nov

Leicester

1 Dec

Gloucester

22 Dec

Bath

28 Dec

Saracens

6 Jan

Harlequins

10 Feb

Exeter

17 Feb

Gloucester

23 Feb

London Irish

3 Mar

Leicester

24 Mar

Sale

5 Apr

Worcester

13 Apr

Northampton

28 Apr

Newcastle

4 May

Saracens

18 May

Exeter

3 Sep

Leicester

9 Sep

Bristol

17 Sep

Northampton

23 Sep

Harlequins

1 Oct

Saracens

8 Oct

Newcastle

29 Oct

Gloucester

18 Nov

Sale

26 Nov

Worcester

3 Dec

Bath

23 Dec

Newcastle

29 Dec

Leicester

7 Jan

Exeter

11 Feb

Sale

18 Feb

Gloucester

25 Feb

Bath

3 Mar

Worcester

25 Mar

Northampton

8 Apr

Bristol

15 Apr

Harlequins

27 Apr

Saracens

5 May

Leicester

19 May

Exeter

26 May

Leinster

11 Oct

Bath

19 Oct

Toulouse

7 Dec

Toulouse

14 Dec

Bath

11 Jan

Leinster

19 Jan

Ulster

12 Oct

Harlequins

21 Oct

La Rochelle

9 Dec

La Rochelle

16 Dec

Harlequins

12 Jan

Ulster

20 Jan

Zebre

14 Oct

Toulouse

22 Oct

Connacht

10 Dec

Connacht

16 Dec

Toulouse

13 Jan

Zebre

21 Jan

Leinster

31 Mar

Bath

4 May

Harlequins

17 May

London Irish

19 Oct

Gloucester

25 Oct

Bath

1 Nov

Sale Sharks

7 Nov

Exeter Chiefs

29 Nov

Harlequins

20 Dec

Bristol

26 Dec

Northampton Saints

4 Jan

Worcester Warriors

24 Jan

Leicester Tigers

14 Feb

Saracens

20 Feb

London Irish

29 Feb

Gloucester

6 Mar

Northampton Saints

15 Aug

Worcester Warriors

20 Aug

Sale Sharks

24 Aug

Bath

30 Aug

Saracens

4 Sep

Leicester Tigers

8 Sep

Bristol

12 Sep

Harlequins

27 Sep

Exeter Chiefs

3 Oct

Bordeaux

15 Nov

Agen

22 Nov

Edinburgh

5 Dec

Edinburgh

13 Dec

Agen

9 Jan

Bordeaux

17 Jan

Bristol

9 Oct

Exeter Chiefs

23 Oct

Bristol

21 Nov

Gloucester

27 Nov
Attack
Team Play
Defence
Discipline
Average Gain

Lineouts Won %

Scrums Won %

Tackle Accuracy %
Attack

Team Play

Defence

Discipline